Good morning, Quartz readers!
Here's what you need to know
Robinhood raised $1 billion from its investors. The fiercely criticized online broker is protecting itself as it reopens trading on stocks like GameStop "in a responsible manner." See more below.
Novavax said its vaccine is 89% effective. Just not against the South African variant. See more, um, below.
Old people might not get the AstraZeneca jab in the EU. Europe already has distribution problems, so this won't help.
General Motors will only make electric vehicles by 2035. Among plenty of good things, this means no more powerful, gas-guzzling Corvettes for midlife crises.
Millions of Hong Kong residents can soon apply for UK citizenship. The scheme launches Sunday, and China will no longer recognize their British National Overseas passports.
Indian farmers have been protesting new laws for nearly three months. Here's a timeline of the key events in a situation that's sparked global scrutiny.
What to watch for
Robinhood and other brokerages attached sandbags to GameStop and AMC Theaters, and the market regained some stability. Then, the trading app announced it would allow limited trading on Friday, and share prices rose once again.
Here's some required reading:
---
Reddit traders broke the law… right?
As Reddit stock traders continue to ride GameStop's price per share to its inevitable crash, many established investors are certain their jaunt has crossed the line into stock manipulation.
They just can't figure out where that line is.
Bankers and an infamous day-trader have been arrested for market distortions that resemble GameStop's rise. And netizens urging others to "KEEP BUYING AND HOLDING 🚀🚀" sure seems like a coordinated effort.
But even if there is a cynical manipulator that ran afoul of Section 9 of the Securities Exchange Act of 1934, it would be extremely difficult to prove in court, John Detrixhe explains.
✦ One thing we can prove is the value of a Quartz membership. Try it out free for seven days.
---
Charting sweats vs. jeans companies
Covid-19 has bruised many clothing companies, including makers of jeans, notes Marc Bain. Retailers like Lululemon, meanwhile, have reported strong sales of activewear, which is useful for at-home workouts but also a favorite option for a work-from-couch lifestyle.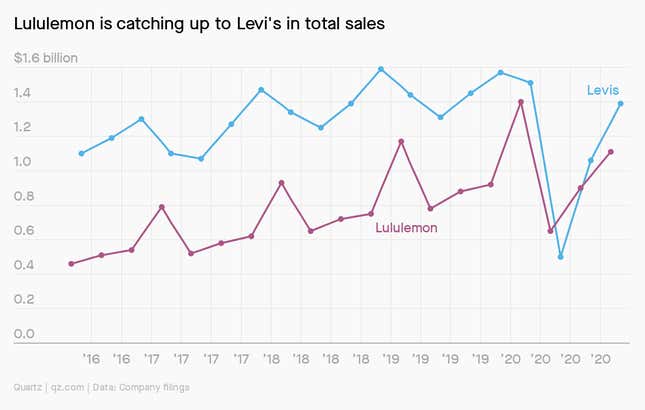 Levi's seems to have decided, if you can't beat 'em, join 'em: The company launched a line of sweatpants and sweatshirts late last year, and it's planning a bigger collection for 2021.
You asked about new Covid-19 strains
Do I have to do anything different to protect myself from the new strains of Covid-19?
New strains of Covid-19 originated all across the globe as a result of routine errors the SARS-CoV-2 virus makes when copying itself over and over.
One of these strains—scientists call it B.1.1.7—originated in the UK. Viruses in the B.1.1.7. lineages have small modifications on their spike proteins. Instead of one set of amino acids, which are the biological Legos that make proteins, they have others—like swapping out a blue brick for a red one. This building-block switcheroo makes the spike protein better able to attach to our cells and infect them, microbiologist and immunologist David Topham told Quartz.
So far, it seems like the B.1.1.7 variant is about 50% more infectious as a result of these stickier spike proteins, but it doesn't seem to make the resulting disease any more severe, or evade vaccine-generated antibodies any better.
So, what's a global citizen like yourself to do? A lot of the same advice we've been giving you for months, reader: Hand washing, physical distancing, and mask wearing. The last option is particularly crucial when trying to evade a more infectious strain; doubling up on cloth masks, or adding another layer of filtration like a nylon stocking can add a protective barrier for incoming spittle particles for you and those around you.
Although medical grade masks are no longer in severe shortage, they're still limited—so best leave those to the healthcare professionals.—Katherine Ellen Foley
---
Surprising discoveries
A video game is based on a box of keepsakes found in the developer's attic. Players track clues similarly left behind by the main character's grandmother.
Archaeologists finally learned the name of an early pharaoh's queen. They also found dozens of tombs that might belong to worshippers of queen Narat's husband.
Want a car that goes 1,000 mph (1,600 km/h)? That'll be $11 million.
Americans are smoking again. Pandemic lockdowns and health worries about vaping have boosted cigarette sales.
Barilla made some Spotify playlists to help you cook. Each one is just long enough for al dente pasta.
---
---
Our best wishes for a productive day. Please send any news, comments, forgotten names of Egyptian queens, and really fast cars to hi@qz.com. Get the most out of Quartz by downloading our iOS app and becoming a member. Today's Daily Brief was brought to you by Hasit Shah, Tripti Lahiri, Mary Hui, Susan Howson, Liz Webber, and Jordan Lebeau.