Good morning, Quartz readers!
Here's what you need to know
Vaccinated people can gather, the US Center for Disease Control says. Indoor dining and other activities are back on the table for fully inoculated individuals.
The UK royal family remains silent on Meghan and Harry's allegations. "Crisis" talks are taking place, BBC News reports, following a ratings hit watched by 17 million people in the US and 12 million in the UK.
The trial of Derek Chauvin was delayed. The ex-police officer—accused of killing an unarmed Black man, George Floyd—could face an additional charge of third-degree murder, with jury selection now scheduled to begin today.
Donald Trump lost his final election challenge. The Supreme Court rejected the former US president's bid to appeal a ruling over mail-in ballots.
Anti-femicide protesters clashed with police in Mexico City. On International Women's Day, thousands of women called for the Mexican government to address gender-based violence.
Tesla has a Texas-sized battery. A subsidiary of the company is at work on a 100 megawatt energy storage project 40 miles south of Houston, Bloomberg reports.
---
What to watch for
The US is selling a bunch of government bonds. On Wednesday, the Treasury plans to auction $38 billion of notes that will come due in 10 years. The government frequently sells bonds to the public—that's what happens when a country has $22 trillion of debt—but this offering is notable because a recent Treasury's auction of seven-year notes flopped. Investors' lack of enthusiasm for US government debt, which is a benchmark for everything from mortgages to car loans and credit cards, rippled through the financial system.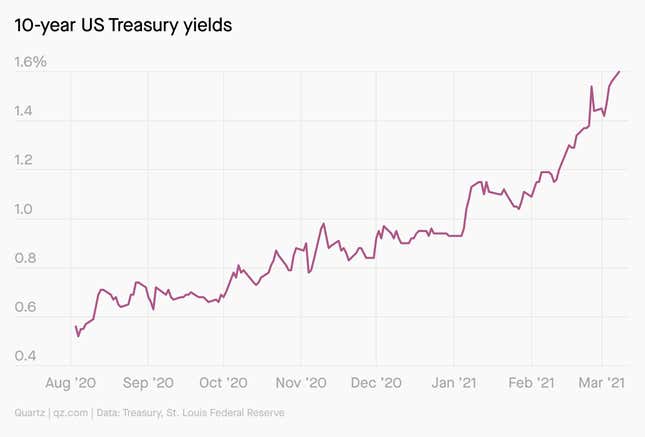 Treasury bonds are a haven for traders when there's a crisis. But with stimulus checks and vaccines forthcoming, ultra-safe bonds look less appealing. That could force the government to offer higher interest rates to drum up demand for its securities. Traders are closely watching this week's bond auction, to see how investors are responding to an economy that's revving up and growing inflation concerns, explains John Detrixhe.
If the auction is poorly received (again), investors may worry that interest rates are going to climb even higher, forcing the Federal Reserve to reassure the market that it will contain the rise in Treasury yields.
---
Charting Amazon's power purchasing…
Tech companies may be making science-based decarbonization targets and turning to renewable energy sources to power operations, but they'll still need more power than on-site solar panels or wind turbines can manufacture.
Power purchase agreements allow companies to buy a set number of megawatts from an outside provider. Globally, 23.7 gigawatts' worth of PPA contracts were signed last year, up nearly 20% over 2019, and Amazon was responsible for more than one fifth.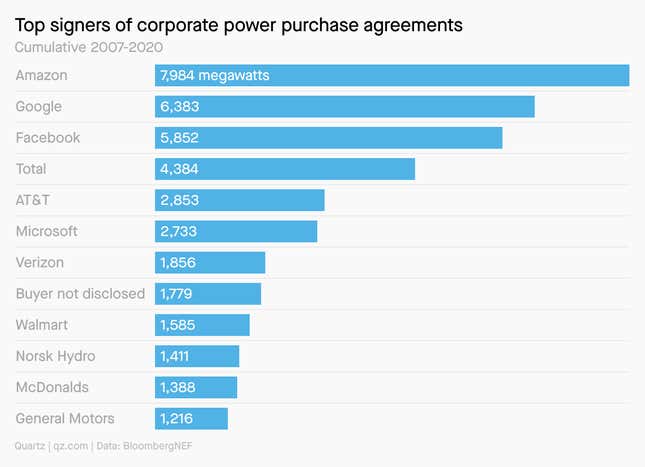 ---
… And competing for its customers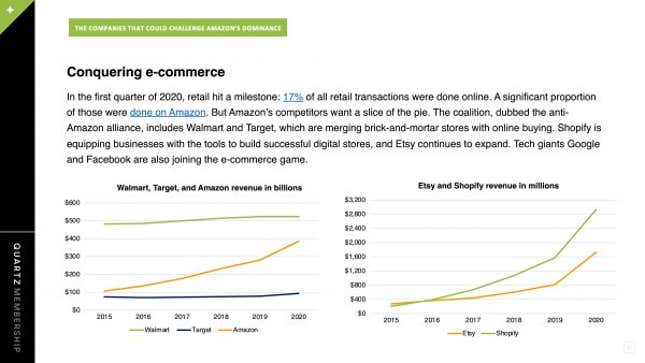 The companies that could challenge Amazon's dominance. Buying stuff online got way more popular during the pandemic, and Amazon got a lot of that business. But other companies—including brick-and-mortar retailers, online shops, and tech giants—want to give Amazon a run for its money. Our latest presentation lays out how Walmart, Target, and Etsy compete.
✦ Quartz presentations are available for members, who also have access to our field guide on Jeff Bezos's legacy—along with everything else we've ever published, two dedicated emails per week, and a lot more. Try it for a week for free.
Surprising discoveries
Raccoons aren't handling the pandemic well. Sightings and raccoon-related injuries are up in Toronto, but it's probably humans' fault.
A toy pirate ship crossed the Atlantic. The little vessel avoided Davy Jones' locker all the way from Scotland to Miami, Florida.
A New Yorker was sitting on an extra apartment. The source of a draft turned out to be three extra rooms.
These sea slugs are survivors. They can decapitate themselves and survive without organs.
Jack Dorsey is selling a tweet. The Twitter CEO's first post is now an NFT, and bids are rolling in.
---
---
Our best wishes for a productive day. Please send any news, comments, hearty clippers, and found real estate to hi@qz.com. Get the most out of Quartz by downloading our iOS app and becoming a member. Today's Daily Brief was brought to you by Hasit Shah, Susan Howson, Alex Ossola, and Jordan Lebeau.