Good morning, Quartz readers!
Here's what you need to know
Italy has a $265 billion plan to overhaul its economy. Prime minister Mario Draghi will present his cabinet with the draft, which includes spending to make buildings earthquake-proof and beefing up broadband.
The European Commission could sue AstraZeneca. It asked member states to support a lawsuit against AstraZeneca for its botched Covid-19 vaccine rollout, with Dublin now on board, but no legal action has been taken yet.
The UK parliament accused China of genocide. It endorsed a motion alleging that all five criteria for genocide are being met in Beijing authorities' actions towards ethnic and religious minorities in Xinjiang, including Uyghurs.
Switzerland scrambles to revive a long-stalled EU treaty. Swiss president Guy Parmelin heads to Brussels for a summit with European Commission president Ursula von der Leyen. Failing to strike a deal would threaten Bern's ties with its biggest trading partner.
Joe Biden is set to unveil a series of tax rises. To finance massive childcare and education spending, the US president will propose nearly doubling capital gains levies on those earning $1 million or more, meaning federal tax rates for some could reach 43.4%.
A missing Indonesia submarine will run out of oxygen tomorrow. An all-out rescue mission involving several countries is underway to save the crew of 53. Rescuers have spotted an unidentified object at depth. 
---
What to watch for
After adding India to its "red list" of countries that are deemed to pose a danger to Britain, the UK ban on Indian travelers starts today.
If policymakers in the US, Europe, and elsewhere follow suit, Indians could find themselves increasingly isolated.
In April 2021, it took just weeks for India's situation to go from bad to catastrophic. On April 22, the country had nearly 315,000 new coronavirus infections, the highest daily number in any country so far in this pandemic. Meanwhile:
For the latest on India's crisis—and the rest of the global economy— head to our coronavirus living briefing, our regularly updated guide to the impact of the pandemic.
---
Charting fashion's slow European recovery
The dog days of the pandemic appear over for top names in luxury fashion, except those firms located in Europe. Hermès's European sales were down 4.4% versus last year. LVMH saw a 9% decline , and Kering dipped 34%.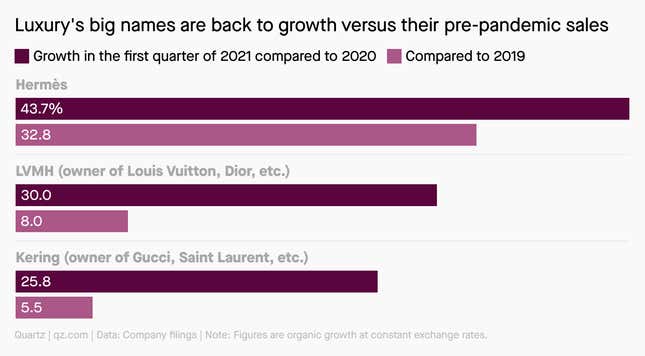 Through the end of March, new cases of Covid-19 spiked in the region, where the rollout of vaccines has been "unacceptably slow," according to the World Health Organization. Luxury sellers are still contending with numerous store closures, writes Marc Bain.
---
Modi's Twitter feed and India's Covid paradox
Indian prime minister Narendra Modi's Twitter feed has been a constant stream of condolences for noted Indians who lost their lives to Covid-19, peppered with excitement over the people in the state of West Bengal exercising their voting rights. This emotional whiplash is emblematic of what's happening across the country.
In under a month, India's coronavirus infections went from approximately 60,000 daily to over 300,000 a day, yet Modi and his allies have conducted mass rallies in West Bengal. The current government of Bengal had requested India's election commission wrap up the remaining two phases of the election together. The commission denied this request.
On April 21, as Hindus observed Ram Navami, the birth of their god Ram, over 80,000 people took a dip in the river Ganga where Kumbh was earlier being observed. While short of the usual millions, the outing was less than ideal.
On Twitter, Modi called for restraint while wishing his followers well on the occasion of Ram Navami, writes Manavi Kapur.
✦ You'll never get mixed signals from a Quartz membership, just the news. Try it free for a week!
---
You asked about vaccine profits
How much money are drug companies making from vaccines?
For many Americans, Johnson & Johnson (J&J) these days is most closely associated with the pharmaceutical company's Covid-19 vaccine, which has been recently suspended in the US as authorities investigate its risk of causing a rare blood clot syndrome.
But for J&J, the vaccine is nowhere near its main product, at least not in terms of revenue. Out of over $22 billion in sales, Covid-19 vaccines accounted for $100 million—or just above 2%, the company announced earlier this week.
Meanwhile, the makers of the other vaccines licensed in the US, Moderna and Pfizer, stand to rake in quite a bit of cash. Both Pfizer and Moderna will likely require a booster shot at some point in the coming months, and while neither would comment on booster shot pricing, Moderna's forecast for sales of the first two doses of the vaccine was $18.4 billion for 2021, so the booster shot could add about $9 billion to that. Pfizer projected at least $15 billion in sales for 1 billion Covid-19 vaccine doses, so the booster would bring an additional $7.5 billion to the pharma giant.
---
Handpicked Quartz
👵 Older people are the one group egalitarians discriminate against
🇮🇳 Will other countries copy the UK's India travel ban?
😷 The Indian diaspora is struggling to help with the Covid-19 crisis in India
⌨️ A Hong Kong investigative journalist was convicted for a public records search
🇿🇦 South Africa wants to enshrine the right to be non-binary
🏭 It's never been this expensive to finance a new coal power plant
---
Surprising discoveries
Scientists can't decide what to call a group of black holes. Suggestions include a scream, a crush, or a silence.
European MPs are being targeted by deepfake videos. Senior parliamentarians have been contacted by individuals who appear to be using filters to impersonate Russian opposition figures on video calls.
Installing sails on cargo ships would greatly reduce their emissions. It'd be more effective than switching to alternative fuels.
Pet food manufacturers are working on lab-grown meat. Fido's kibble could soon be made from cell-cultured rabbit or chicken.
A small-town deli worth $100 million had its stock delisted. It's still a mystery how the single store was able to rack up such a sky-high valuation.
---
---
Our best wishes for a productive day. Please send any news, comments, over-valued penny stocks, and your pets' reviews of lab-grown meat to hi@qz.com. Get the most out of Quartz by downloading our iOS app and becoming a member. Today's Daily Brief was brought to you by Mary Hui, Leslia Nguyen-Okwu, Tripti Lahiri, Hasit Shah, Liz Webber, and Jordan Lebeau.