Good morning, Quartz readers!
Here's what you need to know
Malaria may be getting an effective vaccine. The disease has probably killed four times more than Covid-19 has over the past year, but new research showed groundbreaking vaccination trial results in Burkina Faso.
Southeast Asian leaders called for an end to violence in Myanmar. An emergency summit of leaders from nine countries resulted in five demands to the military junta currently in control.
The EU jumped into the South China Sea controversy. After the Philippines last week asked China to remove vessels it considered threatening, the EU blamed China for "endangering peace" and reminded all parties of currently binding international law.
Joe Biden is making waves. Having just completed his first 100 days, the US president's Covid-19 response boosted his support rating to 54% in a poll given by conservative media outlet Fox News, though Republicans were less impressed with his climate change progress.
Turkey isn't pleased with the US using the word "genocide." The country asked for a meeting after a White House statement on the deaths of 1.5 million Armenians in the first half of the 20th century.
India's government ordered Twitter to block tweets. The affected users, who included a state minister and a member of parliament, had been criticizing the country's pandemic response.
The Oscars will be weird. A Steven Soderbergh-directed movie-like experience will leave very little up to celebrities and their Zoom troubles. Even the swag bags will be weirder than usual.
---
What to watch for
Scheduled to release its first-quarter results today after US markets close, Tesla is expected to show big spikes in earnings per share and revenue, giving investors a reason to stick around as the electric vehicle maker fights to maintain its supremacy in a soon-to-be-crowded market.
A look at the digits:
$0.23: Tesla's earnings per share in the first quarter of 2020
$0.79: Expected earnings per share in the first quarter of 2021
72%: Expected revenue growth since the same time last year
700%: Share price increase in 2020
3.4%: Share price increase in 2021 as of Apr. 24
$4,400: Cost of the EV currently outselling Tesla in China
5: Days a protester was detained after climbing onto a Tesla's roof and yelling "Tesla's brakes don't work" at the Shanghai Auto Show
Elon, if you're reading—we went ahead and made you a vision board for Tesla's future based on your own master plans.
---
Mapping India's help from afar
With grim reports and gutting images emerging from New Delhi's overrun hospitals and cremation sites, experts say that the death toll is much greater than the 193,000 the government has reported. The country of 1.3 billion is now the global epicenter of the pandemic.
Several countries, including India's political rivals China and Pakistan, are responding to the humanitarian crisis. Amid expressions of solidarity from world leaders, here are the countries that have thus far begun—or said they'll begin—sending much needed medical equipment, oxygen, vaccines, and treatments.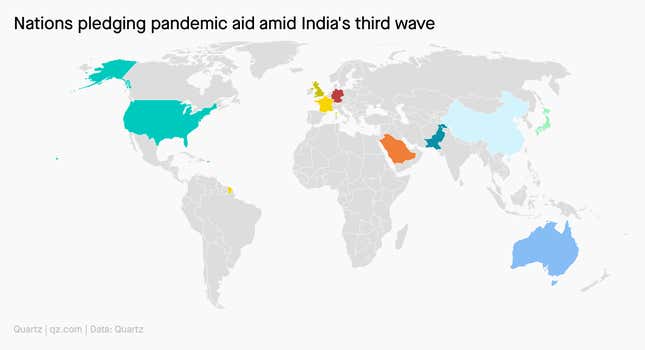 ---
Third-party cookies, explained
How do third-party cookies work?
A cookie is a small text file saved locally on a user's computer at the behest of a website they've visited. It helps the website remember information about them—often for benign reasons, like remembering their login information or making sure the items in their shopping cart will still be there even if they close the page and come back later.
When cookies come from someplace other than the website a user chose to visit, they're called third-party cookies. They're not a particularly effective way for digital advertisers to track potential customers, and the public fears the privacy implications of having their every move online surreptitiously tracked. In response to public pressure, lawmakers are passing legislation to protect internet users' privacy, but the most effective move of all might be a voluntary one by web browsers that have said they will no longer support third-party cookies.
Few will mourn the functional death of the third-party cookie, but there's reason to be suspicious of what might rise in its place.
✦ Learn more about what to expect in our latest field guide on what the death of third-party cookies means for digital advertisers. All of our field guides are members-only, but we think membership is well worth it. Try it free for a week and see what you think!
---
Handpicked Quartz
📈 The recent spike in Delhi's Covid-19 death toll is still likely a huge underestimation
😤 Why is it so hard to get oxygen cylinders in India?
🌞 The next phase of the climate battle is staked out
💼 Why millions of workers are planning to switch jobs after the pandemic
🤸🏽 Simone Biles and Gap's Athleta brand will both benefit from her split with Nike
⚔️ Netflix is retelling the lost tale of Japan's first African samurai
Surprising discoveries
Gender reveal parties crossed a line a long time ago. Yet people are still doing them—and causing actual earthquakes in the process.
Town criers will text it in this year. A British competition will use the pandemic as an opportunity to give clever, quieter town criers a chance to shine.
An Argentinian bought Argentina's Google domain name for $5. The expired domain was legally up for grabs, though Google Argentina has since wrested back control.
€1 homes could revive a Sicilian town. The mayor of Castiglione di Sicilia says that he hopes selling hundreds of abandoned homes for pocket change will give his town a shot in the arm.
Georgia's governor wants to make daylight savings permanent. Brian Kemp says the bill he recently signed would give the US state's criminals "one less hour" of darkness in which to operate.
---
---
Our best wishes for a productive day. Please send any news, comments, €1 villas, and blocked tweets to hi@qz.com. Get the most out of Quartz by downloading our iOS app and becoming a member. Today's Daily Brief was brought to you by Alex Ossola, Adrian Hill, Anne Quito, Susan Howson, and Jordan Lebeau.