Good morning, Quartz readers!
Here's what you need to know
Greensill Capital's boss gets a grilling in the UK parliament. Lawmakers will question the CEO of the firm, which is accused of political wrongdoing and whose collapse threatens some 50,000 jobs worldwide.
Israeli airstrikes killed at least 21 Palestinians. The air raids on Gaza Strip were launched in response to rockets fired by the Hamas militant group towards Jerusalem.
India's B.1.617 coronavirus strain is officially a "variant of concern." The World Health Organization made the determination yesterday, and will offer more details today. Separately, the US Food and Drug Administration approved Pfizer's Covid-19 jab for 12- to 15-year-olds.
China's population is growing at its slowest pace in decades. Census results showed a rapidly aging demographic as births continue to fall, potentially putting the country at an economic disadvantage.
NBC canceled next year's Golden Globes broadcast. The US television network is protesting the ethics and lack of diversity at the Hollywood Foreign Press Association, the body that hands out the annual film and television awards.
Malaysia sued Deutsche Bank and JPMorgan. The defunct 1MDB state fund, the center of a fraud scandal, is also targeting the Switzerland-based private bank Coutts in an attempt to restore billions in losses.
The FBI confirmed DarkSide was responsible for the US pipeline cyberattack. The criminal syndicate's ransomware behind the East Coast outage is believed to originate in Russia.
Facebook's "Instagram for kids" plan isn't making a lot of friends. Forty-four US attorneys general urged the social media platform to drop the idea in order protect children's mental health.
---
What to watch for
Queen Elizabeth II opens a new session of parliament today with a speech outlining the government's plans for the year ahead. It will be her first public appearance after the funeral of her late husband, Prince Philip.
She will unveil a series of new bills dealing with issues including:
Post-Brexit reforms to government procurement and state aid
Voting fraud
New rules on asylum
Educational measures such as a new student finance system and a lifetime skills training program
---
Charting Africa's internet shutdowns
Many leaders seem threatened by digital media, and research shows that 2020 saw 156 full or partial shutdowns of the internet or social media like Facebook, Twitter, and WhatsApp. While South Asia accounts for almost three-quarters of these shutdowns, Africa was the next most affected region, with 20 shutdowns affecting 12 countries.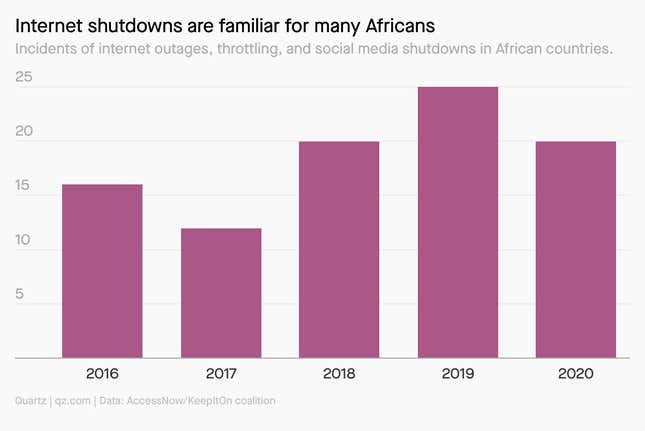 Governments have given varying justifications for these moves. These include: combating hate speech and fake news in Chad and Ethiopia, suppressing violence in Sudan, and preventing exam cheating in Algeria and Sudan. Disruptions in Mali in 2020 coincided with anti-government protests, while shutdowns were timed around elections in Burundi, Guinea, Tanzania, and Togo.
---
Escape the news cycle
The Weekly Obsession email is a welcome afternoon reprieve from your typical daily news. Every week, we'll hit your inbox with a deep dive on a single surprising thing—from topics you think you know, to those you've never even heard of.
Not convinced? Learn more about the 2×2 matrix, rice cookers, and even Rasputin. If we're obsessed, there's a good chance we can convince you it's for good reason.
---
A few unexpected perks of in-office work
According to recent surveys of employees working remotely during the pandemic, people miss their colleagues, but they're also tired of being in constant contact—with their colleagues.
Perhaps what some actually miss are the specific modes of conversing that require both non-verbal communication and spontaneous encounters, writes Lila MacLellan:
😜 Teasing is one example of a communication style that has disappeared. Dachner Keltner, a professor of psychology at the University of California, Berkeley, explained that we use linguistics as "above all, exaggeration to signal that we don't mean precisely what we're saying."
🤫 Gossip can have a cruel edge of course, but for the most part, it's harmless and often bursting with useful nuggets. Not only is there now less to gossip about remotely, but the pipes are also frozen by fear.
👂 Eavesdropping can allow those with less status to keep tabs on the powerful to a degree, and supplies currency workers can use with superiors. But today, with keystroke tracking and other measures, the ability to eavesdrop sits with those who already hold power.
✦ Psst. You didn't hear it from us, but if you don't have a Quartz membership, you can try it free for a week. Then you can tease your coworkers about not having read the latest from Quartz at Work.
---
Handpicked Quartz
💡 Energy companies are the firms most likely to pay cyberattack ransoms 
🥵 Meituan's CEO is in the hot seat over a classical Chinese poem about book burning
🙅 "You've got to shut down," Biden's chief medical adviser tells the Indian government
💰 Worried Indians are saving more during the pandemic despite layoffs and salary cuts
💉 Covid-19 vaccines have triggered the next wave of pharmaceuticals
Surprising discoveries
The Ernest Hemingway look-alike contest is back on. The 40th annual competition will feature its parade of faux-Papas after skipping a year due to the pandemic.
2,500 train employees thought their employer gave them a cash gift. When they clicked the link in the official-looking email, it was a phishing test.
Leopards escaped a zoo in China. Now, nearby residents are upset about not knowing for weeks that three big cats were in their midst.
The most metal vaccination site ever. Tourists can receive Pfizer shots at the 14th-century Bran Castle in Romania, the castle that inspired Dracula's lair.
Beijing TV regulators pulled the finale of a hit show. Officials say online entertainment should promote socialism, instead of "irrational" celebrity fan culture.
---
---
Our best wishes for a productive day. Please send any news, comments, leopard sightings, and genuine non-phishing emails to hi@qz.com. Get the most out of Quartz by downloading our iOS app and becoming a member. Today's Daily Brief was brought to you by Mary Hui,  Tripti Lahiri, Annabelle Timsit, Susan Howson, and Jordan Lebeau.