Good morning, Quartz readers!
Here's what you need to know
The Israeli-Palestinian ceasefire took effect. It brings to a halt the 11-day conflict between the two sides, which has killed at least 232 people. Both Israel and the militant group Hamas claimed victory.
BBC is under fire for its 1995 interview with Diana. Prince William and Harry blamed the broadcaster for its failings after the release of a report that found the organization covered up its reporter's use of deceit in securing the tell-all.
The EU's investment deal with China is on hold. The European Parliament voted to freeze ratification efforts until Beijing lifts the sanctions it imposed on individuals and entities in the bloc who have criticized China's human rights record.
The US proposed a global minimum corporate tax rate. The Treasury said multinationals should pay at least 15% on their earnings, in a bid to discourage firms from shifting profits offshore.
Moon Jae-in meets with Joe Biden in Washington. The South Korean and US presidents could discuss topics including North Korean denuclearization, coping with China, and a potential vaccine swap.
Things are not looking good for WeWork. The co-working space company reported a quarterly loss of $2.1 billion, adding uncertainty to its plan to list through a SPAC deal.
A WHO official said to avoid international travel for now. Its European head noted that though vaccines appear to be effective against virus variants, the situation is still "fragile."
India is looking to the US for vaccines. It could procure shots from the US and possibly manufacture them in India later.
---
What to watch for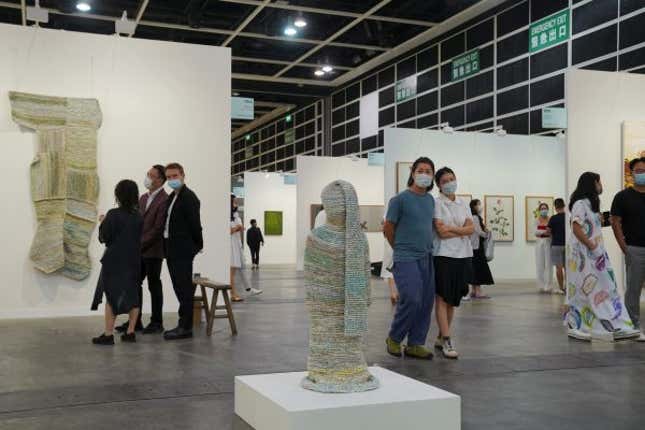 Art Basel Hong Kong, Asia's biggest contemporary art showcase, opened this week—the first edition of the Swiss franchise with a physical component since the pandemic. The four-day event is more austere than in previous years, with half the stalls staffed virtually (aka "ghost booths"), due to Hong Kong's very strict Covid-19 quarantine requirements. But many art lovers are just excited to roam the labyrinth of white walls and look at artworks in real life, instead of a screen. "It's moving, it's meaningful," said Adeline Ooi, director of Art Basel Hong Kong the day the fair opened.
The numbers paint the picture:
104: Exhibitors from 23 countries, about half the usual number
800+: Works exhibited at this year's fair
56: Number of international galleries operating "ghost booths," with some reps beaming in via hologram
1: Gallery peddling NFTs
4: Maximum group size who can gather at the fair, per Covid-19 guidelines
$19.5 million: Record-setting price for an abstract expressionist painting sold at the fair
---
Charting the economic impact of India's second wave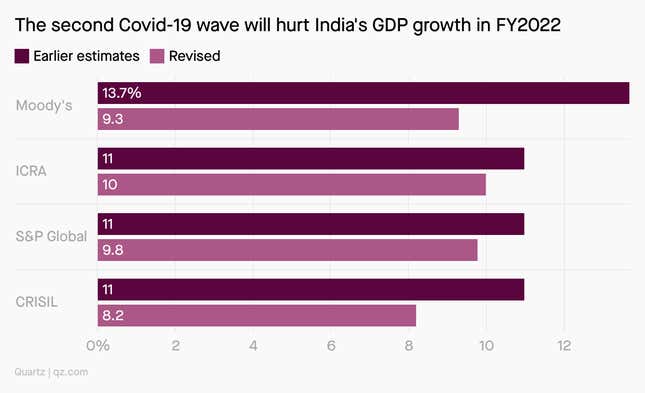 The second wave of Covid-19 has made economists less hopeful about India's growth prospects. At least four leading rating agencies had initially estimated double-digit growth for the Indian economy due to a low base and revival of business activities in the country after the first wave of Covid in 2020. Now, they're trimming their forecasts.
This spike in Covid-19 cases has forced state governments to impose restrictions on businesses, and the movement of goods and people. From auto sales to traffic congestions and from railway freight volumes to electricity consumption—several key economic indicators are showing signs of weakness, writes Prathamesh Mulye.
---
Are carbon offsets a scam?
Not all, but many still are. Companies are clamoring for offsets, and more are becoming available. In the first quarter of 2021, a record 38.6 million metric tons of offsets were purchased globally. That's equal to the annual emissions of 10 coal-fired power plants and a jump of 81% compared to the same period last year.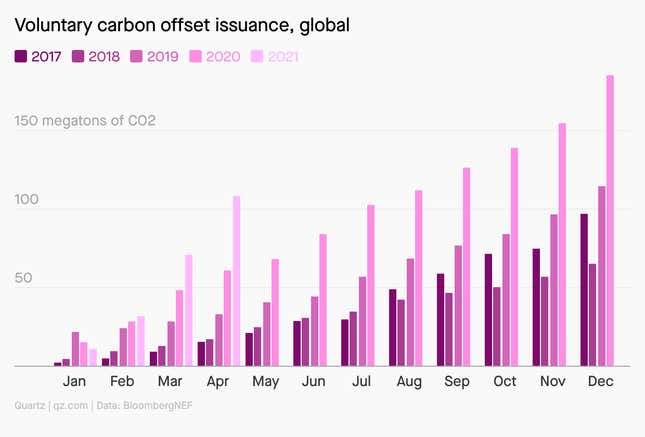 But just as they're stepping into the spotlight, carbon offsets are facing more challenges to their credibility than ever. Tim McDonnell explains how the flaws in the way offsets are tallied are endangering a critical element of the corporate campaign.
✦ Many of the companies eager to show their climate friendliness are in the retail business. As part of Retail Week at Quartz, we've got a field guide that'll lead you through how stores are preparing for the future. Not yet a member? Try it for free—then use code "RETAILWEEK" to take 40% off.
---
Handpicked Quartz
📈 Is Amazon hugely undervalued?
🔍 Google is making search worse by making it easier
🥛 Oatly's CEO is counting on consumers to see through big brands' wokewashing
👋 The CEO of the Chinese tech giant behind TikTok is stepping down
💉 Data show more vaccinations can prevent India's next oxygen crisis
🩺 African telemedicine startups need regulation to reach more patients
📡 This economist made $200 billion for the US by auctioning the airwaves
💰 India's at-home Covid test is priced out of reach for most Indians
⚾️ A historic streak of no-hitters is bad news for baseball
Surprising discoveries
The Rock accounts for a third of Hollywood's lead roles for Asians and Pacific Islanders. But overall opportunities for API actors are slim.
Some companies will still use Internet Explorer after it's retired. Healthcare, manufacturing, and local government are the main sectors that still have holdouts.
The Mormon Church made a big bet on a meme stock. The value of its GameStop shares went from $900,000 to $8.7 million in the first quarter of 2021.
Stem cells made a mini heart all by themselves. Researchers nudged the stem cells into becoming heart cells, then sat back and watched.
Migrating swifts can travel more than 500 miles (830 km) a day. They take advantage of wind currents and stop for snacks along the way.
---
---
Our best wishes for a productive day. Please send any news, comments, obsolete web browsers, and bird migration routes to hi@qz.com. Get the most out of Quartz by downloading our iOS app and becoming a member. Today's Daily Brief was brought to you by Jane Li, Mary Hui, Anne Quito, Tim McDonnell, Liz Webber, and Susan Howson.