Good morning, Quartz readers!
Was this newsletter forwarded to you? Sign up here. Looking forward to traveling to see friends? Forward them the Daily Brief so you have lots to talk about when you get there.
---
Here's what you need to know
JBS paid $11 million in ransom to cyberhackers. The meat processing company says it handed over the money—in bitcoin—"to protect our customers" after its plants were temporarily taken out of service.
Joe Biden and Boris Johnson plan to reopen travel between the US and UK. The American and British leaders are announcing a new "Atlantic Charter" today ahead of the G7 summit, including a task force to quickly figure out a travel corridor.
Record numbers of migrants are arriving at the US border. Officials say they stopped more than 180,000 people, the highest figure in two decades, at the southern border in May.
The US is buying more Pfizer jabs to share. 500 million doses of the Covid-19 vaccine will be distributed around the world through Covax.
Biden revoked Donald Trump's ban on TikTok. The former US president's national security concerns were ultimately blocked by courts, but his successor is still keeping an eye on certain apps.
GameStop announced new executives. The company is attempting an e-commerce pivot, and its new CEO and CFO were both formerly with Amazon.
---
What to watch for
Since 1976, the leaders of eight rich industrialized democracies—Canada, France, Germany, Italy, Japan, Russia, the UK, and the US—have met most years to discuss and act on shared goals and challenges. The G8 became the G7 in 2014, when Russia was kicked out for annexing Crimea.
This year the G7 summit will take place June 11-13 in Cornwall, England under the rotating presidency of the UK, which has also invited Australia, South Korea, South Africa, and India to join as guests.
Here are just some of the items on the group's to-do list (should be easy, right?):
💉 Commit to vaccinating the entire world against Covid-19 by the end of 2022.
♻️ Launch a "green Marshall Plan."
🤑 Develop new ways to fight corruption.
---
Charting India's largest retailers
In 2020, Amazon and Walmart together clocked higher sales in India than eight of the top domestic retailers combined.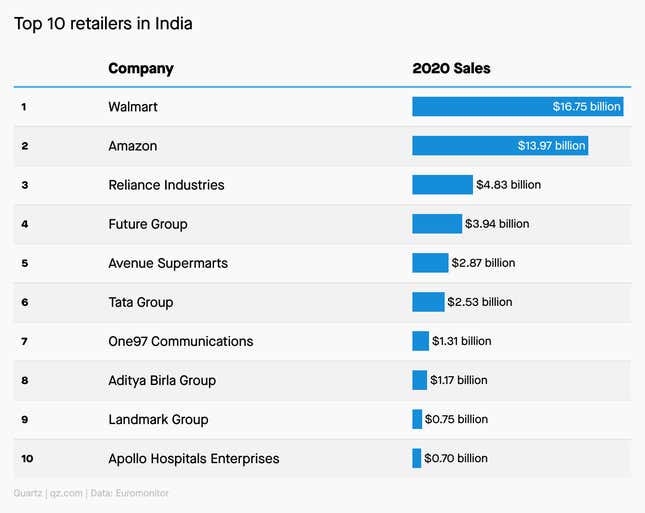 While Amazon has invested billions into its Indian subsidiary since it was launched in 2013, Walmart's India sales are mostly driven by e-commerce firm Flipkart, which it acquired in 2018. The US retailers are looking to grow their footprint in the country even more; Amazon is currently in the middle of a battle with Reliance Group over the latter's acquisition of Future Group.
---
The US wants to bring its supply chain home
This week, the Biden administration published a review of critical US supply chains. The primary warning: they're not nearly secure or resilient enough. Additionally, the review made clear that the US must reassess its dealings with China, a significant trading partner that is also the country's biggest competitor in key industries like semiconductor manufacturing, large-scale batteries, and critical minerals.
250: Pages in the review
566: Number of times China is mentioned (Japan, Taiwan, and South Korea also come up regularly but fewer than 100 times each)
$634.8 billion: Total value of US-China trade in 2019, making China America's third largest trading partner
75%: Share of the world's semiconductor chips that are produced in Asia
12%: Share of global semiconductors produced in the US, down from 37% 30 years ago
The review contains a long list of recommendations for the US government to change the terms of its relationship with China, but rejigging supply chains is a massive undertaking that will require "sustained focus and investment."
✦ The US isn't the only one reassessing its relationship with Beijing. Dive deeper with our special report on what the UK can teach the rest of the world about engaging with China. If you're reassessing your relationship with Quartz, we suggest you give membership a try, for free.
Handpicked Quartz
💉 Poor countries will have to wait for Covid-19 vaccine leftovers until 2023
🍎 Apple has recorded its best-ever quarterly sales of laptops and tablets in India
🚗 Tesla's rebounding China sales aren't proof its PR crisis is over
🇲🇱 After economic sanctions crippled Mali, the AU, and EU are trying a new tack
😬 Indian travelers are worried about Covaxin's WHO approval
(Psst.☝️ We took the last story out from behind our paywall because we think everyone should read it.)
---
Looking forward to the Olympics?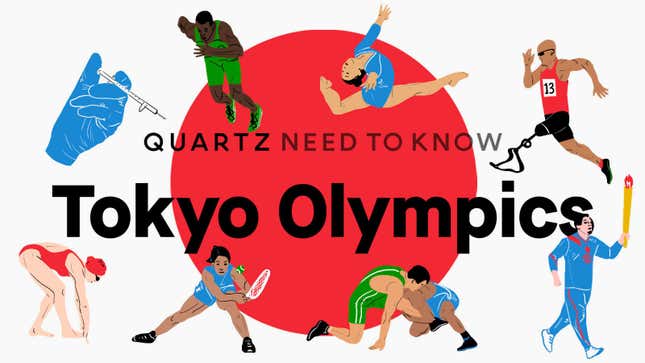 Get up to sprinter-level speed with our newest limited email, Need to Know: Tokyo Olympics. Each day during the two weeks of Games, we'll send you everything from highlights to surprising discoveries to a daily look at what keeps the whole event running.*
* And if the whole event doesn't end up running at all, we'll send you an email about that too.
---
Surprising discoveries
Balenciaga's making stiletto Crocs. Very few will/should buy them, but the swift, brutal backlash is all part of the plan.
France is sending the US another Statue of Liberty. One-sixteenth the size of the original, the "little sister" will spend her days on Ellis Island, working on acquiring the family's green hue.
A dog got lost for a week in the Arctic… Aika was found on the ice, wagging her tail like a good girl, by the crew of a Russian icebreaking ship.
…and China's possibly lost elephants took a nap. That's it. That's the surprising discovery.
Cicadas in the engines kept Joe Biden's plane from taking off for London. Or, to look at it another way, thousands of innocent cicadas died.
---
---
Our best wishes for a productive day. Please send any news, comments, unwanted statues, and lost dogs to hi@qz.com. Get the most out of Quartz by downloading our iOS app and becoming a member. Today's Daily Brief was brought to you by Hasit Shah, Sumnima Lama, Tripti Lahiri, Annabelle Timsit, Niharika Sharma, Susan Howson, and Liz Webber.