Good morning, Quartz readers!
Was this newsletter forwarded to you? Sign up here. Already a subscriber? You'd really make us feel like a winner if you pass along this email.
---
Here's what you need to know
China responded to NATO's criticism. At its summit yesterday in Brussels, the alliance warned of growing Chinese military power and ties with Russia, which Beijing dismissed as a "Cold War mentality."
Novavax completed its US and Mexico trials. The results for the American-made vaccine are on par with Pfizer and Moderna, but might arrive too late to contribute to US vaccine efforts (though could be useful as a booster later on).
The Delta coronavirus variant is spreading. It's been detected in 74 countries, but Pfizer and AstraZeneca vaccines show high efficacy against the strain.
Christiane Amanpour has ovarian cancer. CNN's chief international anchor, who's 65, revealed her diagnosis after four weeks off air for surgery.
The UK and Australia agreed a trade deal. It's the latest post-Brexit agreement, but the big ones—such as the US and India—still remain to be be negotiated.
Anti-vaxxers tried to capitalize on a soccer player's cardiac arrest. But Christian Eriksen's team confirmed he hadn't had a jab prior to his on-field collapse at the weekend.
What to watch for
As of today, Facebook will begin accepting requests from employees who want to work remotely on a permanent basis. Go for it, the company is saying, the remote future is here! But if you move to a cheaper area, we may adjust your salary accordingly. Oh, and we expect you to be in the office about 50% of the time, as a general guideline. (So, I guess you won't want to resettle too far away, unless you can afford two homes?)
As other business leaders work out how to organize the post-pandemic workplace, they might want to be mindful of a few facts:
---
Charting India's workplace gender diversity
The rise of remote work during the pandemic has helped improve gender diversity at Indian companies. In 2020, there was a huge surge in hiring women at the mid-management to senior level, with 43% of companies doing so, as compared to 18% in 2019, according to career platform JobsForHer.

Many companies have also revamped their hiring practices to remove gender bias while others have offered longer maternity leave. However, Ananya Bhattacharya writes, the pandemic did undo some of the progress working women had made.
---
The coming US green job boom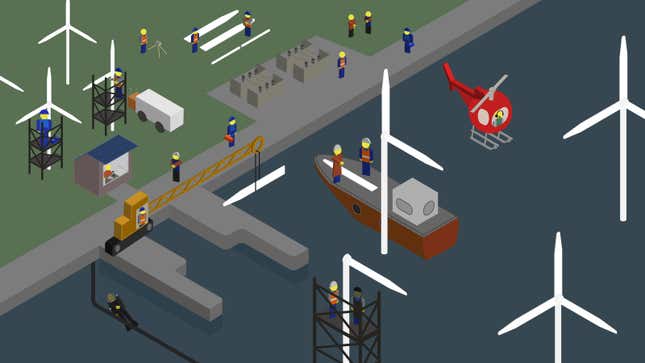 To address global warming, president Joe Biden's green energy plan aims to set the US on a course toward achieving "net-zero" greenhouse gas emissions by 2050. Experts agree offshore wind turbines are likely to be a big part of reaching that goal.
Pop quiz: Which of these is one of the jobs needed to build offshore wind farms?
Underwater welder
Painter
Land surveyor
Financial analyst
Trick question! The construction and maintenance of offshore wind farms requires all of those jobs. From planning to manufacturing to installation to operation, a boom in development has the potential to rejuvenate working waterfronts and ports. Clarisa Diaz and John Upton break down which states are likely to benefit the most.
✦ Everyone can benefit from reading Quartz's climate economy coverage, but you'll have to be a member to dive into field guides like climate tech's second shot. Try it free for a week.
Handpicked Quartz
(Psst. 👇 We took the first story out from behind our paywall because we think everyone should read it.)
🦠 The origins of Covid-19's racial disparities lie in America's prisons
💸 Delhi families have lost their loved ones—and their life's savings—to Covid-19
💉 South Africa's vaccine rollout has hit yet another roadblock
🐩 How to think like a winner (at the Westminster Dog Show)
---
Surprising discoveries
Host a hive. A Boston company will, for a fee, give you a beehive, harvest the honey for you, and use the data it collects to help the plight of bees everywhere.
Xbox is making a mini-fridge. After winning a Twitter poll against Skittles, Microsoft will capitalize on the jokes people made about the boxy appearance of its latest console.
Melon pan masks do offer some protection. The masks are made out of a popular bread-based confection, smell incredible, and look completely absurd.
Birds aren't fooled by your magic tricks. Excuse us, illusions. 
The "wandering meatloaf" features bizarrely hard teeth. In addition to a fantastic name, the gumboot chiton has a bite made of a material usually found in rocks.
---
---
Our best wishes for a productive day. Please send any news, comments, bee data, and magic tricks that can outsmart birds to hi@qz.com. Get the most out of Quartz by downloading our iOS app and becoming a member. Today's Daily Brief was brought to you by Hasit Shah, Susan Howson, and Liz Webber.