Good morning, Quartz readers!
Was this newsletter forwarded to you? Sign up here. Forward it to a friend, and then see if they send you a congratulatory note.
---
Here's what you need to know
More than 1,000 businesses were hit by a ransomware attack. Timed to coincide with the US Independence Day holiday weekend, the cyber attack locked up the IT systems of hundreds of businesses, in what could turn out to be the largest ransomware breach ever.
China cracked down on one of its largest tech businesses. Regulators halted domestic downloads of ride-hailing app Didi, just days after its blockbuster US IPO.
Jakarta is battling a brutal wave of Covid-19 infections. Hospitals in and around the Indonesian capital are nearing 100% capacity, creating scenes reminiscent of Delhi's second wave in April.
Online retailers pushed back against India's new e-commerce rules. Executives from Amazon and Tata have reportedly asked government officials to delay the timetable for new consumer protection regulations they say will hinder their businesses.
Deadly landslides struck Japan. Rescuers are still looking for 20 people missing after heavy rains caused landslides in the city of Atami.
The UK looks to ease pandemic restrictions. On the heels of a variant-driven wave of Covid-19 cases, British authorities said they'll soon release a plan to lift lockdowns and make mask-wearing a personal choice.
---
What to watch for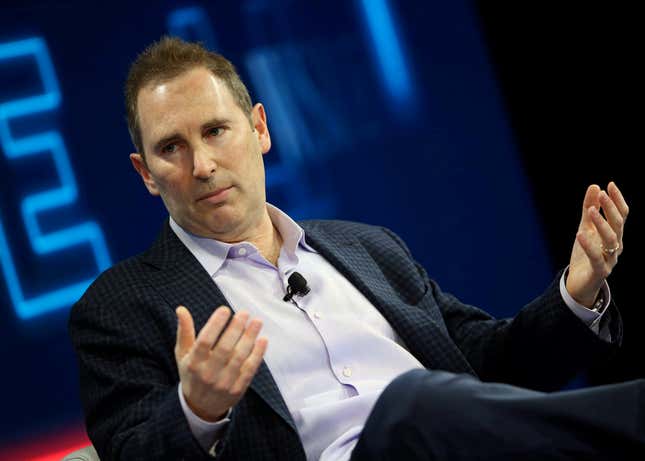 Andy Jassy takes over as Amazon's CEO today. The 53-year-old executive made a name for himself as the head of Amazon Web Services (AWS), the company's highly profitable cloud computing business (which has surprising South African origins). Amazon founder Jeff Bezos will hand over the reins so he can focus on other projects, like taking a trip to space with his brother.
Among Jassy's first challenges at the helm of the $2 trillion "everything store" will be surviving antitrust salvos from US lawmakers and prosecutors intent on dismembering the business. If he can keep the company intact, Jassy will just have to clear a few other hurdles, like keeping Amazon's much-vaunted "flywheel" spinning to perpetually cut costs for customers, finding the next mega-profitable business line that will succeed AWS, and keeping the company focused as it expands into an ever-wider footprint of parallel industries. We'll expect same-day delivery.
---
Charting the boom in tech M&A
The first half of 2021 has smashed global records for mergers and acquisitions. The tech industry, which saw its fortunes rise during the pandemic, led the charge with an unprecedented frenzy of deals worth more than $671 billion.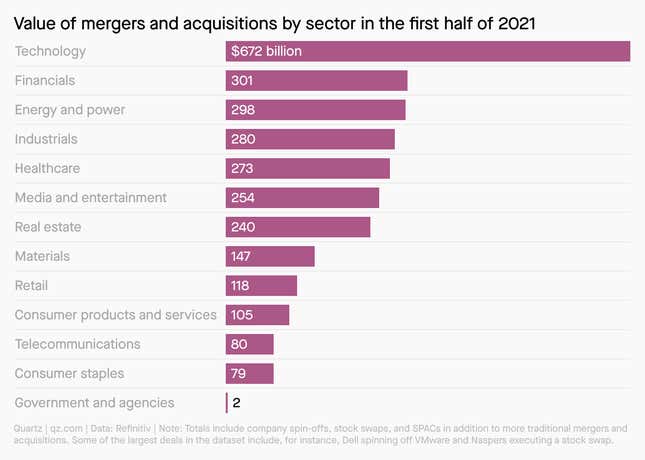 As of June 30, businesses worldwide had closed over $2.8 trillion in mergers and acquisitions, according to data from financial intelligence firm Refinitiv. "Over the course of 40 years of tracking mergers & acquisitions, we've never seen deal-making at this pace, by value and volume," said Matt Toole, director for deals intelligence at Refinitiv.
---
The rise of psychedelic medicine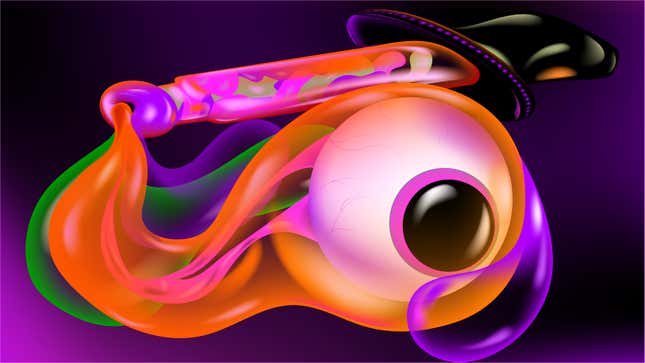 Promising studies and destigmatization are making psychedelics an increasingly viable treatment for mental illness. Dozens of new startups have sprung up to develop and deliver the drugs to patients in need. This week's member-exclusive field guide takes a look at the world of psychedelic medicine, from how psychedelics became a pharma darling to the psychedelic medicine companies to watch.
✦ Quartz membership is a trip that's also pretty good for the brain. Don't just take it from us, try it out for free.
---
Handpicked Quartz
(👇 The first one is so important, we took it out from behind the paywall.)
🛫  The EU's new vaccine passport is causing whiplash for Africans and Indians
🧰  Which US workers benefit most from the labor shortage?
💸  To control speech, Uganda is taxing internet usage by 30%
⛵  India's Tokyo Olympics sailing duo already have their eyes set on the 2024 Games
💻  Beware the chilling effects of hot desking
🇿🇦  A timeline of South Africa's vaccine mistakes
---
Surprising discoveries
Courts can't keep up with Marilyn Monroe fakes. Nearly six decades after her death, the company that owns the rights to Monroe merch is struggling to hunt down her counterfeiters.
US police salaries are inching up. Despite the growing movement to defund the police, the job continues to be one of the best-paid professions in the US.
US pensioners are rolling in it. Older Americans have socked away $35 trillion to give to their kids and charities in the coming years, the equivalent of 157% of US GDP.
Ukraine's female soldiers have to parade in heels. A practice training in "mid-heel black pumps" shared on the defense ministry's website has infuriated lawmakers.
Alaskan bumblebees twerk to survive the cold. Scientists are studying the insects' survival strategies, which include shaking their fuzzy bug butts to generate heat.
---
---
Our best wishes for a productive day. Please send any news, comments, marching pumps, and bee-inspired dance moves to hi@qz.com. Get the most out of Quartz by downloading our iOS app and becoming a member. Today's Daily Brief was brought to you by Jackie Bischof and Nicolás Rivero.