Good morning, Quartz readers!
Was this newsletter forwarded to you? Sign up here. Forward to a friend who's on vacation, and remind them how many days of it they have left.
---
Here's what you need to know
The Olympics are set to take place in empty arenas. From Monday, Tokyo will once again be in a state of emergency; you can keep up to date with our Need to Know: Tokyo Olympics newsletter.
The search for survivors in a collapsed Florida building is over. 86 people are missing, with 54 confirmed deaths, but the chances of finding anyone alive are "near zero," said Surfside mayor Charles Burkett.
US shareholders are suing Didi. The Chinese ride-hailing company's stock plunged on the New York Stock Exchange after Beijing's crackdown, and investors say it should have disclosed its compliance talks with Chinese regulators.
Police in Haiti killed four suspects in the president's assassination. A group of attackers shot Jovenel Moïse dead at his private residence; his wife Martine survived.
Former South African president Jacob Zuma began a 15-month jail term. He finally handed himself in before yesterday's midnight deadline, following his conviction for failing to attend a corruption inquiry.
---
What to watch for
Michael Avenatti, the high-profile lawyer convicted of trying to extort up to $25 million from Nike, is sentenced in New York today after repeated postponements due to the pandemic.
🧐 Who is this guy? Avenatti represented adult actress Stormy Daniels in her lawsuit against former president Donald Trump. He was arrested in March 2019 after Nike alerted authorities about his threats.
🏀 What was he convicted of? Avenatti claimed one of his clients was the coach of a youth basketball program who had evidence Nike employees were illegally paying the families of top high-school players—if the company didn't want him going public, it had to pay up. In February 2020, a federal jury found Avenatti guilty of attempted extortion and charges related to wire fraud.
⚖️ What sentence is he looking at? US prosecutors are pushing for a "very substantial" prison term, which could be as long as 14 years.
---
Charting the most and least productive background music
Companies are trying various tactics to lure employees back to their desks, like offering commuting stipends or free catered lunches. But Swiss furniture maker Vitra found a simpler and surprisingly effective strategy: Get a speaker and play some music.
"When you're in an office that's really quiet, even the smallest sound becomes really annoying," chief design officer Christian Grosen explains. "Music provides background sounds, which breaks the deafening silence."
Anne Quito explains how the research backs him up, and provides tips for choosing the right soundtrack for your office.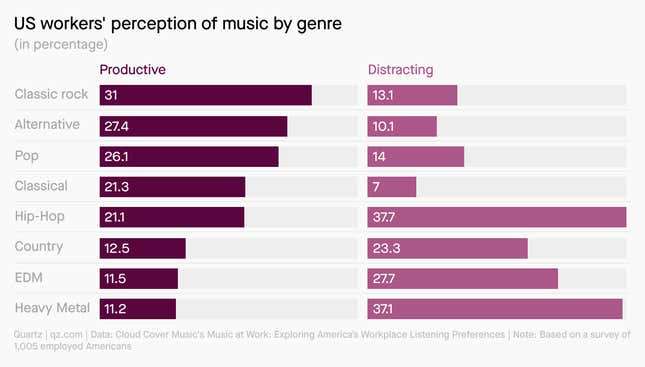 ---
China's Didi dilemma is about data
The crackdown on ride-hailing app Didi points to the increasing conflict between China's ideals of data freedom and data control. Last month, Beijing passed legislation that for the first time encoded in law the principle of the free movement of data. But the law also presents data security as a national security concern, stipulating that firms found to be mishandling "core state data" can be punished with hefty fines, or even be ordered to cease business operations.
China has a strong economic incentive to promote the free movement of data: According to McKinsey, global data flows raised global GDP by over 10% compared to a scenario in which there were no such cross-border flows. Yet China is also aware of the inherent risks: former US president Donald Trump banned the Chinese apps TikTok and WeChat over concerns that their vast troves of data would be used to spy on Americans.
✦ Mary Hui covers the intersection of geopolitics and tech as part of our Because China Obsession. Stay on top of the trends with a Quartz membership—try it free for a week.
Handpicked Quartz
(👇 We found the first one so fascinating, we decided to drop its paywall.)
💻 The fastest-growing remote jobs for US workers without college degrees
🤔 What is a supply chain cyber attack?
🔍 Indian auditors are asking NGOs about their Muslim beneficiaries
🎬 Why is Netflix still feuding with Cannes?
🤐 Africa's last kingdom is using modern methods to silence dissent
🥇 Even under a dark cloud of Covid, brands can't quit the Olympics
Sign up for the Need to Know: Tokyo Olympics newsletter to stay up to date on the people, politics, and profit behind the Games.
---
Surprising discoveries
Synthetic Tesla and Apple shares are being traded on blockchains. It's an experiment in decentralized finance, and it's working.
Trout can become meth addicts. That's not great, considering wastewater treatment facilities aren't designed to filter it out.
But legalizing marijuana is putting dogs out of a job. Drug-sniffing police canines weren't trained to discriminate between types of drugs, meaning possible rights violations.
Companies want to incept advertising into our dreams. Coors encouraging people to watch a video before bed for "refreshing dreams" isn't going over well with cognition experts.
An enormous diamond could fetch the highest auction price for a physical item. You can pay for the 101-carat gem with crypto, too.
---
---
Our best wishes for a productive day. Please send any news, comments, hearts of the ocean, and happily retired dogs to hi@qz.com. Get the most out of Quartz by downloading our iOS app and becoming a member. Today's Daily Brief was brought to you by Hasit Shah, Marc Bain, Liz Webber, and Susan Howson.