Good morning, Quartz readers!
Was this newsletter forwarded to you? Sign up here. Forward to a friend who is trying to reinvent themself.
---
Here's what you need to know
A ransomware gang suddenly went offline. Speculation is rife over REvil's disappearance from the internet; the group, possibly originating in Russia, is thought to be responsible for hundreds of cyberattacks.
Carlos Ghosn spoke publicly about his escape. In his first interview since fleeing Japan in 2019, the former Nissan boss told BBC News how and why he left the country in a box to avoid prosecution.
Zomato went public. The Indian food delivery company raised more than $560 million from institutional investors ahead of its $1.2 billion IPO today, but only 10% of its stock is available to retail traders.
Foreign Olympic workers were arrested in Tokyo over alleged cocaine use. The four men (two American, two British) have been suspended by electrical firm Aggreko, and the incident has highlighted local fears over the imminent influx.
Deadly riots continue in South Africa. At least 72 people have died in demonstrations triggered by the jailing of former president Jacob Zuma last week.
Streaming got more 2021 Emmy nominations than broadcast and cable combined. Disney's The Mandalorian and Netflix's The Crown were both nominated in 24 categories.
---
What to watch for
The EU unveils a radical climate plan. The new proposals, unveiled today, aim to cut emissions by 55% from 1990 levels—with an ambitious deadline of 2030. In June, European lawmakers set the bloc's climate goals in stone, legally committing to reaching net zero by 2050. Now comes the hard part: agreeing on how to actually do that.
Today, the European Commission will introduce a set of 12 proposals (pdf) that legislators will debate and possibly approve over the next two years. They range from tighter caps on emissions to new support for low-carbon aviation fuels to a carbon tax on certain imports.
Overall, EU emissions are declining, but far from fast enough, and emissions from transportation are still rising. Lawmakers will need to navigate a divide between wealthier nations that want to plow full-steam ahead, and poorer ones that still rely on fossil fuels. And they'll need to decide how much support to channel to former European colonies that are the most vulnerable to climate impacts.
---
Charting Virgin Galactic's stock
Virgin Galactic has spent the last 17 years developing an air-launched rocket plane capable of carrying passengers and scientific payloads on brief trips above the earth. On July 11, founder Richard Branson tried it out himself.
When it became the first publicly traded spaceflight company in 2019, Virgin Galactic's forecasts were viewed as unlikely at best, and when the pandemic hit, things started to look even dicier. But despite being followed up by zero plans for carrying passengers, Branson's company is still thrilling investors. When his more traditional businesses, including the airline Virgin Atlantic, needed a bailout, Branson was able to raise money from a company widely seen as a vanity project. (It's still unlikely he's breaking even on his space investment, though.)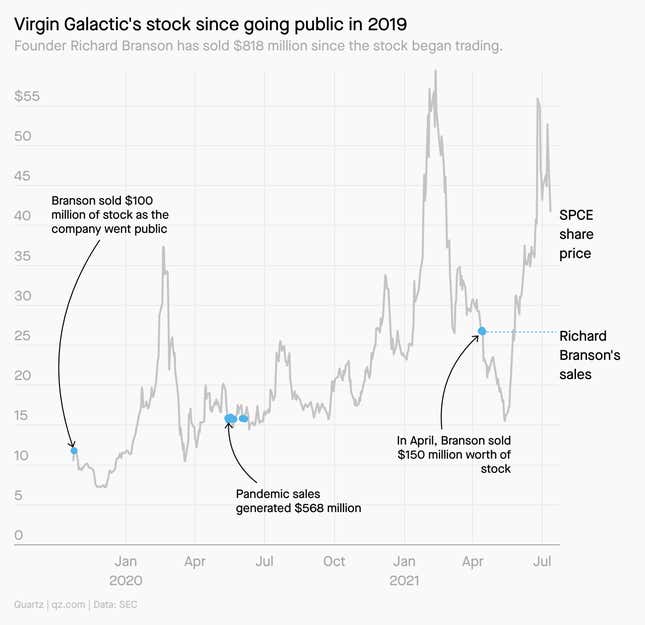 ---
All you need to know about Africa's four (six?) unicorns
There is a wave of optimism around the first four African startups to hit a $1 billion valuation. Emerging markets investment analysts are betting on fintech and e-commerce, staked on the continent's tech-savvy population, to provide even more unicorn status companies for the region.
🇳🇬 Flutterwave—Founded: 2016; Industry: fintech; Secret weapon: An office in San Francisco gives it access to a bigger pool of venture capitalists
🇳🇬 Interswitch—Founded: 2002; Industry: fintech; Secret weapon: Attracting investors that hadn't thought to look towards Africa
🇪🇬 Fawry—Founded: 2008; Industry: fintech; Secret weapon: Egypt's regulatory changes mean licensing from the central bank
🇳🇬 Jumia—Founded: 2012; Industry: e-commerce; Secret weapon: Achieving unicorn status first
👀 Chipper Cash and Opay—Depending on how you define "unicorn," these two could be on the list, too
Learn more about Africa's unicorns, and what $1 billion-plus companies will look like in the future.
✦ Quartz Africa is covering the continent's industries to watch, and you'll be covered, too, if you grab a Quartz membership. It's free for a week!
---
Handpicked Quartz
(👇 The first one is so good, we decided to drop its paywall.)
🎭 Returning to the office is a chance to reinvent your identity
🥰 How AI can help create more caring company cultures
🥀 2021 was a great year for Chinese listings in the US—until Didi
💉 The delta variant is proof that vaccines are crucial in the fight against Covid-19
📶 Cuba's nascent 3G network is enabling nationwide protests
🕷 The success of Black Widow shows theaters and streaming can coexist
---
Surprising discoveries
NASA is sending a time capsule on its latest asteroid mission. It's no Golden Record, but the plaque does include quotes from all four Beatles.
Giant goldfish are causing trouble in a Minnesota lake. The pets grow much bigger in the wild and can disturb natural ecosystems.
A stash of medieval French coins was unearthed in Poland. They were possibly left there by Vikings who besieged Paris in 845.
Tibet's first bullet train travels at such high altitudes it has to pump in oxygen. It also has special windows to protect passengers from UV rays.
Someone used bowling balls instead of gravel in construction. A Michigan man found 160 of them buried under his house.
---
---
Our best wishes for a productive day. Please send any news, comments, unwanted pet goldfish, and buried treasure to hi@qz.com. Get the most out of Quartz by downloading our iOS app and becoming a member. Today's Daily Brief was brought to you by Hasit Shah, Tim McDonnell, Tim Fernholz, Tawanda Karombo, Liz Webber, and Susan Howson.