Good morning, Quartz readers!
Was this newsletter forwarded to you? Sign up here. Forward to a friend who knows all the best coffee shops.
---
Here's what you need to know
The Oregon inferno is affecting weather systems. The Bootleg Fire has grown to more than 360,000 acres, although it is 30% contained.
The US is heavily discouraging travel to the UK. The Centers for Disease Control put Britain at level 4 over the prevalence of the delta variant there, despite low deaths and hospitalizations.
Half the world accused China of hacking Microsoft.The US and some of its allies, including the UK, EU, and NATO, issued statements linking a security breach to individuals affiliated with China's government.
The market reflected grim Covid-19 predictions. In the face of the rapidly spreading delta variant, investors abandoned travel and oil stocks for Netflix and bonds, mirroring early pandemic behavior.
Toyota backed out of the Olympics. The Japanese auto giant responded to public disapproval surrounding the Games by pulling its advertising and RSVP-ing "no" to the opening ceremonies.
Usain Bolt says new running spikes are "weird and unfair."The fastest person in history's records could fall to inferior athletes because of the use of technology.
The Games begin this Friday. Get a gold medal in Olympics news by signing up for our Need to Know: Tokyo Olympics email.
---
What to watch for
Today, Amazon founder and world's richest man Jeff Bezos will fly to the edge of space in a rocket, New Shepard, developed by his space company Blue Origin. The trip will mark a historic first for private spaceflight, including the youngest and oldest people to leave Earth's atmosphere. Tim Fernholz will be covering the event on the ground in Texas. Here are the pre-launch highlights:
100 km (62 miles): The altitude reached by the New Shepard, widely seen as the edge of space and about 10 miles higher than Virgin Galactic's rocket plane reached
80 km (53 miles): A scientifically accurate measure of where space begins
11: Minutes required for the entire trip
$28 million: The price paid by one passenger who isn't going on the trip
22: Years of work at Blue Origin to reach this launch
110,000: Pounds of force exerted by the New Shepard's BE-3 engine
$206 billion: The most recent estimate of Jeff Bezos's net worth
---
Charting urban super-polluters
A new study that evaluated greenhouse gas emissions for 167 cities around the world found over half of emissions from the entire group came from just 25 cities, mostly in China. As a whole, the massive emissions output of these Chinese cities can be traced to the country's rapid urbanization and reliance on coal energy.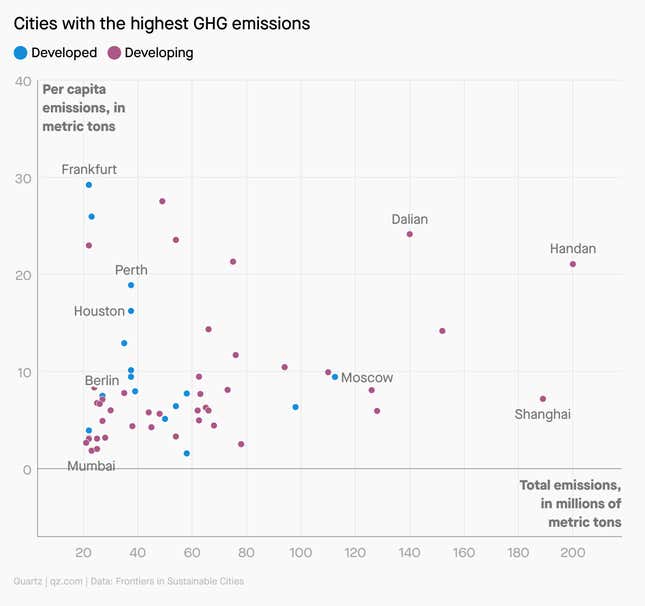 On a per-person basis, however, the places with the highest emissions were mostly in richer economies in North America and Europe. Among this group, transportation and residential energy consumption made up a much higher portion of emissions.
---
Beijing's new carbon market won't fix climate change
China is trying to do something about its emissions. Last week, it opened the world's largest carbon trading market, which covers about 2,200 power plants that account for 40% of the country's world-leading carbon footprint. But because of the market's byzantine structure, it is unlikely to have much of an impact on China's emissions, Tim McDonnell writes.
📈 There's no cap on the total number of permits. That means high-productivity plants could get more permits than they need—essentially getting paid by the government to pollute—and there's nothing to prevent new plants from being built, increasing total emissions.
📉 The carbon price is much too low. That's also a factor of the number of permits allocated. And each plant's permit requirement is capped at 20% above its original allocation; any emissions beyond that are gratis. Plus, the fee for non-compliance is only about $4,600.
✦ How do we get to net zero emissions? The question will define the global economy for the next century. Access all of Quartz's coverage of the climate economy by becoming a member—try it free for a week.
---
Handpicked Quartz
(👇 We know you're curious about the first one, so we dropped its paywall.)
😥 All the athletes who have dropped out of the Tokyo Olympics (so far)
👟 Is Nike really facing a sneaker shortage?
☕️ Meeting space ideas for distributed and hybrid workers
🦄 India's most successful unicorns lack gender diversity at the top
👶 The US still lags on public spending for children even with the new child tax credit
🌪 The face of global luxury brands in China is at the heart of a #MeToo storm
---
Surprising discoveries
A new urine test can pinpoint cancer. Not just the existence of it—that was already possible—but where it is in the body.
Peloton is getting into gaming. Taking a class not your style? Maybe pedaling through a video game will do the trick.
Somebody once told me… that the royalty rights to the Shrek soundtracks are up for grabs.
Oysters are clogging up an Olympic venue. The shellfish sank several floats before officials caught on.
Dorothy's dress was found. What appears to be Judy Garland's blue gingham number from The Wizard of Oz was lying around in a shoebox at Catholic University in Washington DC.
---
---
Our best wishes for a productive day. Please send any news, comments, movie soundtrack royalty rights, and long-lost film memorabilia to hi@qz.com. Get the most out of Quartz by downloading our iOS app and becoming a member. Today's Daily Brief was brought to you by Hasit Shah, Camille Squires, Susan Howson, and Liz Webber.