The founders of Ben & Jerry's may be known as hippie throwbacks, but in many ways they were ahead of their time. From their earliest days making ice cream in Vermont, they cared passionately about supporting sustainable agriculture, paying a living wage, and speaking out on social issues that on the surface seemed unconnected to their product.
Founders Ben Cohen and Jerry Greenfield put those principles at risk with the company's controversial sale in 2000 to Unilever, the global consumer products giant. But in the 20-plus years since, the mission-driven brand has largely stuck to its core values while keeping the peace with its corporate overlords. Until now.
This week, under pressure from pro-Palestinian activists and Ben & Jerry's own board, the company announced it would stop selling ice cream in the Israeli-occupied territories, saying it was "inconsistent with our values" to do business there. But the brand, along with Unilever in its own statement, indicated it would continue to operate in Israel proper.
That's where things get tricky. Because the Ben & Jerry's board, which is tasked with safeguarding the brand's social mission—and was guaranteed its independence at the time of the Unilever acquisition—says it never agreed to the decision to stay in Israel. By weighing in "on an issue directly related to Ben & Jerry's social mission and brand integrity" without the directors' approval, the board now says that both Unilever and the Ben & Jerry's CEO (a Unilever veteran) "are in violation of the spirit and the letter" of the acquisition agreement hammered out two decades ago.
Ben & Jerry's controversial move has resurfaced old questions about the politics of doing business in the Middle East, and the effectiveness of boycotts. But it also has turned up new questions about the boundaries for missions and values in a corporate environment—a topic long familiar to Ben & Jerry's observers, but only recently relevant to an increasing number of mainstream companies.
Denying ice cream to anyone in the Middle East won't bring peace to the region. But Unilever and the board of Ben & Jerry's will at least succeed in showing the world the current limits on conscious capitalism. —Heather Landy
---
---
Five things from Quartz we especially liked
Getting rid of single-use plastics can save businesses a lot of money. It's also, of course, better for the environment. Visual reporter Clarisa Diaz dives into the details of how three businesses switched from disposable to reusable items. With creative use of graphics, she shows us exactly how much that's helping their bank accounts (and the planet) each year. —Amanda Shendruk, Things reporter
Where has delta spread? The Covid-19 delta variant is quickly becoming the dominant force behind the pandemic. And though vaccines are still effective at preventing deaths and hospitalizations from the strain, most of the world remains unvaccinated. In this sobering article, Amanda Shendruck and Manavi Kapur analyzed global health data to pinpoint where the most infectious variant of the coronavirus is hitting hardest. —Michael Coren, deputy editor
Hong Kong's proposed doxxing law may drive Google and Facebook out of town. The measure gives local authorities power to surveil and punish any person or business involved in the vaguely-defined crime of "doxxing"—which has to do with posting other people's personal data online. Mary Hui and Jane Li expertly lay out how authorities could use these powers to go after foreign tech companies and their employees, prompting major US firms to warn they may soon have to stop offering their services in Hong Kong. —Nico Rivera, reporter
The SPAC boom is coming for climate tech. With at least 50 SPACs on the hunt for clean tech startups, the industry is poised for a big influx of cash. That could bode well for climate tech innovation, as Tim McDonnell reports: Electric trucks and solar farms require a lot of capital to get off the ground. The trend could even help speed up legacy fossil fuel companies' shift to clean energy, with those firms using SPACs to acquire climate startups down the line. —Sarah Todd, senior reporter
Some people called him a space cowboy. When Jeff Bezos went to space this week, commentators ragged on everything from his tone-deaf remarks to his cowboy hat. But forgotten in the criticism were all the people who worked to design, test, and operate the New Shepard. Space-business expert Tim Fernholz looks at how the Bezos backlash is overshadowing Blue Origin's success. —Kira Bindrim, executive editor 
➕  Keep tabs on what's next for Blue Origin with Tim's weekly Space Business email.
---
Four Olympics things that made us 🏅
The 2020 Olympics officially began in Tokyo on Friday with a somewhat subdued opening ceremony. It's difficult to evoke the excitement of past Games when playing to a mostly empty stadium in the shadow of a global pandemic. Still, there were plenty of joyful moments, and much to look forward to over the next two weeks:
🔥 Naomi Osaka was a meaningful pick to light the Olympic cauldron
👾 Video game themes are the soundtrack to the Tokyo Olympics
👚 Let the fashion Olympics begin
🇮🇳 Will sending its largest-ever contingent change India's fortunes at the Olympics?
Keep reading about the people, politics, and profit at this year's Games by subscribing to our Need to Know: Tokyo Olympics newsletter.
---
We're obsessed with surfing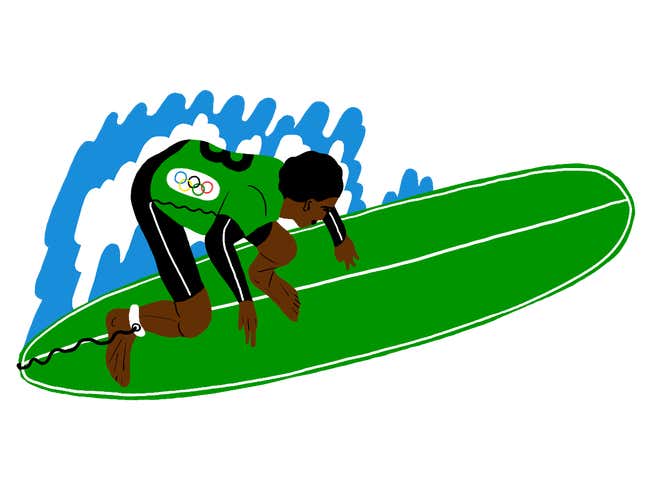 Getting its due. More than a century after legendary surfer Duke Kahanamoku first floated the idea of including surfing in the Olympics, and 20 years since International Surfing Association president Fernando Aguerre started pushing hard for it, the dream has finally crested. Surfing will be represented in the Olympic Games for the first time in Tokyo by 20 men and 20 women from 17 countries. Come ride this wave with the Quartz Weekly Obsession.
---
Five things from elsewhere that made us smarter
Getting over the vilification of GMOs. When consumers hear that a food is genetically modified, they often assume it's some evil frankenfood. However, as Jennifer Kahn writes for the New York Times Magazine, GMO produce can offer benefits from longer shelf life to improved nutrition, while helping farmers reduce their reliance on monocrops. What will it take to change public opinion? I for one can't wait to get my hands on some purple tomatoes. —Liz Webber, deputy email editor
Can restorative justice help survivors of abuse? Whether "bad men" can ever really change was one of the big questions to emerge from the #MeToo movement. Restorative justice has emerged as a possible alternative to the criminal justice system, emphasizing healing for survivors and reform for offenders. In The Cut, Amelia Schonbek relays one such session to gauge whether the practice can do what it's intended to. —Alex Ossola, membership editor
The case for casitas. In order to increase housing stock, policymakers across the western US are turning to extra units on property typically zoned for single-family houses. These extra units are small cottages, or "casitas," attached to existing homes. As Jessica Kutz explains for High Country News, casitas may be a way to prevent displacement of communities by gentrification. They also provide an extra source of income for historically affected BIPOC homeowners, and give renters more affordable housing options. —Clarisa Diaz, Things reporter
The golden era of the Olympic mom. In this moving piece, Washington Post reporters Dave Sheinin, Bonnie Berkowitz, and Rick Maese speak to female athletes who became mothers about the sacrifices they've made, and continue to make, for a competition that wasn't built to accommodate them. The consensus is that the Olympics have gotten (much) better for women with kids, but that there's a lot of room left for improvement—including at Tokyo 2021. —Annabelle Timsit, reporter
The missing pieces of Emmett Till's story. For the Atlantic, Wright Thompson, a master storyteller and journalist, visited a barn on a stretch of land in Mississippi where 14-year-old Emmett Till was beaten and murdered in 1955. The barn has been somewhat forgotten in popular retellings of the Till tragedy, a moment that catalyzed the US civil rights movement, but Thompson centers his story on the building like a living, breathing crime scene, reconstructing the character dynamics and history associated with the murder. The result is a breathtaking story. —Scott Nover, reporter
---
Our best wishes for a relaxing but thought-filled weekend. Please send any news, comments, cowboy hats, or purple tomatoes to hi@qz.com. Get the most out of Quartz by downloading our app and becoming a member. Today's Weekend Brief was brought to you by Liz Webber and Sarah Todd.