Good morning, Quartz readers!
Was this newsletter forwarded to you? Sign up here. Forward to your favorite doughnut eater.
---
Here's what you need to know
Congress edges toward an infrastructure deal. While obstacles remain, a Senate vote moved the bi-partisan $1 trillion package one step closer to becoming law.
Federal workers get a vaccine requirement. The Biden administration will reportedly require US government workers to get a Covid-19 vaccine or have regular testing.
Robinhood's IPO sputtered. Shares of the brokerage app start trading today after its public offering valued the company yesterday at about $32 billion, which was the lower end of expectations.
Boeing posted its first profit in almost two years. The aircraft manufacturer saw an upswing in jet sales and defense business, but needs more orders from China to continue its growth.
Pfizer forecasts $33.5 billion in Covid vaccine sales. The company increased its 2021 sales forecast by 29%, saying it expected people would need booster shots.
China sentences a billionaire farmer. Sun Dawu, a supporter of political dissidents, may serve 18 years for "picking quarrels and provoking trouble."
Peru's new president was sworn in. The son of peasants, Pedro Castillo pledged to tackle inequality while maintaining economic stability.
What to watch for
All used up. The Earth's natural resources are not inexhaustible—and the global economy is exhausting them more quickly every year. That's the message behind Earth Overshoot Day, a date calculated annually by the World Wildlife Fund and other environmental groups. It marks the point in the year when humanity uses more resources—timber, fish, crops, fossil fuels—than the planet can naturally replenish (or in the case of carbon dioxide, absorb from the atmosphere).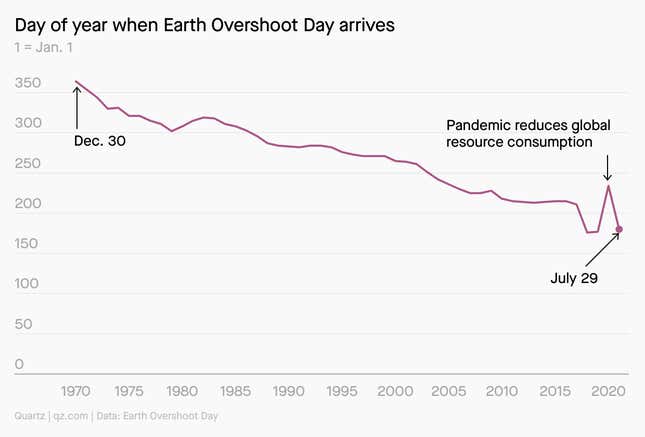 In a perfectly sustainable world, that date would be Dec. 31, or not arrive at all. This year, it's July 29. Since 1970, when the project started, the day has crept steadily earlier each year—except 2020, when the pandemic cut global consumption and bought an extra month.
---
Charting the cost of cyber attacks
The economic pain caused by cyberattacks hit an all-time high during the pandemic, according to an IBM report.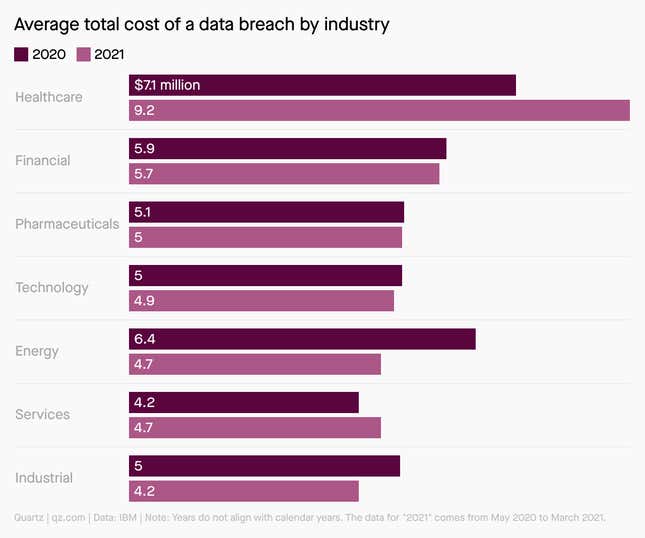 The average cost of a data breach had been relatively stable in the years leading up to the pandemic, hovering around $3.8 million since 2015. But as Covid-19 cemented its grip on the globe last year, the cost of being hacked rose nearly 15%—the highest year-over-year increase in IBM's dataset.
Healthcare hacks have been one of the biggest contributors to the rising cost of data breaches. The healthcare industry has always been a juicy target for hackers, because it collects a vast amount of deeply personal information. But lately, hackers have also been able to use the threat of shutting down hospitals in the midst of a public health crisis to extort them for ransoms.
---
Name, image, and likeness
College athletes in the US have long been an unpaid workforce, generating millions for their schools without seeing a share of the revenue. That's about to change, following a series of court decisions that led the National Collegiate Athletic Association to allow students to profit from their name, image, and likenesses starting July 1.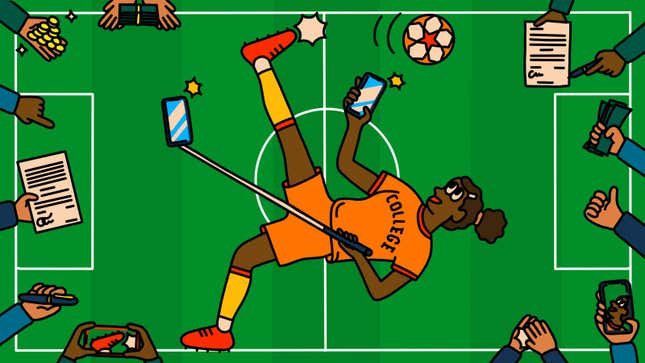 That means they will now be able to endorse products, sell merchandise with their name or photos, and, perhaps most significantly, enter the ranks of influencers. Many college athletes are already social media stars—Louisiana State gymnast Olivia Dunne has 4.1 million followers on TikTok—and they are in line to get paid.
Handpicked Quartz
(👇 We found the first one so fascinating, we dropped its paywall.)
💰 Robinhood's IPO is a bet on Gen Z's growing wealth
😷  If you live in these counties the CDC says to wear a mask indoors
🥣 Every Olympic athlete that's been on the Wheaties box
🥗 From Sweetgreen to Krispy Kreme, why restaurants are going public
🇿🇦 World Bank: South Africa's digital sector could its solve job crisis
---
Surprising discoveries
A Wu-Tang Clan album was sold by the US government. Previously owned by "pharma bro" Martin Shkreli and seized by the government, the one-of-a-kind album has only been heard by a handful of people.
A Scottish ultramarathon is going ultra-luxury. One of the most expensive races in the world will include glamping, a gala, and a custom training program.
If aliens won't come to us, we'll go looking for them. A new project is launching to find "mysterious artifacts" in Earth's orbit that could be signs of extraterrestrial life.
Barack Obama is taking a stake in NBA Africa. The former president came on as a strategic partner and minority owner of the new league, first announced in May.
London's Marble Arch Mound is…a big mound, next to a marble arch. Yeah, visitors to the new attraction were disappointed too.
---
---
Our best wishes for a productive day. Please send any news, comments, athlete influencers, and unsightly mounds to hi@qz.com. Get the most out of Quartz by downloading our iOS app and becoming a member. Today's Daily Brief was brought to you by Tim McDonald, Scott Nover, Nicolás Rivero, Camille Squires, Oliver Staley, and John Detrixhe.