Good morning, Quartz readers!
Was this newsletter forwarded to you? Sign up here. Forward to a friend who's a big fan of Bollywood, Broadway, or both.
---
Here's what you need to know
Tesla hit $1 trillion in market cap. As electric-vehicle popularity explodes, and Hertz buys 100,000 Teslas, the automaker now sits alongside fellow trillion-dollar companies Apple, Microsoft, Alphabet, and Amazon.
Facebook's earnings surpassed projections. The tech giant's third-quarter revenue missed the mark, though, with a name change imminent. Its stock rose even as a whistleblower urged the UK parliament to impose regulations without delay.
A Chinese property developer failed to repay a $250 million bond. It's not Evergrande, for once—Modern Land is the culprit this time.
The White House published rules for traveling to the US. The border is reopening for millions of potential visitors in November.
Dave Chappelle responded to critics of his recent Netflix special. "I am not bending to anybody's demands," the comedian said. He also said he now can't get a distributor for a documentary he's made.
Greenhouse gases are headed in the exact wrong direction. A United Nations report said the world is "way off track," with CO2 levels breaking records in 2020. World leaders have work to do at the COP26 climate summit in Glasgow this week, and you can follow along by signing up for Quartz's Need to Know: COP26 newsletter.
What to watch for
Tech investors are eyeing this week's packed earnings calendar nervously, after a pair of disappointing reports from Snap and Intel sent their stocks tumbling.
⛈ Hoping for a thunderous cloud performance: Amazon, Alphabet, and Microsoft hope that strong growth in their cloud computing divisions will be enough to distract investors from their other challenges. In Amazon's and Microsoft's cases, that means supply chain struggles; in Alphabet's case, that's a looming stormcloud of antitrust investigations.
👻 Hoping to avoid Snapchat's fate: Twitter will have to convince analysts it's doing a better job of navigating Apple's new privacy restrictions than Snapchat, which recently admitted it's having a hard time gathering data from and targeting ads to iOS users.
🎄 Hoping for a Christmas miracle: Apple's earnings report will give investors a glimpse at how supply chain woes are affecting profit margins, and whether the company expects to see strong sales of its latest iPhone during the holidays.
---
Bollywood is coming to Broadway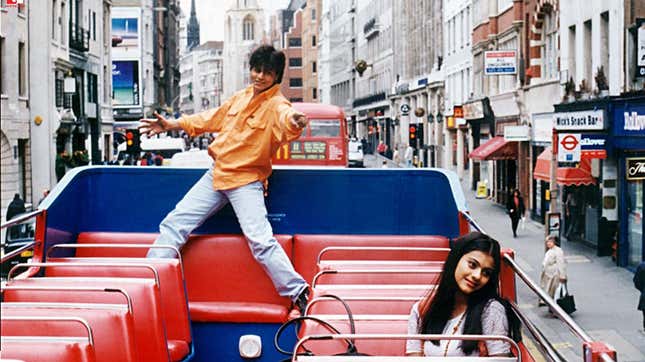 Bollywood's longest-running movie, Dilwale Dulhania Le Jayenge, will become a Broadway musical. It's the first such adaptation of a major Hindi-language picture, which tells the story of Indian-origin Londoners who fall in love on a trip through Europe, against parents' wishes.
Released in 1995, DDLJ not only helped set the tone for an entire era of Bollywood filmmaking, it shot the careers of stars Kajol and Shah Rukh Khan—whose recent hesitancy to speak out publicly against injustice has made him a controversial figure as of late—into the stratosphere.
Director Aditya Chopra, who now helms film studio Yash Raj Films, says Come Fall in Love—The DDLJ Musical will more closely follow his original vision. English-language dialogue and the casting of an American to follow in SRK's iconic footsteps may indicate that Bollywood is at last dancing its way into mainstream American consciousness.
---
A better way to enjoy Bollywood films
The DDLJ Broadway show will be in English, but if you want to enjoy the film in its original Hindi (and you aren't already a Hindi speaker) there's plenty of time to perfect your aural comprehension before the stage musical's debut.
Whether you use an app like Duolingo or opt for a more intensive course, here are a few tips for learning a new language:
Know what you want to know. Why do you want to learn this language? The way you practice and the kind of learning you focus on will vary depending on your goal.
Provide yourself ample opportunities to have meaningful and purposeful interactions in the language.
Find people to practice with. Take a cooking class in your target language, join a Meetup group, or spend time with a fluent friend.
Find more language learning advice in our recent How To email, as well as a closer look at Duolingo's business model in a recent Company email—two of our newest newsletters exclusively for Quartz members. ✦ For an intensive course on the global economy, consider a Quartz membership. Get 40% off with code QZEMAIL40.
---
Handpicked Quartz
📉 Robinhood shares have dropped as regulatory worries stack up
🏠 Why US home prices are still so high
☀️ India and the UK are planning a 140-country solar grid. Will it work?
🎨 Why people tend to give up on creative projects too early
🛒 US families spend far less on food than those in Europe, but for how much longer?
🤔 Bias isn't the only problem with decision-making at your company
Surprising discoveries
A robot artist was detained in Egypt. Customs authorities were worried about cameras in the ultra-realistic Ai-Da's eyes, prompting her creator to deny she was a spy.
Bogotá officials and event planners paid a mystic to stop storms. Jorge Elias González made up to $2,000 keeping skies clear for festivals and sporting events, until he couldn't.
Madagascar's largest lemur sings with human-like rhythm. While its ability is one of the first to be found in non-human mammals, its "bagpipes being stepped on" trill isn't exactly easy listening.
Worm blobs are helping scientists understand entangled systems. The worms gather and dissipate to optimize survival, but the best spot in the blob remains elusive.
A radio signal thought to be aliens really wasn't. Astronomers were mystified enough by the blip to spend nearly a year looking into its origins.
---
---
Correction: Yesterday, many Quartz readers received a marketing email that mistakenly said Boston Dynamics had armed one of its robots. In fact, Boston Dynamics has said it won't arm its robots. The armed robot shown in our Forecast email was crafted by Ghost Robotics and Sword Defense. We regret the error.
---
Our best wishes for a productive day. Send any news, comments, DDLJ tickets, and real evidence of aliens to hi@qz.com. Get the most out of Quartz by downloading our iOS app and becoming a member. Today's Daily Brief was brought to you by Hasit Shah, Nicolás Rivero, Ananya Bhattacharya, Alexandra Ossola, Liz Webber, Susan Howson, and Morgan Haefner.