Good morning, Quartz readers!
Was this newsletter forwarded to you? Sign up here. Forward to the biggest Toni Morrison fan in your life.
---
Here's what you need to know
Amazon and Apple posted disappointing third-quarter earnings and revenue. The companies' CEOs Andy Jassy and Tim Cook both cited supply chain issues, costing billions, as a major reason for the shortfall.
Facebook changed its company name to Meta. The rebrand is meant to reflect the tech giant's growing interest in virtual reality, but its corporate structure will remain the same.
Xi Jinping will join COP26 by video link. China's foreign ministry confirmed the president would not attend in person because of covid, as has long been expected.
SoftBank's Vision Fund finally invests in a company from its home country. Biotech startup Aculys Pharma represents the Japanese conglomerate's attempts to diversify beyond US and China.
Squid Game has its own cryptocurrency. It's called squid, and it reached $2.34 today—up from around 1 cent on Tuesday—with a market cap of $184 million.
What to watch for
An estimated 30,000 people will descend on Glasgow on Nov. 1 for COP26. These UN climate summits happen every year, but COP26 is special because it's five (actually six, because, you know) years since the Paris Agreement, a deadline for countries to demonstrate tangible progress.
It's easy to get lost in the weeds of climate jargon and economics, but only a few numbers really matter.
2.6-2.8°C: Trajectory of global warming above pre-industrial levels. The Paris Agreement aims for 1.5°C
0: Net global emissions by 2050 to avert catastrophic warming
195: Nations that signed the 2015 Paris Agreement in 2015
216 million: People in developing countries who will be displaced because of climate change by 2050
120: World leaders expected to attend COP26
600+: Days since Chinese president Xi Jinping last left the country
To follow the action from Glasgow, sign up for our Need to Know: COP26 newsletter.
---
It's a Netflix-YouTube showdown
Netflix isn't streaming COP26 (though it did centralize its climate content with help from summit organizers). But when it comes to streaming, it faces a quiet competitor: Alphabet's YouTube Premium, which has gradually transformed its old-school social media platform into an unlikely but legitimate rival.
For revenue, in the most recent quarter,
🎬 Netflix recorded $7.4 billion, while
▶️ YouTube recorded $7.2 billion on ads.
While viewers spend 26% of their TV time streaming,
🎬 Netflix accounts for 6% of that, and
▶️ YouTube also accounts for 6%.
For global subscribers,
🎬 Netflix has more than 210 million, while
▶️ YouTube Premium has 50 million.
One last thing: Netflix is the hands-down winner with regard to producing original content. YouTube has largely pulled back from its previous strategy of producing big budget, paywalled scripted original series—and it's working.
---
Is Zillow a problem?
If you're going to spend 26% of your time streaming, you may be looking for a new house where you can comfortably sit back and press play. After taking a hit at the onset of the pandemic, the iBuyer market (made up of real estate companies that buy and sell homes online) is now red hot: Industry leader Opendoor has made the strongest recovery, followed by Zillow.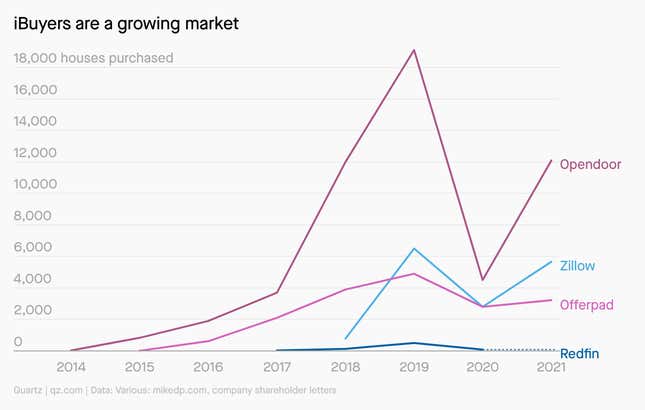 But Zillow put those house-buying plans on pause on Oct. 19, citing too many projects. The development exacerbated a larger anxiety: As the US contends with a 6.8 million unit housing shortage and skyrocketing home prices… is Zillow part of the problem?
Zillow's effect on US real estate (and some of its quirker listings 🍄) were the topic of our latest Company email. ✦ Each week, it gives Quartz members a deeper looks into the companies that are changing business. Sign up today and take 40% off with code QZEMAIL40.
Handpicked Quartz
📡 Your cell phone will become a satellite phone, and you won't even notice
🚙 Singapore is snapping up Teslas that cost three times as much as in the US
💵 The $22 trillion US Treasury bond market is bracing for a jump in inflation
♻️ Net zero is a booming business for consulting firms
💊 This startup is trying to digitize Africa's pharmaceutical supply chain
👾 Meme-stock mania is fading on Reddit and Robinhood
Surprising discoveries
How big do ferris wheels need to be? The London Eye wasn't big enough, apparently—Dubai's new attraction is nearly twice the height.
A&W is pushing a 3/9 pound burger. It's a nod to a 1980s marketing campaign that famously backfired because Americans are bad at math.
AI could help us talk to whales. At least, that's the hope of one scientist.
A new DNA technique proved Sitting Bull's great-grandson is who he says he is. The descendant of the famous Native American was tired of being challenged on his claim.
Crypto investors are buying NFTs of a big cube of tungsten. Owning one grants you the dubious honor of being allowed to touch it once a year.
---
---
Our best wishes for a productive day. Send any news, comments, timeshares of hunks of metal, and whale icebreakers to hi@qz.com. Get the most out of Quartz by downloading our iOS app and becoming a member. Today's Daily Brief was brought to you by Hasit Shah, Camille Squires, Lila MacLellan, Adario Strange, Susan Howson, Liz Webber, and Morgan Haefner.