Good morning, Quartz readers!
Was this newsletter forwarded to you? Sign up here. Forward to that friend who would like to have an undo button.
---
Here's what you need to know
More than 190 nations reached a deal at COP26. But without an enforcement mechanism, critics say the agreement—which calls on governments to strengthen greenhouse gas emission cuts—falls short.
Biden and Xi meet. The virtual summit between the US and Chinese leaders comes on the heels of a pledge by the two countries to work closely on climate efforts in this decade. Read more below.
Austria ordered a lockdown for 2 million unvaccinated residents. The country, which has one of the lowest vaccination rates in western Europe, is struggling with a growing number of covid-19 cases.
Indigo Partners ordered 255 narrow-body jets from Airbus. The multibillion dollar order from the private equity firm with stakes in budget airlines is the European planemaker's first big deal since the pandemic.
An FBI warning of a possible cyberattack may have been a cyberattack. The US intelligence agency is investigating how thousands of fake emails were sent from an internal server. Meanwhile, the US and Israel set up an initiative to jointly fight ransomware threats.
Japan's former princess Mako Komuro arrived in New York. She was joined by her new "commoner" husband after leaving the royal family.
---
What to watch for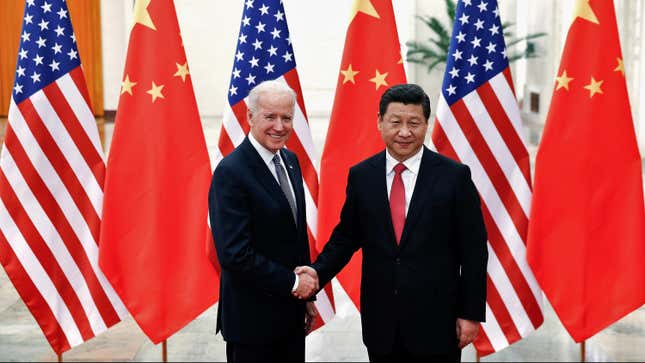 US president Joe Biden and president Xi Jinping of China will hold a virtual summit on Monday (Nov. 15), a meeting that US officials are billing as an opportunity to ease growing tensions between the world's two largest economies.
The two leaders head into the gathering amid very different political backdrops at home. Xi is fresh off a major political win that consolidates his power and paves the way for a potential third term as party general secretary. Biden, meanwhile, has seen his approval ratings dip to new lows as he struggles with his own party to pass big-ticket spending plans.
Here are the topics that will likely come up:
💱 Trade tensions
⚔️ Escalating military tension
🌎 Climate change
🇹🇼 Taiwan
🕊️ Human rights
---
5 vital lines in the COP26 deal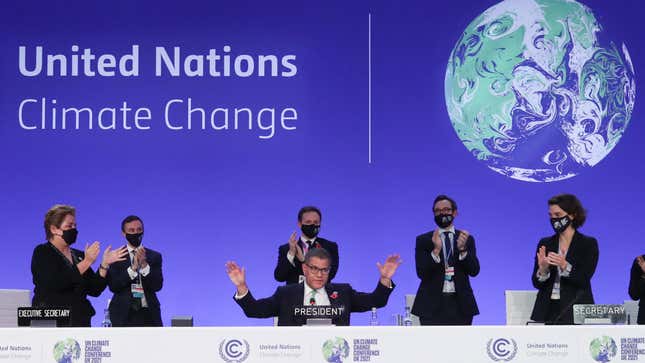 COP26, the biggest climate change summit of the last five years, concluded in Glasgow on Nov. 13. The agreement it produced—10 pages known as the Glasgow Pact that outline the next phase of the world's fight against climate change—left many activists disappointed but nonetheless represents forward momentum.
Here's what we can gather from the deal's five most important lines:
Informal commitments got the spotlight
Countries need to return next year with stronger commitments
Fossil fuel will be phased down, not phased out
Rich countries were shamed on climate finance
There's little guidance and no cash on "loss and damage," which is essentially reparations from rich countries
---
Korea's messaging king 👑
Go anywhere in Korea and you're sure to hear the distinctive chirping of "katalk." That's the sound of a message arriving on Kakao—with more than 50 million monthly active users, it's by far the country's most popular messaging app.
By the digits:
96%: Kakao Talk messaging app's market share in South Korea
$3.5 billion: Kakao Corp's revenue in 2020, driven by ad sales
$93 billion: The combined market cap of Kakao's listed companies in August, making it Korea's fifth most valuable company
Kakao was the topic of our latest Company email, which offers members a look at firms changing the way business works. ✦ It's Member Week at Quartz, and we're celebrating by offering a chance to get in on the full email experience for 50% off. Use code MEMBERSWEEK21 at checkout.
Handpicked Quartz
▶️  YouTube's dominance is no longer a given—and Patreon wants to prove it
🍼  US paid family leave, explained
💉  AstraZeneca has decided to make money from the pandemic after all
🥵  Africa has its first "chief heat officer"
📈  Is it time to worry about US inflation?
🚪  Twitter is putting its most important fix behind a paywall
---
Surprising discoveries
Earth has another follower. It's known as Kamoʻoalewa, it functions like a quasi-satellite, but while it may be dislodged from our moon, don't call it one.
A notorious US bank robber was identified after 52 years. The thief said he watched Steve McQueen's The Thomas Crown Affair to prepare for a heist worth $1.7 million in today's dollars.
The tambourine used on Oasis's "Wonderwall" and "Champagne Supernova" sold for $4,829 (£3,600). Bands Kasabian and the Arctic Monkeys also had a hand on the instrument.
A penguin from Antarctica wound up in New Zealand. At least the bird (thought to be only the third of its kind to make the 2,000-mile trek) got some fish smoothies upon its arrival.
In Sweden, nearly three-fourths of all non-dairy milk sales belong to oat milk. And one company—Oatly—accounts for 53% of those sales, an alt-dairy dominance that has inspired the latest episode of our Quartz Obsession podcast.
🎧 Listen to all this season's episodes on Apple Podcasts | Spotify | Google | Stitcher
---
---
Our best wishes for a productive day. Send any news, comments, instruments used on famous songs, and long-lost penguins to hi@qz.com. Get the most out of Quartz by downloading our iOS app and becoming a member. Today's Daily Brief was brought to you by Tim McDonnell, Clarisa Diaz, Tripti Lahiri, and Morgan Haefner.