Good morning, Quartz readers!
Was this newsletter forwarded to you? Sign up here. Forward to a friend who wants to dance like Uma Thurman.
---
Here's what you need to know
The US announced a possible cash injection into mRNA vaccines. The plan would boost drug manufacturers' production capacity by an additional 1 billion vaccines annually for both covid-19 and future pandemics.
Amazon will stop accepting Visa credit cards in the UK. The ecommerce behemoth said Visa's fees are too high.
Apple wants to enable DIY fixes. Reversing its traditional resistance to at-home repairs, the company will give instructions and sell certain parts for iPhone 12 and 13, with more product fixes available down the road.
US president Joe Biden requested an oil and gas price investigation. Biden asked the Federal Trade Commission to look into any illegal behavior as margins between unfinished gas and pump prices widen.
Belarus opened a shelter for migrants at the Polish border. Approximately 1,000 people camped in freezing weather will now get some relief.
Overdoses hit a record high in the US during the pandemic. Experts suspect the culprit is a combination of more available opioids in a period of declining mental health.
What to watch for
Digital payments company Paytm is one of India's earliest startup success stories, and today its parent, One97 Communications, will go public in the country's biggest-ever IPO. While retail investors are caught up in the Paytm frenzy, the response from more sophisticated buyers has been muted, with some saying its valuation is too high for a company that has reported losses for the past eight straight years.
Rs18,300 crore ($2.5 billion): Size of One97 Communications' IPO
Rs1,596 crore: Paytm's losses in the 2020-2021 fiscal year, a 40% reduction from the previous year
11%: Drop in Paytm's revenue in the 2020-2021 fiscal year
28%: Ant Group's stake in One97 Communications, making it the company's largest shareholder; Alibaba has a 7% stake. Paytm has listed being seen as a "foreign owned and controlled" company as a risk in its IPO documents.
1: Female director at Paytm, alongside seven men on its board
---
An inflation pop quiz
Americans have been watching their grocery bills grow as the global economy struggles to iron out pandemic disruptions. In October, inflation hit its highest annual rate in 30 years: 6.2%. But what does that look like in the grocery aisle?
A gallon of whole milk cost $3.38 last year, on average, in US cities. How much are Americans paying now?
A. $3.21
B. $3.66
C. $3.91
D. $4.15
The correct answer is B. The price of milk has gone up $0.28 this year.
Test your knowledge of 10 more food items with our interactive grocery inflation quiz.
---
We invite you to join us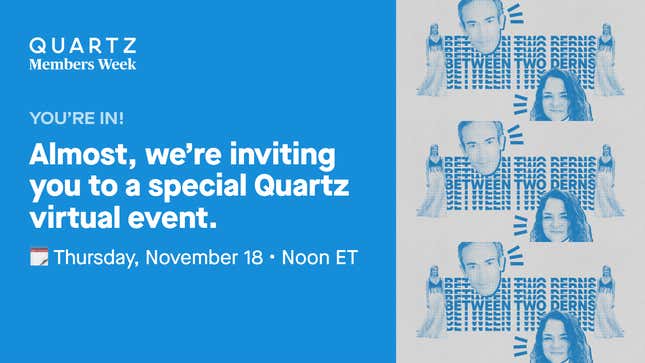 In honor of Members Week, we are bringing a beloved internal Q&A series—Between Two Derns—out into the wild just for you. Executive editor Kira Bindrim will interview CEO Zach Seward on everything that makes Zach and Quartz tick.
Join us today at 12-12:30pm US Eastern time!
Handpicked Quartz
🤔 Africans' favorable view of China comes with one small caveat
🇨🇳 Why Xi Jinping is a great leader, according to a 36,000 word Communist Party document
🥽 China is eyeing the metaverse as the next internet battleground
💨 Intense smog forces Delhi to shut schools
🎾 Naomi Osaka is asking China about Peng Shuai, missing since her #MeToo allegation
🦃 How inflation is impacting Thanksgiving in the US
---
Surprising discoveries
Tapeworms can rear their heads years later. A man suffered seizures after eating infected food 20 years prior.
Quentin Tarantino is auctioning Pulp Fiction NFTs. Hollywood studio Miramax is suing the director in a case that could set precedents for unique digital asset ownership.
Plumbers call the day after US Thanksgiving "Brown Friday." It's a very busy day for them, and that's as much as we want to think about it.
Tiger King is becoming a TikTok opera. The English National Opera says the Netflix docuseries hits all the right notes for bringing the art form to a younger audience.
Kudzu extract can help decrease binge-drinking. That's just one of our surprising discoveries about the flowering vine that blankets the American South. Listen to the latest episode of our Quartz Obsession podcast to learn more.
🎧 Listen to all this season's episodes on Apple Podcasts | Spotify | Google | Stitcher
---
---
Our best wishes for a productive day. Send any news, comments, royales with cheese, and invasive species facts to hi@qz.com. Get the most out of Quartz by downloading our iOS app and becoming a member. Today's Daily Brief was brought to you by Ananya Bhattacharya, Mimansa Verma, Nate DiCamillo, Susan Howson, and Liz Webber.