Good morning, Quartz readers!
Was this newsletter forwarded to you? Sign up here. Forward to a friend who went to space camp as a kid.
---
Here's what you need to know
US lawmakers move a $2 trillion social policy bill. After an hours-long speech from Republican minority leader Kevin McCarthy delayed proceedings last night, the House is set to approve the "Build Back Better" plan today, with funding for healthcare, education, and climate change.
CVS locks up a tenth of its stores. The pharmacy chain, one of the largest in the US, announced plans to close 900 shops in three years, and double down on health services which grew in popularity during the pandemic.
Modi backtracks on farm rules. After a year of protests, and ahead of important state elections, the Indian prime minister surprised many when he said he would repeal three laws which would have deregulated the agriculture sector.
Alibaba's earnings plunged 38%. China's crackdown on its technology sector and slow economic growth were to blame for the year-over-year decline. The e-retailer's US-listed shares were down 11% yesterday.
Ford and GM took chips into their own hands. Driven by shortages, Ford Motor said it is working with a New York-based company to develop chips, while General Motors is working on partnerships to make semiconductors.
US attorneys general are investigating Instagram's effect on children. Officials are particularly interested in how its parent company Meta gets young users to stay on the app for long periods of time.
What to watch for
The Guangzhou Auto Show opens today, giving Chinese automakers a chance to show off their latest electric vehicle designs. This year's show will feature new wheels from Chinese electric carmakers BYD, NIO, XPENG, and Guangzhou Automobile Group, which will offer test rides on its experimental robotaxi service during the event.
The auto show highlights China's large and growing role in the global electric vehicle market, both as a competitor to the US and a crucial market and manufacturer for US automakers. US-based Lucid Motors plans to build a new factory in China, and (if rumors are to be believed) Tesla's is already under construction. The latter revealed in October that its China sales have grown to nearly half the size of its US sales.
---
Making robots a little more human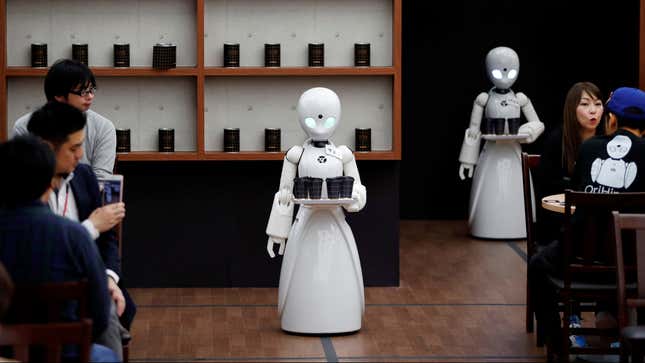 Tokyo-based DAWN, or Diverse Avatar Working Network, is a cafe staffed by robots—but not your average bots. They're operated remotely by people with severe physical disabilities, like amyotrophic lateral sclerosis, known as Lou Gehrig's disease. The operators, referred to as "pilots," can control the robots from home—from a wheelchair or bed—by mouse, tablet, or a gaze-controlled remote.
The experimental business won the grand prize in the prestigious Good Design Awards this year. DAWN's success should be a lesson to Meta, or any company trying to build avatars in the metaverse, about how good design can lead to meaningful human interaction.
---
Our members recommend…
We think our members are a pretty smart bunch—not just because they're loyal readers of Quartz, although that certainly helps! Instead of us telling you what to read today, here's a list of the Quartz articles most-read by members in the past month:
✦ We're wrapping up Members Week at Quartz. There's still time to join the celebration: For a paywall-free experience of all our articles, snag 50% off a membership with the code MEMBERSWEEK21.
---
Handpicked Quartz
📈 Finance Twitter is getting its own Dow Jones Index
😔 Cocaine and stimulants overdoses in the US have almost doubled since the start of the pandemic
🍎 Apple's hiring spree suggests its retail plan for India is back on track
🏘 US home builders can't get houses up fast enough to meet demand
⛏ India is missing out on the huge potential to use its green energy for mining cryptocurrency
🩺 Covid travel restrictions had an unexpected effect on medical tourism from Africa
Surprising discoveries
Barbados is taking its embassy to the metaverse. The Caribbean nation hopes one day you'll grab an e-visa and teleport over.
Crabs decorated Christmas Island red in their annual migration. We think it's a bit too early.
Sweatpants aren't forever. Our pandemic garb is being left behind for Crocs, faux fur, and just plain old jeans.
A Frida Kahlo self-portrait sold for $34.9 million. It's the highest auction for any piece by a Latin American artist.
You can make clothing out of kudzu. Seriously! Just listen to the latest episode of our Quartz Obsession podcast to learn more about the plant of all trades.
🎧 Listen to all this season's episodes on Apple Podcasts | Spotify | Google | Stitcher
---
---
Our best wishes for a productive day. Send any news, comments, virtual vacations, and work-from-home outfits to hi@qz.com. Get the most out of Quartz by downloading our iOS app and becoming a member. Today's Daily Brief was brought to you by Nicolás Rivero, Anne Quito, Morgan Haefner, Jackie Bischof, and Liz Webber.