Good morning, Quartz readers!
Was this newsletter forwarded to you? Sign up here. Forward to one of your Zoom friends.
---
Here's what you need to know
Global supply chain problems like output and bottlenecks are receding. But executives and economists don't think a full return to normal will happen until next year. Meanwhile, China's economy may be entering a phase of "quasi-stagflation."
Covid-19 protests erupted in Europe. Tens of thousands of people opposed stricter covid-19 rules in Belgium, the Netherlands, and other EU countries amid rising cases. The possibility of another surge is also worrying the US government's chief medical adviser.
Several are dead after a driver barreled an SUV into a US holiday parade. Officials have yet to confirm the number of fatalities from the incident in Wisconsin, but more than 20 people were injured.
KKR offered to buy Telecom Italia. The US fund's proposed $12 billion buyout would privatize Italy's biggest phone group.
Evergrande's electric vehicle unit is planning a share sale. The cash-strapped Chinese property developer is hoping to raise $347 million. Meanwhile, China's market regulator fined internet platforms for failing to disclose deals that date back as far as 2012.
The International Olympic Committee contacted Chinese tennis star Peng Shuai. She told the IOC's president she was safe and well. Peng hadn't been seen for about three weeks after accusing a former Chinese minister of sexual assault.
---
What to watch for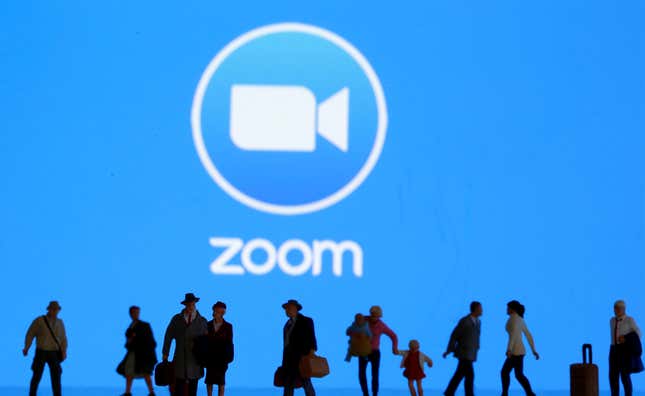 Zoom, the video conferencing darling, is expected to report more than $1 billion in revenue for the second straight quarter today. Growth has slowed for the company after surging 326%  year over year in 2020 as workers return to offices. The company also faces fierce competition from Facebook, Microsoft Teams, and Verizon.
But Zoom's market is only likely to grow: Company executives have promised a "new normal" with an annual growth rate around 50% as many workers say they prefer a hybrid work environment that combines office and work-from-home options. Corporate America appears to be on board: Zoom's enterprise contracts with large employers more than doubled last quarter.
---
Why US gas prices are surging
Gasoline prices across the US are rising. After the national average price for regular gas bottomed out beneath $2 per gallon in April 2020, it has shot back up to $3.32—the highest it's been since 2014, according to data from the US Energy Information Administration (EIA).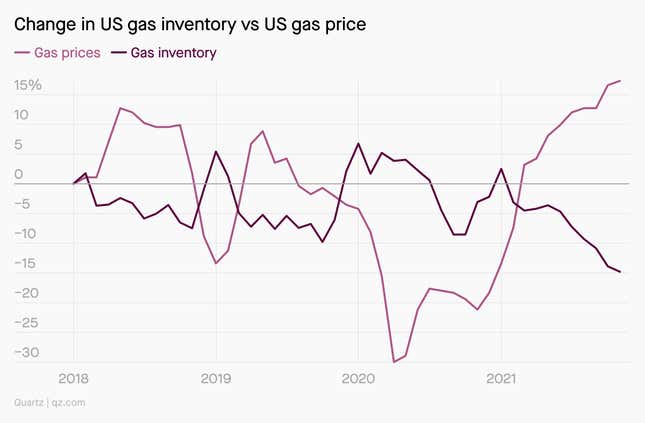 There's a simple explanation for why US gas prices are rising: It's yet another instance of the pandemic throwing supply and demand out of whack. The EIA predicts that gas prices will peak in November and fall steadily for the following year.
---
The asynchronous age
Our mass acclimation to remote (pandemic) work has accelerated a movement that not only sees being in the office as optional, but real-time communication and synchronized work schedules as well. That's asynchronous work, and it's here to stay.
By the digits:
5: Hours per day that nine out of 10 workers spent checking messenger apps
20%: Share of time by which the average meeting has shrunk since the pandemic began
1 in 4: Ratio of workers who said they would take a 10% to 20% pay cut to work flexibly after the pandemic
$317 billion: Estimated amount companies spent on information technology for remote work in 2020
Asynchronous work was the topic of our latest Forecast email, which offers Quartz members a sharp look at an emerging trend. ✦ Read the Forecast and other exclusive emails during your free one-week trial.
---
Handpicked Quartz
🚢  Shipping lines have reached the peak of their pricing power
📜  Cryptocurrency investors tried to buy the US Constitution at Sotheby's
💵  How to protect your money from inflation
🎮  Activision Blizzard is clinging to its embattled CEO
🌾  The twists that forced Modi's U-turn on controversial farm laws
🎤  Spotify is taking aim at the karaoke industry
---
Surprising discoveries
Scientists found a new phase of water. The "weird, hot, black" superionic ice is made by taking a laser to water crushed between two diamonds.
Monarch butterflies are rebounding. After years of decline, the species have been seen coating eucalyptus in California "like orange lace."
Tesla drivers got locked out of their cars. It turns out app keys aren't useful during outages.
Researchers are on the quest for the ultimate chickpea. A map of the legume's genome may help farmers seed more climate-resistant crops…
…Which could have been useful to the US government in 1945, when it paid farmers to plant an invasive legume. Spoiler: It didn't go well. Listen to the latest episode of our Quartz Obsession podcast on kudzu to find out why.
🎧 Listen to all this season's episodes on Apple Podcasts | Spotify | Google | Stitcher
---
---
Our best wishes for a productive day. Send any news, comments, new variations of ice, and your best legume recipes to hi@qz.com. Get the most out of Quartz by downloading our iOS app and becoming a member. Today's Daily Brief was brought to you by Michael Coren, Lila MacLellan, Nicolás Rivero, and Morgan Haefner.