Good morning, Quartz readers!
The Daily Brief is taking a break on Friday, but Quartz members will still receive the Weekend Brief on Saturday. 
Was this newsletter forwarded to you? Sign up here. Forward to the friend who keeps asking for your Disney+ password.
---
Here's what you need to know
The US economic recovery showed signs of acceleration. New unemployment claims fell to a 52-year low, and consumer spending outpaced inflation in October. If prices soar higher, Fed officials could raise interest rates.
Jamie Dimon regrets a joke about China. The JPMorgan CEO said the bank would last longer than the Communist Party.
A jury in Georgia convicted three men for the murder of Ahmaud Arbery. Travis McMichael, Gregory McMichael, and William Bryan, who are all white, killed Arbery, an unarmed Black man, in early 2020.
Twenty-seven migrants drowned in the English channel. Children and pregnant women were among the victims, officials say. Five suspected people smugglers have been arrested.
The US is clamping down on bad behavior on planes. Complaints about unruly passengers have been rising, and attorney general Merrick Garland ordered prosecutors to go after offenders.
---
What to watch for
While consumers were told to start their holiday shopping early this year—and many stores are staying closed today for Thanksgiving—US retailers are expecting big sales on Black Friday and throughout the weekend.
Shoppers may be disappointed to find their gifts cost more than they did last year. Retailers are blaming it on the rising cost of shipping, but freight costs can only explain a fraction of the holiday price hikes. Instead, much of the blame can be pinned on shortages: Retailers' inventories are running low, and shoppers are spending more on all sorts of goods. When more buyers are chasing scarce goods, sellers have more power to raise prices.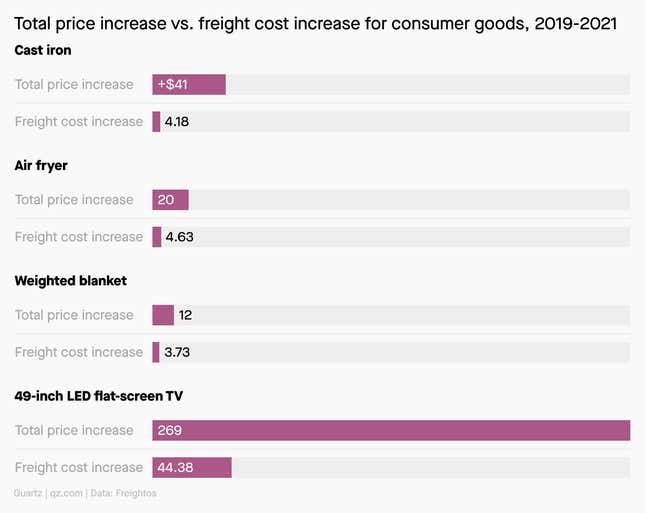 ---
Spreading the word (of the year)
NFT: a unique digital certificate, registered in a blockchain, that is used to record ownership of an asset such as an artwork or a collectible
The abbreviation for non-fungible token is Collins Dictionary's word of the year. The use of the term increased 11,000% in 2021.
The buzz around NFTs, which remain difficult to really define, has been unrelenting over the last 12 months. In March, surrealist digital artist Beeple made history by selling an NFT at Christie's for a cool $69 million. Everyone from filmmaker Quentin Tarantino to Bollywood actor Amitabh Bachchan, and film studio Warner Bros to the Oscars, has embraced the fad.
NFT is one of three tech-based words to make Collins's longer list of 10 words of the year. The others are metaverse—the concept Facebook steadfastly committed to, and even changed its name for—and crypto, the slang for cryptocurrency.
---
The complete guide to NFTs
Quartz has been covering the explosion of NFTs for a while now. We created a guide collecting all our coverage as well as the best outside resources to help you understand what's real and what's hype.
Here are a few of the questions we tried to answer:
Why do people buy NFTs?
Where are NFTs sold?
How do you make an NFT?
What's the carbon footprint of an NFT?
Our ABCs of NFTs is part of the field guide to how crypto went mainstream. ✦ You'll need a Quartz membership to access these guides—try it free for a week.
---
Handpicked Quartz
🚢 How the world's big shipping lines are spending their pandemic profits
💉 A new study of India's Covaxin could be a precursor to its booster dose policy
🤑 Scammers are going after an Afrobeats star's unusual $400,000 fundraising appeal
🐭 As streamers pare down their subscriptions, Disney+ may be the most at risk 
🌍 A majority of young Africans have not traveled within the continent, a survey shows
📉 The fall in cryptocurrency prices sparked by India's proposed ban may be premature
---
Surprising discoveries
Scientists made bacterial ink that's alive. The toothpaste-like material reproduces itself and can be used in 3D printing.
Mystery Santa hats adorned statues that were really high up on a college chapel. The theory is someone scaled the building to deck the idols.
Japan is recruiting astronauts with no science background. All that's required is three years of experience working in society—and, well, a certain height.
The US Pentagon formed a new department to study UFOs. The group will try to identify objects and "assess and mitigate any associated threat."
iPhone screens get their signature polish from rare earth elements. It's one of the many slick tricks of rare earths, discussed on the latest episode of the Quartz Obsession podcast.
🎧 Listen to all this season's episodes on Apple Podcasts | Spotify | Google | Stitcher
---
---
Our best wishes for a productive day. Send any news, comments, moving ink, and mysterious holiday decor to hi@qz.com. Get the most out of Quartz by downloading our iOS app and becoming a member. Today's Daily Brief was brought to you by Hasit Shah, Johhn Detrixhe, Nicolás Rivero, Ananya Bhattacharya, Liz Webber, and Morgan Haefner.