Good morning, Quartz readers!
Was this newsletter forwarded to you? Sign up here. Forward to a friend who's planning the office holiday party.
---
Here's what you need to know
Alibaba fired a #MeToo accuser. The employee claimed a supervisor raped her during a business trip; the company now says she made false statements that damaged its reputation.
Narendra Modi's Twitter account was hacked. The perpetrators sent a tweet to the Indian prime minister's 73 million followers claiming the country had adopted bitcoin as legal tender.
G7 foreign ministers warned of "massive consequences" if Russia invades Ukraine. The group also said ongoing talks are the "last chance" for Iran to negotiate a nuclear deal.
Vaccinated Austrians were freed from lockdown. Restaurants, shops, and cultural venues will reopen after case numbers dropped. Meanwhile, the UK raised its alert level due to omicron's spread, and prime minister Boris Johnson said all adults could get a covid booster by Dec. 31.
The EU and UK found a solution to a fishing dispute. The UK will issue more licenses to avoid a trade war, but French fishers said they will go ahead with a blockade of British products at Calais anyway.
Israel's prime minister is meeting Abu Dhabi's crown prince. Naftali Bennett will be the first Israeli leader to visit the United Arab Emirates since the countries established diplomatic ties.
New Caledonia voted to stay part of France. But the Pacific island's pro-independence parties boycotted the vote, and turnout was only 44%.
---
What to watch for
The G7 pivots from foreign policy to the economy today, as finance ministers meet to talk about inflation. Consumer prices have been breaking records across many of the world's largest economies: Inflation hit a 10-year high in the UK in October. In November, the euro zone saw the highest inflation since the common currency was introduced, while in the US inflation grew at the fastest pace since 1982.
The traditional tools for taming prices may not be enough this time—raising interest rates will do little to fix supply chain issues. The US Federal Reserve, Bank of England, and European Central Bank are likely to hold rates steady when they meet later this week, although Fed chair Jerome Powell will probably announce a sped-up timeline for tapering bond purchases. In the meantime, the average consumer is seeing more of their paycheck going towards necessities like food and energy.
---
Inflation outpaces US wage gains
US workers saw a pay bump in November, as average hourly earnings rose by nearly 5% from the previous year, according to a Bureau of Labor Statistics report released Friday. But higher inflation is wiping out those gains, eroding consumers' purchasing power and leaving them in a worse economic position than prior to the pandemic.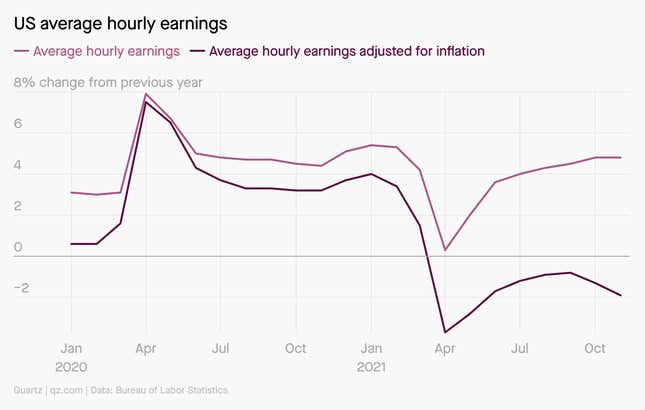 One bright spot: The lowest-paid US workers are seeing wage gains keep pace with inflation. Employees in the leisure and hospitality industry, for example, saw earnings rise by 0.8% on average last month, the same increase as consumer prices.
---
How would you define career success?
While wage gains might be a priority for some, career success means different things to different people. Do you want to spend more time with your family? Are certain benefits, such as pension or flexibility, important factors to you? It's helpful to have an understanding of what your priorities are regarding career advancement, and to remember, as author Diane Barth writes for Quartz at Work, that "success is a process, not an achievement."
Set yourself up to be more productive, focused, and happier at work in the year ahead by asking yourself three more questions to figure out what career success means to you and how you can get there.
✦ Members can access all of Quartz at Work's career advice—and the rest of our articles—without ever hitting a paywall. Try it free for a week.
---
Handpicked Quartz
✊ Shell's London relocation could be a win for climate activists
🎉 The biggest mistake companies can make with holiday parties is not to have one at all
🤦‍♀️ Europe sent Nigeria up to 1 million near-expired doses of covid-19 vaccine
☕️ Starbucks set the stage for its employees' union vote in Buffalo
💉 Why Africa feels let down by India's largest vaccine maker
🤳 Africans want their apps to do more for them
---
Surprising discoveries
Astronomers found a planet 10 times the size of Jupiter. It orbits two giant stars that scientists assumed were too big to allow planets to form.
Assignments graded by Elon Musk sold for $7,753. In 1995, the Tesla CEO was a teaching assistant at the University of Pennsylvania's Wharton School of Business.
An Italian bishop told kids there was no Santa Claus. He says he was just trying to emphasize the true meaning of Christmas.
Masks coated in ostrich covid antibodies glow under a black light if the wearer is infected. The birds have strong resistance to the virus.
Frank Lloyd Wright designed office furniture known as "the suicide chair." How did office chairs go from virtuously uncomfortable to ergonomic? Reporter Anne Quito explains in the latest episode of the Quartz Obsession podcast.
🎧 Sit back and listen to all of this season's episodes on Apple Podcasts | Spotify | Google | Stitcher
---
---
Our best wishes for a productive day. Send any news, comments, feedback from Elon, and ostrich antibodies to hi@qz.com. Get the most out of Quartz by downloading our iOS app and becoming a member. Today's Daily Brief was brought to you by Courtney Vinopal, Jackie Bischof, and Liz Webber.