Good morning, Quartz readers!
Until the end of the year, every Quartz story you click on in the Daily Brief will be paywall-free. It's our gift to you, along with 40% off a year of Quartz membership. (Use code QZLOVE at checkout.)
Was this newsletter forwarded to you? Sign up here. Forward to a friend who shout-sings Rent songs.
---
Here's what you need to know
China put 13 million people under a lockdown in Xi'an. The government says it's experiencing a surge in delta variant cases—it's one of the country's biggest pandemic stay-at-home orders this year.
More data shows omicron is less likely to lead to hospitalization. While that's good news, scientists are still unsure how the variant's high transmissibility will play out. Meanwhile, the UK recorded more than 100,000 daily cases for the first time.
The WHO criticized booster programs. Widening vaccine inequality between rich and poor nations will only prolong the pandemic, officials said. Separately, the US Army is working on a variant-proof vaccine, and Pfizer's covid-19 pill was cleared for use in the US.
Amazon Web Services saw its third outage in a month. The culprit of the brief disconnection this time was a power outage in Virginia.
Intel apologized to China. State-run media and internet commenters were up in arms after the company told suppliers it was required to ensure it did not source from Xinjiang.
National Hockey League players won't go to the Beijing Olympics. Participation is "no longer feasible" because of surging covid-19 cases, the NHL's commissioner said.
---
What to watch for
Vladimir Putin will appear at his annual marathon press conference today. Held since the Russian president took office in 2001, these tend to be highly elaborate, tightly controlled events that traditionally top three hours and last year clocked in over four.
It's an extremely tense time for Russia—the West is eyeing its forces at Ukraine's border, and the Kremlin has been cracking down on independent media, activists, and political opponents. Putin is likely to take aim at NATO and the US, blaming them for goading him into a possible Ukrainian invasion, but it's unlikely he'll mention the troubling suppression of individuals and organizations, particularly those connected to poisoned, imprisoned opposition leader Alexei Navalny.
This isn't Putin's only highly anticipated annual event—he hosts a Direct Line Q&A, makes a state of the nation address, and releases an official calendar. Yes, the 2022 edition absolutely features the Russian president shirtless, holding a rifle.
---
What libraries lent in 2021
Libraries have had an interesting year. Ebooks were on the rise even before 2020, but pandemic-related closings and a supply chain crisis certainly gave them a boost. But even if ebooks are popular, people are still physically returning to their beloved libraries. "Now that all of our buildings are open, digital circulation has begun to decline slightly while print circulation is edging up," said Frank Brasile, a librarian at Seattle Public Library. Fiction was the main attraction, according to data given to Quartz by 14 libraries in some of the largest cities in the US.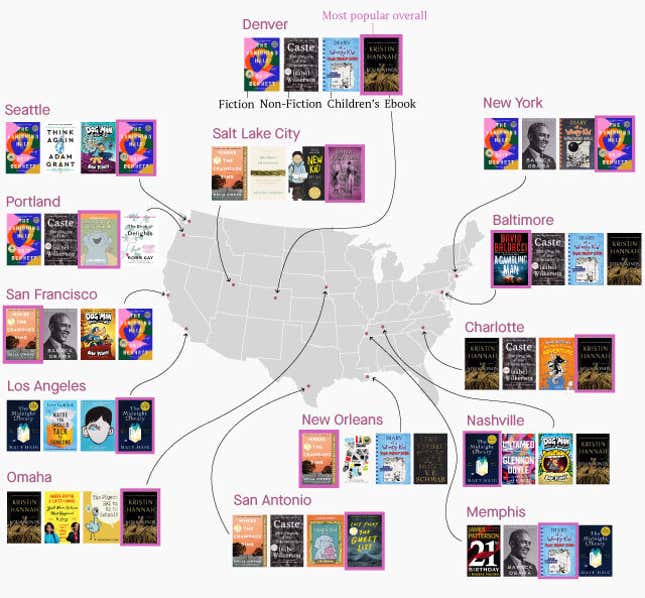 The overall standouts were The Four Winds, by Kristin Hannah as the most commonly checked-out ebook, with The Vanishing Half by Brit Bennett coming in second.
Handpicked Quartz
😌 Supply chain chaos won't ruin Christmas after all
🎭 ​​The different rules for live theater and cinemas is omicron confusion in a nutshell
💪 Sony's takeover of Zee Entertainment will create India's biggest broadcaster
🛢 Why coffee and oat prices are rising faster than oil's
📿 How to go to church in the metaverse
📊 The problem with ESG investing, in one chart
---
Surprising discoveries
Spanish ham sniffers are busy this holiday season. Caladores are putting their nose on overdrive to smell out the best Iberian pork loins.
What about a whiff of fig leaf, orange peel and jasmine? That's the scent of a new perfume made from carbon emissions.
Ancient DNA revealed a surprise about Britain's genes. It's possible half came from France 3,000 years ago.
Scientists found a perfectly preserved dinosaur embryo in an egg. Somewhere, Jeff Goldblum said: "Let's do this."
A 5,700-year-old tomb is the world's oldest family tree. The dead were buried according to who they descended from.
---
---
Our best wishes for a productive day. Send any news, comments, calador-approved meats, and Earth-saving perfume to hi@qz.com. Get the most out of Quartz by downloading our iOS app and becoming a member. Today's Daily Brief was brought to you by Clarisa Diaz, Susan Howson, and Morgan Haefner.