Good morning, Quartz readers!
Was this newsletter forwarded to you? Sign up here. Forward to a friend who gets their investment advice from social media.
---
Here's what you need to know
US inflation numbers were startling. But the 7% year-on-year rise in consumer prices should be taken with a pinch of omicron.
Russia and NATO continue to be at an impasse. Hours of talks did not end with an agreement that Russia would not invade Ukraine. Meanwhile, the US proposed sweeping sanctions on Russian officials should an invasion happen, and the International Energy Agency accused Moscow of purposefully causing Europe's natural gas crisis.
Electric vehicle sales surged impressively in China in 2021. The China Association of Automobile Manufacturers reported a 160% increase, thanks to manufacturing quotas set by Beijing.
Anti-vaxxers attempted to storm Bulgaria's parliament building. Approximately 3,000 people pushed past police lines in Sofia in protest of a mandatory health pass.
A senator and soldier were killed in Cameroon. The two separate attacks have stoked concern for security at the Africa Cup of Nations, which has already been disrupted by covid.
Boris Johnson apologized for partying during lockdown. The Downing Street gathering was in the worst possible taste, admitted the UK PM, who repeated that, at the time, he just considered it a work event.
---
What to watch for
Netflix's hit Don't Look Up uses a planet-killing comet as a clunky metaphor for climate change, with scientists aghast at society's inability to manage an obvious existential threat. Well, the comet is here, according to assessments this week from meteorologists.
On Jan. 10, the EU's Copernicus satellite agency reported that the planet's hottest seven years on record (since 1950) were the last seven, "by a clear margin," with 2021 ranking fifth. For the US, 2021 was the fourth warmest according to records that go back to 1894, the US National Oceanic and Atmospheric Administration reported the same day. More data will be available in NOAA's full annual climate report today.
Still, there's a key difference between a comet and climate change. A comet is terminal, one-and-done. But with climate change, every fraction of a degree matters—so it's never too late to make the future a little less scary.
---
Crypto investors are suing Kim Kardashian
Kim Kardashian, boxer Floyd Mayweather, and former professional basketball player Paul Pierce are being sued for allegedly misleading investors about a little-known cryptocurrency token called EthereumMax. In the past seven months, the token has lost about 97% of its value.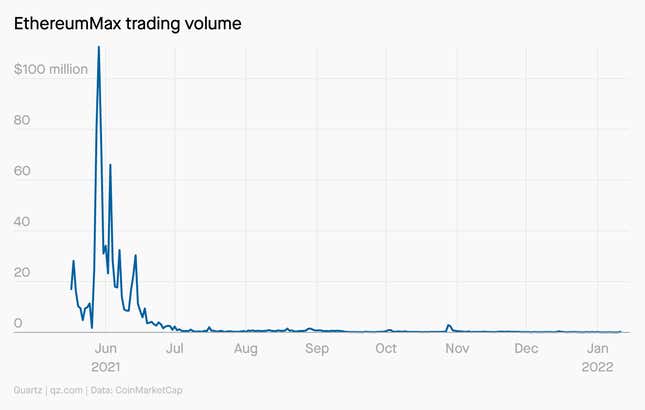 A class action lawsuit alleges misleading promotions and celebrity endorsements artificially increased interest and pricing of EthereumMax tokens while they were available for public trading, "causing investors to purchase these losing investments at inflated prices." Some regulators accuse Kardashian and other celebrities of engaging in a "pump and dump" scheme, meaning they hyped speculative digital assets while the share price was high before selling them off.
---
Crypto miners are using Bitmain's rigs
The people who made the most money in the California Gold Rush were those who sold picks and shovels. That same logic is driving the success of Bitmain Technology, one of the world's largest makers of crypto-mining "rigs"—computers that solve puzzles to be rewarded with new bitcoin. The latest Company email digs into Bitmain's prospects. Try a seven-day free trial of Quartz membership for access to all our member-exclusive newsletters.
Handpicked Quartz
😷 As China and other countries lock down, the UK is "living with covid"
💉 Québec's newly announced tax on unvaccinated residents is already working
🚢 Maersk can't find enough green fuel to power its carbon-neutral ships
🦸‍♀️ Kerala's small film industry—not Bollywood—created India's first original superhero
🏦 Uganda lowers bank check limits to boost e-transactions
👋 Has TCS found a way out of Indian IT's growing attrition problem?
---
Surprising discoveries
A Chinese woman was documenting her neverending blind date. Abrupt lockdowns in Zhengzhou caused her to be stranded at his place for a week, but it's not going too badly.
Luxury yacht builders in the US are buying up illegal Myanmar teak. Sanctions against the ruling military junta don't seem to rattle those who very much want fancy boats.
A bartender helped police identify an arsonist in Florida. Your servers will remember your face when you continually fail to tip.
Turkmenistan's president is closing the country's main tourist attraction. The "Gates to Hell" is a giant crater that's permanently on fire.
Pope Francis popped into a music store and got a CD. Miracles and CD stores do exist!
---
---
Our best wishes for a productive day. Send any news, comments, papal playlists, and blind date stories to hi@qz.com. Get the most out of Quartz by downloading our iOS app and becoming a member. Today's Daily Brief was brought to you by Tim McDonnell, Courtney Vinopal, Jane Li, Susan Howson, and Liz Webber.