Good morning, Quartz readers!
Was this newsletter forwarded to you? Sign up here. Forward to a friend who will be the first to take up residence in the metaverse.
---
Here's what you need to know
Staff at large US companies are no longer required to be vaccinated. The Supreme Court struck down a federal mandate that affects 80 million workers, but retained another for people in healthcare jobs.
Australia canceled Novak Djokovic's visa again. The unvaccinated tennis player must now mount another last-ditch legal challenge to avoid deportation before the Australian Open begins on Monday.
Hong Kong is suspending inbound flights from more than 150 countries. City officials are still pursuing a zero-covid strategy, having seen around 50 new cases since the turn of the year.
Google is spending $1 billion to get UK staff back in the office. The company is buying and refurbishing one key London site in which it is currently a tenant, and expects its British headcount to grow from 6,400 to 10,000.
A US student-loan processing company canceled $1.7 billion of debt. Navient settled a long-running legal battle with 40 state attorneys general over allegedly deceptive lending practices.
Elon Musk boosted dogecoin. The cryptocurrency can be used for buying Tesla merchandise, the CEO said, and jumped as much as 18%.
---
What to watch for
Banks, which kick off earnings season today, will offer an interesting glimpse into the economy. Three aspects of their business in particular might indicate where we are at this stage of the pandemic:
⬇️ Trading: After a bumper 2020—courtesy of covid-related market volatility—activity at banks' trading desks has been dropping. Though the trading business is still likely higher than it was pre-pandemic, it's expected to generate lower profits than last year.
⬆️ Lending: Loans, on the other hand, are recovering after plummeting earlier in the pandemic. As consumers go through extra savings padded by stimulus checks, they are borrowing more. (And banks are set up to make more money off lending from higher interest rates in 2022.)
⬆️ Deals: The investment banking business has been booming, as overall business picks up and companies pour extra cash into deals. The trend is expected to continue—barring any pandemic surprises or detours.
---
It's up to you, Maersk
It's not been a great week for climate change news—data emerged that showed the last seven years were the hottest in recorded history. But simultaneously, the world's second largest shipping line pledged to make its business carbon neutral by 2040, and expanded its net-zero emissions pledge to include the emissions from its energy consumption and supply chains.

The rest of the shipping industry is lagging, but Maersk's announcement raises the pressure on its rivals, all of whom are sitting on billions of dollars of pandemic profits, to cut emissions more aggressively. It's in their interest to catch up: Ambitious climate goals are a key selling point to discerning customers in a cut-throat industry.
---
The happy, healthy approach to productivity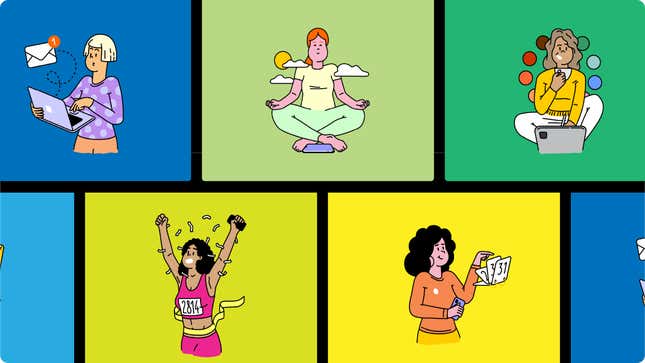 It's a new year, and you've probably set some goals (hopefully a lot of little ones instead of one big resolution). To help you get to work on those—and just to get more done in general—we're offering a free, five-day email-based course on healthy, sustainable ways to be more productive.
Hear from experts on how to structure your time, create a productive environment, and more. Sign up for this free course by hitting the button below.
---
Handpicked Quartz
🆙  America's poor are facing the brunt of soaring prices on necessities
🤔  Why is the world's largest crypto exchange sponsoring the Africa Cup of Nations?
💸  Twitter must pay taxes in Nigeria after the government lifted its seven-month ban
🔦  Kenya got hit by third countrywide power outage in four years
🤖  Chinese cities are piling into the metaverse
---
Surprising discoveries
French dressing was freed. The salad topper will no longer be held to strict, 72-year-old standards in the US.
The supply chain came for fries. Backed-up ports and an unexpected fungus have ruined potato snacking in Japan and Kenya.
Have you heard of the latest juice cleanse? Thanks to shrinking crops, prices for Florida oranges will really empty out your wallet.
A UK surgeon can't practice anymore after he branded organs. Two patients had his initials etched on their livers.
An inventor made a nasal ranger. The 14-inch long instrument measures smells.
---
---
Our best wishes for a productive day. Send any news, comments, deregulated condiments, and freshly squeezed oranges to hi@qz.com. Get the most out of Quartz by downloading our iOS app and becoming a member. Today's Daily Brief was brought to you by Hasit Shah, Nicolás Rivero, Ana Campoy, Susan Howson, and Morgan Haefner.