Good morning, Quartz readers!
Was this newsletter forwarded to you? Sign up here. Forward to the friend who thinks they're a sommelier.
---
Here's what you need to know
Russia extended military drills in Belarus. NATO said there are 30,000 Russian troops involved in the exercises, and both Russia and Belarus blame growing violence in eastern Ukraine.
Amazon's feud with Reliance is playing out on a new field. Each is now vying for telecast rights to the Indian Premier League, India's lucrative and hugely popular cricket competition.
A Credit Suisse leak disclosed questionable clients. The second-largest Swiss bank said most of the accounts related to the 18,000 client records shared by a whistleblower were already closed.
Hong Kong's leadership election is postponed. A new chief executive won't be in place until May, two months later than originally scheduled, as the city experiences a record covid-19 outbreak.
A deadly windstorm hit Europe. At least 16 people have died after gusts of nearly 200 km/h (120 mph) felled trees and whipped up debris.
Australia opened to vaccinated international tourists. The country shut its borders nearly two years ago, even restricting the numbers of its own citizens that could return.
Music video entrepreneur Jamal Edwards died aged 31. The west Londoner founded the SBTV platform, a home for music content, and became a multimillionaire by the age of 23.
---
What to watch for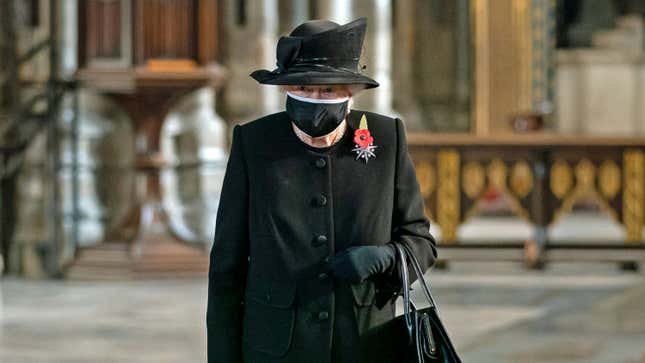 The health of the world's longest-serving and most famous monarch is increasingly cause for concern in the UK, and now Queen Elizabeth has tested positive for covid-19.
Officials at Buckingham Palace are playing it down, and say she has "mild, cold-like symptoms." But she is 95, and has had a number of health issues recently.
Queen Elizabeth is also the figurehead for Brand UK, with the royal family—scandals and all—worth billions to the UK economy. How she responds to this latest setback will determine, to a surprisingly large extent, the perception of Britain's diplomatic and economic power.
---
Streaming takes gold
As the 2022 Winter Olympics drew to a close, athletes counted their medals while TV networks and advertisers counted their viewers. Fears over smaller TV audiences are proving to be unfounded, with streaming a clear winner.
While NBC viewership for the Beijing Games was down around 40% from the last Winter Olympics in South Korea, nearly 60% more minutes were spent watching the Olympics through streaming services.
In terms of actual medals, here's how five of the countries with the most gold medals stacked up: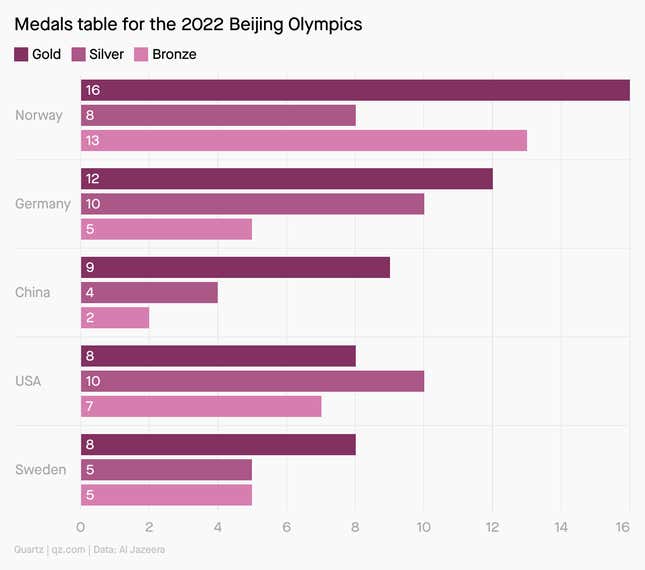 ---
Off the charts
Did you like the chart above? When it comes to communicating trends, some lines and rectangles can often do what words or photos simply cannot. Want to impress people with your axes? ✦ Members recently got charting tips and tools right in their inboxes. You can get that email—and much more—by trying a free membership for seven days.
---
Handpicked Quartz
🍇 Brad Pitt sued Angelina Jolie for selling a stake in their vineyard
🩺 The moral dilemma pushing so many nurses to quit their jobs
🐥 Eileen Gu is intensifying the anxieties of China's "chicken parents"
🇨🇦 Why thousands of Indian students are protesting three Canadian universities
💵 Always ask about the self-pay price of medical visits
💬 How predictive text took over the internet
---
Surprising discoveries
A 1924 photograph may be the most expensive ever sold. Man Ray's "Le Violon d'Ingres" could fetch up to $7 million.
Fish make a lot of boops, honks, and hoots when they talk to each other. Their favorite topics? Sex and food.
A missing dog in California was found after 12 years. We're not crying, you are.
Researchers think horseshoe crabs aren't so special. Instead of having their own branch on the tree of life, they may just be arachnids.
What happens to your Google Docs when you die? It depends on whether you have a digital will. Listen to the latest episode of the Quartz Obsession podcast to learn why.
☁️ Listen on: Apple Podcasts | Spotify | Google | Stitcher
---
---
Our best wishes for a productive day. Send any news, comments, million-dollar photos, and lost dogs to hi@qz.com. Get the most out of Quartz by downloading our iOS app and becoming a member. Today's Daily Brief was brought to you by Nate DiCamillo, Hasit Shah, and Morgan Haefner.