Good morning, Quartz readers!
Was this newsletter forwarded to you? Sign up here. Forward to the friend who always puts a positive spin on things.
---
Here's what you need to know
Russian troops are entering Ukraine on a "peacekeeping" mission. They'll be in two breakaway regions, Donetsk and Luhansk. Western sanctions are imminent, oil prices are surging, and markets are falling.
HSBC reported a major hit from the Chinese property market. But the bank still posted its highest profits for four years, and plans another $1 billion share buyback.
Virgin Galactic reports earnings. The company will share fourth-quarter results a week after opening up spaceflight ticket sales and announcing the resignation of chairman Chamath Palihapitiya.
England will become the first Western nation to drop all covid restrictions. From Thursday, all legal requirements are abolished, as the government pushes its "living with covid" strategy.
EVs are fueling a cargo ship fire. Lithium-ion batteries are complicating a multi-day blaze on the Felicity Ace, still adrift in the Atlantic with its load of luxury cars.
---
What to watch for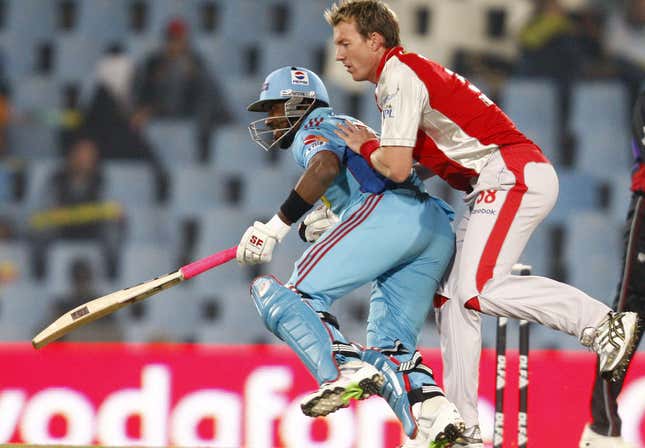 "Cricket is the second biggest sport in the world, with 2.5 billion fans, and the Indian Premier League is like its Super Bowl. If you're not there, you do not exist." —Anton Rublievskyi, head of Parimatch, a betting company and IPL advertiser 
For years, India's Reliance Industries and Amazon have been in a pitched battle over who will dominate the country's retail landscape. Now that rivalry is headed to the cricket pitch, as both companies are expected to vie for exclusive TV and streaming rights to the coveted Indian Premier League: Amazon to boost Prime Video viewership, and Reliance to further its Viacom-assisted push into sports.
In 2018, Sony and Disney-owned Star India paid $2.6 billion for five-year IPL rights, and made bank selling ads. This time around, the deal's price tag could approach $7 billion.
---
The gloves are off
Early-pandemic tales of cutthroat procurement of medical supplies are mostly behind us: Since covid started, the price tag on syringes is unchanged, and prices for both N95 and disposable masks are down. But medical gloves are a different story.
Between 2019 and 2021, the annual average price of medical gloves imported into the US soared from 56 cents for a dozen pairs to $1.77.
Most of the world's rubber gloves come from southeast Asia, where a US ban on imports from Malaysia-based Top Glove exacerbated supply problems.
The price increase, plus skyrocketing demand, pushed the value of US rubber glove imports to a whopping $7 billion in 2021, from $2.3 billion a year earlier.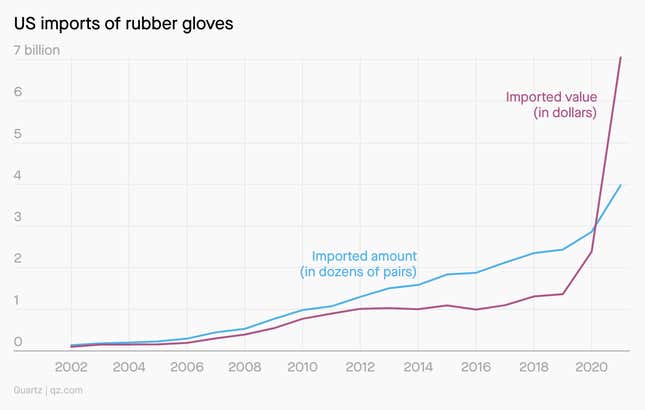 (Pssst. If you like the look of that chart, consider becoming a Quartz member. Our most recent How To offers up tips and tools on making your charts sing. Enjoy this and other exclusive emails by trying membership free for seven days.)
---
Handpicked Quartz
🏆  China is spinning a win on Olympics viewership
🌩️  It's time to start worrying about space weather 
🩺  Nurses are quitting over "moral distress" 
💔  Banks vow to proooobably break up with fossil fuels
👤  Can you run a $5 billion company anonymously?
👋  Is the Great Resignation… happening?
---
Surprising discoveries
A rat infestation took down 400 Family Dollars. The discount chain temporarily closed stores in six US states after finding 1,100 rodents at an Arkansas distribution center.
Space has its first soda flavor. Coca-Cola Starlight promises "notes reminiscent of stargazing" and "a cooling sensation that evokes the feeling of a cold journey to space." Sure.
The FBI just launched a crypto crimes unit. The Virtual Asset Exploitation Team (VAXU) will focus on ransomware and technologies that enable the misuse of cryptocurrency.
There's a new way to embarrass yourself at the "office." Quartz at Work's Lila MacLellan tested out a workplace in the metaverse—and accidentally fell into a virtual pool.
Spotted: this toxic intergalactic thruple. NASA's Hubble telescope captured a "triple galaxy merger"—three galaxies drawing each other closer and tearing each other apart with competing gravitational forces.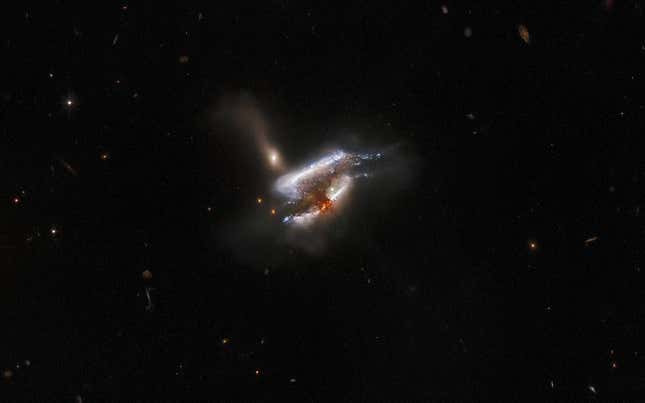 ---
---
Our best wishes for a productive day. Send any news, comments, medical gloves, and embarrassing metaverse workplace stories to hi@qz.com. Get the most out of Quartz by downloading our iOS app and becoming a member. Today's Daily Brief was brought to you by Hasit Shah and Kira Bindrim.