Good morning, Quartz readers!
Was this newsletter forwarded to you? Sign up here. Forward to the friend who sets their own work hours.
---
Here's what you need to know
Joe Biden promised to fight inflation and stop Vladimir Putin. In the State of the Union speech, the US president tried to balance domestic and foreign policy issues, while his approval ratings fall. He also announced a ban on Russian planes from US airspace.
Russia continued its assault on Ukrainian cities. It claims to have taken control of Kherson, in the south, while shelling in Ukraine's second city, Kharkiv, continues. The Kremlin said it's ready to resume talks with the Ukrainians today.
More major companies suspended operations in Russia. Boeing, ExxonMobile, Ford, and Apple say they are withdrawing, at least for now, while Nike says it can't get its products in.
Oil hit $112. The US and its allies will release 60 million barrels, but OPEC+ said it will stay the course, as prices reached a seven-year high.
India's biggest IPO could be affected by the Ukraine invasion. Finance minister Nirmala Sitharaman may delay the listing of state-owned insurance giant LIC, following concerns over global investors.
The United Nations estimates up to 4 million Ukrainian refugees. Nearly 700,000 have already left, says the UN high commissioner.
---
What to watch for
Earnings for Kroger and Costco will be out tomorrow. All eyes will be on how the US-based supermarket giants are handling prices, as inflation soars to its highest point in four decades.
Globally, food prices are up to levels not seen since 2011, driven by extreme weather and pandemic-related supply chain snags. The Ukraine-Russia crisis threatens to cause further spikes, as both countries are big agricultural exporters.
Expect to see pantry staples from bread to pasta become more expensive, which would have a particularly dire effect on less affluent countries. As of March 1:
🌾 Wheat futures prices have jumped to $9.35 per bushel—the highest since February 2008. Prices are up 21% since the start of the year.
🌽 Corn prices are at $7.26 per bushel, up 17%.
🌱 Soybean oil is trading at 70 cents per pound, up 28%.
---
Russia's exports, charted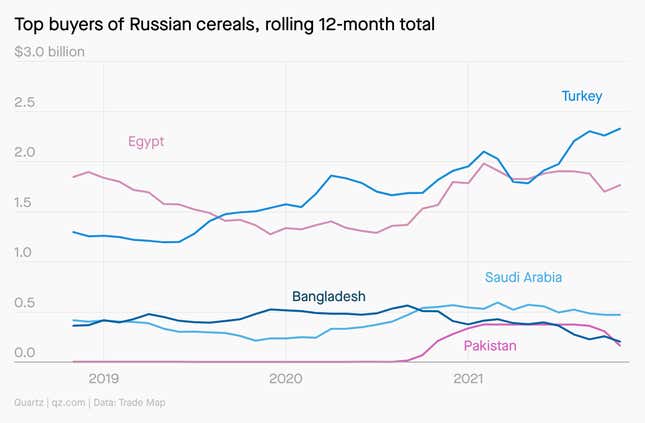 Wheat and barley make up most of Russia's exports in cereals, and account for almost 30% of the world's supply. Turkey and Egypt are the biggest buyers.
Grains pale in comparison to Russia's largest export: fuels and oil. Other stand-out exports are gems, precious metals, iron, and steel, and a curious category of "unspecified commodities."
Quartz reporter Clarisa Diaz charted all of Russia's most important exports and looked at which countries would feel the greatest pinch if their supplies were disrupted.
---
Pop quiz: Fish sticks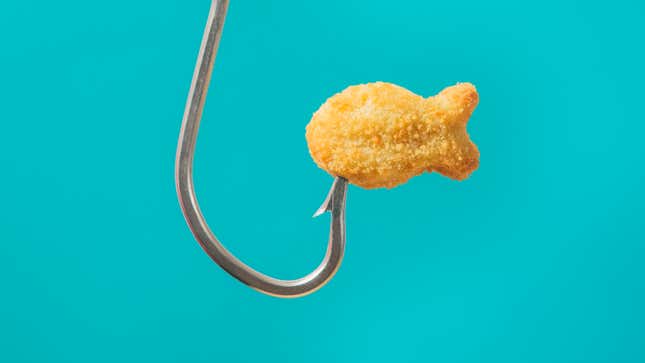 One food that got an unexpected boost from the pandemic is the unassuming, but always versatile, fish stick. There's reason to believe the frozen fare can help solve some of our overfishing problems, too.
Which of these fish sticks facts is correct?
A. The prototype of the fish stick was the fish brick.
B. Benito Mussolini almost bankrupted a fish stick maker.
C. Fish sticks are served on the game show Cash Cab.
D. It doesn't really matter what fish the sticks are made with.
Find out which is true (hint: it's more than one) by listening to the newest episode of the Quartz Obsession podcast.
🐟 Listen on: Apple Podcasts | Spotify | Google | Stitcher
Sponsored by Alumni Ventures
---
Handpicked Quartz
🤔 Why India isn't voting against Russia at the UN
🎥 Hollywood studios are postponing movie releases in Russia over the war in Ukraine
🗓 There's one job perk more popular than a four-day workweek
👛 Russians and Ukrainians are piling into crypto
🤑 Russia's billionaires are the best conduit to apply pressure on Putin
🚫 Hindu nationalists block a Turkish executive's appointment as head of Air India
---
Surprising discoveries
California may start naming heat waves. It could be a way to make residents take the extreme weather seriously.
Ukrainians are messing with highway signs to confuse Russian troops. And the Ukrainian government is telling them how to do it.
Be sure to pay your taxes in the metaverse. Second Life said it will start charging state and local sales taxes.
A satellite image of the Canadian coast looks like a cat in repose. The Canadian Space Agency isn't so sure, but it appreciates the internet's jokes.
Researchers found the origins of a 30,000-year-old figurine. The crafters of the so-called Venus of Willendorf traveled hundreds of miles with their talisman.
---
---
Our best wishes for a productive day. Send any news, comments, metaverse tax payments, and landscapes that look like cats to hi@qz.com. Get the most out of Quartz by downloading our iOS app and becoming a member. Today's Daily Brief was brought to you by Hasit Shah, Michelle Cheng, Clarisa Diaz, Morgan Haefner, and Liz Webber.