Good morning, Quartz readers!
Was this newsletter forwarded to you? Sign up here. Forward to the friend who wants more sun.
---
Here's what you need to know
Joe Biden and Xi Jinping talk today. They are discussing Russia's invasion of Ukraine, and where China stands as the war drags on. The US has previously warned China against supporting Russia militarily or financially.
Russia averted a default on foreign debt. It had owed $117 million in interest payments, and could have defaulted for the first time in more than a century.
Burger King's Russian partner "refused" to close restaurants. For some Western companies, complicated local arrangements mean they can't have it their way.
The Bank of England raised interest rates for the third time. Central banks around the world are now more focused on fighting inflation versus aiding the global economic recovery.
Amazon closed its acquisition of MGM. The $6.5 billion deal went through without comment from the US Federal Trade Commission. The agency can later challenge the deal if it wants to.
New jobless claims in the US fell to a 52-year low. The labor market remains strong despite elevated prices and uncertainties surrounding the war in Ukraine.
---
What to watch for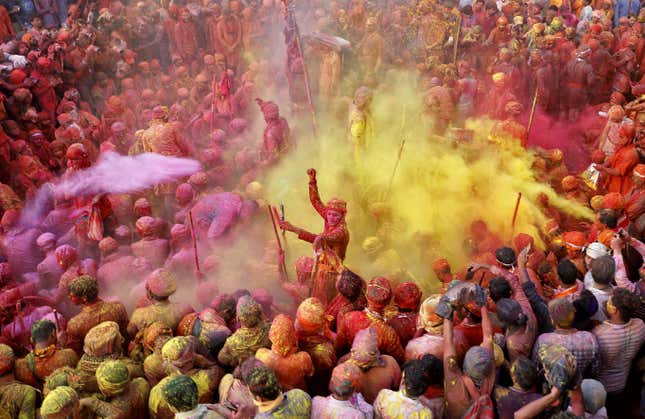 The Hindu festival of Holi has had a rough two years. In March 2020, it was among the first events restricted because of the pandemic, and in 2021, it was publicly banned just before India's covid-19 infection rates turned catastrophic.
The festival embodies the spirit of the carnivalesque. People let loose, splash each other with colors, drink a beverage made with a legalized form of cannabis, and binge on gujiya, a sweet and deep-fried Indian dumpling. One factory in the small town of Hathras makes nearly 2,000 metric tons (2,204 tons) of gulaal, the pink powder used during Holi, annually.
This year, Holi coincides with low infection and high vaccination rates in the country. Millions are expected to celebrate, but some state leaders are still asking people to avoid large crowds to stop covid from spreading.
---
A petroyuan world
Saudi Arabia is considering selling its oil in yuan. It's a change the country has negotiated, to varying degrees of intensity, over the past decade. Even if the change catches hold this time, it won't come to fruition soon. Saudi Arabia pegs its riyal to the dollar, so any damage inadvertently dealt to the dollar will hurt its own currency.
Still, the US's geopolitical hegemony is based significantly on the petrodollar. What exactly would a world look like if it favored the petroyuan?
If the yuan displaces the dollar to a sufficient degree in the annual $14 trillion global oil trade, countries will have to maintain yuan reserves instead. That'd be a huge change: At the moment, 2.48% of the world's reserves are held in yuan, compared to 55% for the dollar.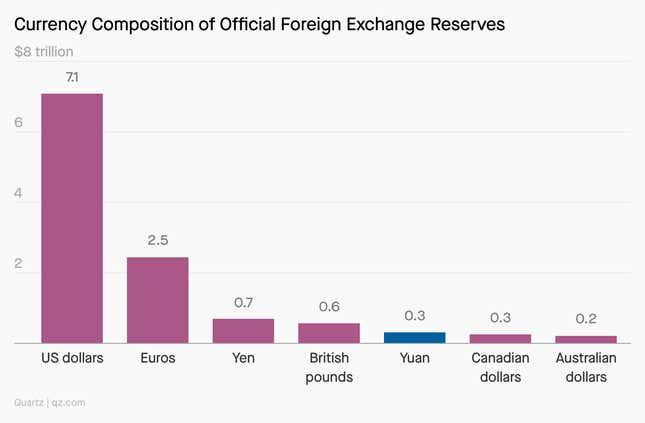 ---
The B Corp moment
How are companies adjusting to serve all stakeholders? Quartz CEO Zach Seward and Jorge Fontanez, CEO of B Lab for the US and Canada, will explore this question with B Corp CEOs. Learn how the values ascribed to shareholder primacy continue to evolve in the face of policy, environmental, and social movements, and what we can do about it.
Register today to join the hour-long event on March 23, at 1pm US eastern time.
Handpicked Quartz
💬 Zelenskyy is appealing to Western lawmakers with rhetoric and imagery they understand
😷 China has abandoned its foreign students over covid zero
💻 Africa's tech media are plotting to be as influential as the startups they cover
☕ Canadian coffee chain Tim Hortons eyes India with 300 outlets in 10 years
🤑 Since 2013, Indian billionaires have created more wealth than London's GDP
🥛 Oatly's loss of market share is good for shoppers and the environment
---
Surprising discoveries
The James Webb Space Telescope's latest muse is a Milky Way star. The photo it took pushes the laws of physics.
Stegosaurus has a cousin. Well, a distant, armored cousin that was discovered in fossil form in southwestern China.
Archeologists found an Aztec temple decorated with starfish. Priests offered the echinoderms to the war god Huitzilopochtli 700 years ago.
Doug is not a potato. A DNA test has shown that the "world's largest spud" (as we reported in a Nov. 5, 2021 Surprising Discovery) is just a messed up gourd tuber. We, and the folks who found it, regret the error.
Prosthetics could create super soldiers in the future. The addition would be an exoskeleton controlled by the brain to give soldiers superhuman strength. Listen to the latest episode of the Quartz Obsession podcast to learn about how prosthetics went from repairing the body to enhancing it.
🦿Listen on: Apple Podcasts | Spotify | Google | Stitcher
---
---
Our best wishes for a productive day. Send any news, comments, starfish backsplash, and real giant potatoes to hi@qz.com. Get the most out of Quartz by downloading our iOS app and becoming a member. Today's Daily Brief was brought to you by Hasit Shah, Manavi Kapur, Samanth Subramanian, Nate DiCamillo, Susan Howson, and Morgan Haefner.