Good morning delegates! Welcome to Davos.
Global Elites: Assemble! The 50th edition of the World Economic Forum is underway, once again transforming the normally sleepy ski village of Davos, Switzerland, into the red-hot center of global thought leadership, ideation, and solutionizing.
All that hot air may eventually thaw things out, but for now the snow is packed and the sidewalks are slippery. Today you can expect a high of 3°C (37°F).
This daily email from Quartz is your guide to all the news and chatter from the World Economic Forum's annual meeting, whether you're here with us in the Alps or following from afar. The theme of this year's jamboree is "Stakeholders for a Cohesive and Sustainable World." The impulse to cohere with fellow humans will be tested by slow-moving security lines, a strict badge hierarchy, and arbitrary event guest lists, but the intention is admirable. More on that below.
Your appropriately multinational team of Davos correspondents includes New York-based Quartz At Work editor Heather Landy, Asia deputy bureau chief Isabella Steger from Hong Kong, and the London-based duo of senior reporter Jenny Anderson and finance editor Jason Karaian. Send us your news, tips, and selfies with will.i.am.
What to watch for today
Greta Thunberg versus Donald Trump. The 17-year-old climate activist and 73-year-old US president got top billing at this year's conference, and they kick things off straight away. Thunberg appears at sessions in the Congress Center at 8:30 am and 1:00 pm, bookending Trump's address in the Congress Hall at 11:30 am. Thunberg is expected to tell captains of industry to quit fossil fuels entirely and immediately. Trump, meanwhile, will shrug off the start of his impeachment trial today in the US Senate and bring his "America First" message to the Congress Hall, warning the crowd about the dangers of socialism, in a preview of a key campaign theme.
First look at Hong Kong leader Carrie Lam. After weeks of laying low during pro-democracy protests, the city's leader is now on a PR offensive trying to repair Hong Kong's battered image—and bringing a large business delegation in tow. Her first public appearance is at a panel on "Expanding Asia's technology leadership" at the Waldhuus hotel at 12:30 pm, and comes amid heightened fears in Hong Kong about the surveillance powers of the state through facial recognition and "smart" technology such as lampposts. The session, which is closed to media, is moderated by a host from Chinese state broadcaster CGTN.
China's economy comes under scrutiny. The country's vice premier Han Zheng, who is in charge of economic policy, speaks at 2:15 pm in the Congress Hall in a session moderated by WEF founder Klaus Schwab. Han's appearance comes as China recorded its slowest rate of growth in 29 years, thanks in part to the trade war with the US. Han is also the state leader in charge of Hong Kong affairs, and will have to answer—or not, depending on the moderator's line of questioning—for the months-long protests that have rocked the city.
Best of the rest. Other sessions that caught our eye (all livestreamed) include: Huawei founder and CEO Ren Zhengfei speaking with Sapiens author Yuval Noah Harari about the "technology arms race" at 9:45 am; Goldman Sachs boss David Solomon (aka DJ D-Sol) on a panel about "valuing unicorns" at 2:30 pm; the presidents of Senegal and Botswana on a "High-Level Panel on Africa" at 3:45 pm; and "world's scariest economist" Mariana Mazzucato moderating a session about "debunking the limits to growth" at 6:15 pm.
Let's predict the future. Quartz is offering food for thought with a series of "Farsighted Lunches" at the Hard Rock Chapel, featuring a different expert panel at noon each day. Today we'll debate which technology will bring about the most change by 2025; Wednesday will be about how we'll earn a living in 2030; and on Thursday we'll take predictions about the most valuable resource in 2070. The guest lists are full but if you ask very nicely, and say that you heard about it in this excellent email that you forwarded to all your friends and family, we'll see what we can do.
Party planner. It's still early in the week, so take it easy. For some culture, Yo-Yo Ma plays Bach's Cello Suite No. 1 at the Open Forum at the sensible hour of 6 pm. Later on, if you must, there's Politico's annual soirée up the Schatzalp, the Burda DLD nightcap at the Belvedere is full of fancy media people, and the "After Hours Equality Party" at the Panorama Hotel is one of the few parties not dominated by dudes in gray suits. Cloudflare managed to lure away piano player Barry Colson from his decades-long run at the Hotel Europe; he's now at the rebranded Barry's Piano Bar every night from 10 pm-4 am, with no invite or RSVP required (weird, right?).
Total information awareness
We know you have a choice in daily Davos newsletters, and we thank you for choosing this one. That said, these days there is far too much going on at the forum—officially, semi-officially, unofficially, possibly even illegally—to cover it all in a single email. To round out your WEF experience, you might consider subscribing also to Politico's Davos Playbook, Bloomberg's Davos Diary, Reuters' daily newsletter, The Times' Business Briefing, Devex's development-focused email, Reflexive's afternoon tech roundup, or all the crypto news from CoinDesk Confidential, to name a few.
The best site to bookmark is the World Economic Forum's own, which runs a liveblog and will host more than 100 publicly streamed sessions during the week. For a rundown of all the events taking place on the fringes of the forum, the DavosX app (iOS, Android) is pretty handy.
What everyone is talking about
The purpose of companies. By modern standards, the WEF's first manifesto, published in 1973, was pretty "woke." Of course, the need to "harmonize the different interests of the stakeholders," as the WEF put it back then, hasn't necessarily been backed by much action in the decades since. This year, the WEF updated its manifesto by downplaying the primacy of profits and promoting an agenda the skews stakeholder-y. Of the six thematic tracks that guide the official forum program, the most sessions are devoted to "Society" (89) and the least to "Economy" (27). And we would be remiss not to mention that Quartz has been obsessing over the evolving purpose of companies for years—get clicking!
It's getting hot in here. The environment will be a ubiquitous feature of Davos programming this year. Thunberg, other outspoken young activists, plus the likes of Jane Goodall and Prince Charles will urge companies to do better. In response, a cavalcade of CEOs will make pledges to shrink their corporate carbon footprints (and yes, take stick for flying in on private jets to deliver that message). We have already heard bigwigs mention "Larry's letter," a reference to BlackRock CEO Larry Fink's letter to CEOs published last week, arguing that climate change has become "a defining factor in companies' long-term prospects." For his part, UBS chairman Axel Weber told journalists yesterday that a carbon credit price will eventually become as important to financial markets as LIBOR is today. But when they're not on stage, executives may not necessarily be buying into all this green talk: In its latest global survey of CEOs, PwC found that climate change did not even make it into the top 10 threats the executives see to growth prospects.
Enjoying this email?
This is a special edition of the Quartz Daily Brief produced for attendees and others interested in the World Economic Forum in Davos. If you were forwarded this newsletter by a colleague, head of state, or Klaus Schwab himself, you can get your own copy delivered directly to your inbox for free by clicking here. And follow all of Quartz's coverage from the forum during the week here.
Where in the world?
By now, thousands of corporate executives, government officials, journalists, and assorted hangers-on from more than 100 countries have settled in Davos. Everything revolves around the roughly 2,800 official delegates and their entourages, and even within that rarified group there are various categories assigned by forum organizers. (Quartz members can search the full list of attendees by name, company, country, and title.) At the top of the Davos hierarchy, there are 53 heads of state or governments attending the forum, roughly the same as last year.
What the forum may lack in geopolitical power—there are only three leaders of G7 countries, and none from the BRICS—it makes up for in plutocratic might. If there was a Pokémon Go-style app for seeking out billionaires, this would be a great place to test it—at least 119 are jetting in for the forum this week, according to Bloomberg. (Editor's note: SoftBank called and they want to fund that app.)
Don't believe the hype
New to the Davos Daily Brief this year, we're asking a different delegate every day to tell us whether the following people and things are overhyped, underhyped, or properly hyped. First up: Kelly Grier, US chair and managing partner and Americas managing partner at EY.
Blockchain: Properly hyped. "There's a lot of hype on blockchain, but blockchain is the real deal. We are already using it with clients and we have only scratched the surface on the applications."
Greta Thunberg: Properly hyped. "I am so impressed with this young lady and her passion and her conviction and her relentlessness."
A four-day workweek: Underhyped. "Our model (at EY) doesn't naturally lend itself to four-day weeks. That said, we give people a lot of vacation, a lot of time off, a lot of flexibility."
Crampons: Properly hyped. "I would have been lost without them last year."
Seen and heard
"I see a lot of waters out there, which is great. Gotta pace yourself."—a banker surveying the crowd's beverages of choice at a gathering early Monday evening
Logistics group Agility is trying to make the "Frenemies Economy" a thing (it's complicated), while PwC is pushing "Slobalization." Send us the buzzwords you hear and we'll feature them in a future email.
Point: "IMF lowers global growth projection for 2020-21 due to sharp slowdown in India"
Counterpoint: The lounge of the Indian state of Karnataka: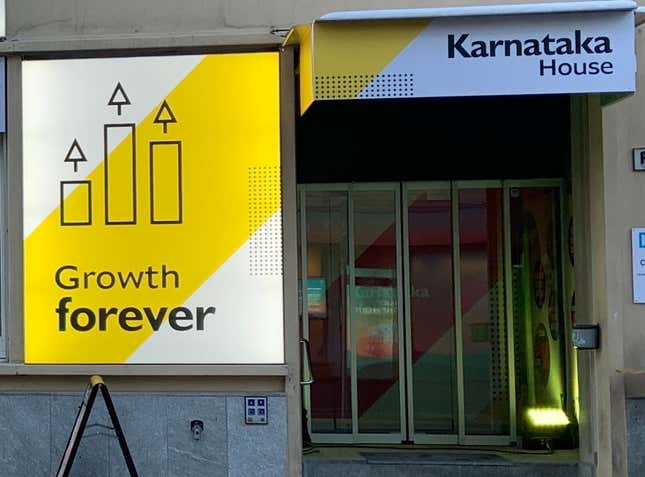 If you need some alone time, the wood-paneled bathroom stalls at Hub Culture's TechLodge each feature their own Bose speakers and multiple mounted touchscreens. "They were BEAUTIFUL," reports a breathless tipster.
"Do you get to go skiing at this thing you're all in? No? So, it's all work? Boring."—between-song banter from Sheryl Crow at the Philip Morris lounge.
News from around the world
China confirmed human-to-human transmission of the Wuhan coronavirus. Chinese authorities also said a fourth person had died from the virus, which has infected more than 200 people in four countries. The WHO will hold an emergency meeting tomorrow.
Emmanuel Macron and Donald Trump called a truce in their digital tax dispute. The French and American leaders said they would keep negotiating this year over Paris's plan to apply a 3% levy on revenue from digital services earned in France by tech giants.
South Korea will dispatch troops to the Strait of Hormuz. The US ally's defense ministry announced that its anti-piracy unit, currently deployed off the coast of Africa, will expand operations in order to protect its citizens and vessels.
Quartz membership
A third of the world plays video games. About 60% of Americans say they play them daily. And as the global gaming industry grows, it's influencing much more than how we spend our free time. From entertainment to government to health care, industries are trying to distill and deploy gaming's immersive power. In this week's field guide, Mary Pilon covers everything you need to know about the state of gaming and its impact on our lives.
Matters of debate
Sperm donations from dead men should be allowed. It should be considered no differently than organ donation.
Don't give your dot-org domain to for-profit companies. The dot-org community was built to support non-profits—and it should remain that way.
It's impossible to be ethical and competent. A survey of 34,000 people in 28 countries found that no institution is considered both.
Surprising discoveries
Two men created an "Earth sandwich." A student in New Zealand and an accomplice in Spain placed slices of white bread on precise points on opposite sides of the planet.
Britain's Royal Mint is celebrating Queen. The commemorative coins feature Queen Elizabeth II on one side and the rock band on the other.
Millennials expect to see nuclear war. More than half of young adults surveyed by the Red Cross think a nuclear attack will happen in the next 10 years.
Our best wishes for an inspiring day at the forum. Please send any news, tips, leftover thought leadership, and energy drinks to the Davos Daily Brief crew. Keep up with the news while you're on the go this week with the Quartz app for iPhone and Android.