Hello again, Davos delegates and WEF watchers!
Another day, another hashtag.
There's been no shortage of campaigns and pledges launched in Davos. Normally we're skeptics. But the Working With Cancer pledge unveiled yesterday by Publicis Groupe CEO (and cancer survivor) Arthur Sadoun has already had some impact here. By here, we mean in the cozy Klosters flat where Quartz's Heather Landy decided she could not write about a pledge to destigmatize cancer at work without also writing about her own bout with breast cancer, and how both work and the WEF played a role in her experience.
Read her account and learn more about the pledge, which already has been signed onto by more than 30 giant employers on both sides of the Atlantic.
---
👀 WHAT TO WATCH FOR TODAY
Groundhog Day. It seems like, every year, a WEF panel discusses "The Future of Jobs," which is the title of a 9am session at the Congress Centre's Aspen 2 hall. Also every year, a panel talks vaguely about responsible capitalism (9am, Sanada, Congress Centre). To experience the least amount of early-morning deja vu, head to panels that discuss passports for batteries (9am, Media Village) or quantum technologies (9am, Aspen 4, Kurpark).
Satya at Davos. A conversation betweenWEF founder Klaus Schwab and Satya Nadella, the CEO of Microsoft, has by now become a fixture at Davos. The event (1:30pm, Aspen 2, Congress Centre) is already full, but it will be livestreamed, so anyone can tune in and, say, pilfer Nadella's reading list.
Meta mania. Meta's chief product officer, Chris Cox, appears on a panel at 3pm (Aspen 2, Congress Centre) to explain the challenges of building the metaverse. Also on the panel: Neal Stephenson, the science-fiction writer who coined the term "metaverse."
You have the floor. In a session both insufficiently and intriguingly described, Judith Wiese, the chief people officer of Siemens AG, talks about the importance of industrial staff like factory workers. "This interactive session," the WEF website says, "brings frontline workers…face-to-face to shape a new era of collaboration." A rare blue-collar moment at Davos? Find out at the Congress Centre's Fusion hall at 4:15pm.
---
👂 OVERHEARD
"I hate talking about China. Fuck. You can never say anything right." —An American CEO at Bloomberg's The Year Ahead 2023 luncheon
"I'm with the Young Global Leaders. Of course they put us in Klosters." —A first-time WEF invitee on a late-night shuttle from Davos to the neighboring town
"I still don't understand the business case for being in there. They livestream everything anyway." —A European entrepreneur outside the Congress Centre, where his badge would not allow him entry 
---
💰 LARRY FINK DOES DAVOS
On the first full morning of WEF, Larry Fink did the rounds: a Bloomberg luncheon, then a panel on trade and the global economy. Fink, the chairman and CEO of BlackRock, the world's largest asset manager, wore sturdy brown boots to better stalk the slippery terrain at Davos. By which we mean not just the icy sidewalks but also the questions about an economic slowdown, ESG, and the fragmentation of trade. Strategically, Fink advanced his priorities, including a coded message that it's a particularly good time to invest—with, one assumes, a firm like BlackRock. Some excerpts:
On the political backlash from the right to BlackRock's ESG-led investing: "The narrative is ugly. The narrative has created this huge polarization... It's hard for me to lose much more hair, but it's not enjoyable... For the first time in my professional career, attacks are now personal. They're trying to demonize the issues."
On the outlook for the economy in 2023: "I'm not here to tell you we can't have another problem. The world is pretty unstable. If China's economy rebounds when the country has herd immunity—three weeks ago we had no one in our offices there, and now everyone is back—the Chinese economy may grow 5-6% in the third and fourth quarter. At the same time, we're estimating mild recessions in Europe and the US. I'm not here to suggest it's rosy in 2023. But it's a better environment for long-term investing than it was two years ago."
On countries aspiring to self-sufficiency in key industries, fragmenting globalization: "Fragmentation is occurring because in every country, we're hearing the concept of national security, whether it's national security in chips or national security in energy… That phrase has been abused repeatedly... Fragmentation is one of the causes of inflation. Because when you overlay something more important than price, something called national security, you're willing to substitute or sacrifice price."
On the theme of his next quarterly letter to business leaders: "My word of the moment is hope… Covid has changed how we think: the fear of mortality, the polarization, the politics, a war. If you look at birth rates in the developed world, they're collapsing. Savings rates have mounted dramatically in the world. BlackRock is a firm that tries to sell hope. Why would you put something into a 30 year obligation unless you think things will be better in 30 years?... We're losing hope."
---
🇮🇳 INDIAN WINTER
For most of the Davos day, delegates at the Congress Centre seem to subsist on coffee and networking as forms of nourishment; incredibly, there's no real lunch to be had here, which makes dinner a concern of paramount importance.
Hands down, every January, some of the best food of the WEF week is served by TCS, the Indian IT services giant. In the dome behind the Panorama Hotel, projectors cast footage of oceans, jungles, and waterfalls on the ceiling—magical and immersive, unless you were really hungry, in which case you kept your eyes peeled for the chili chicken mini-quiches, tomahawk-like lamb chops, samosas, and truffle-mousse'd tapioca chips that passed through the crowd around you.
And if you had already filled up on the artful Indian canapés on offer at the Infosys Lounge, then lucky, lucky you.
---
😱 SHOTS FIRED

Before moderating his morning panel on the geopolitics of industry, Ravi Agrawal, editor in chief of Foreign Policy, must have breakfasted on nails and broken glass. Unusually for Davos moderators, Agrawal found smart barbs to fling at two of his guests: Mathias Miedreich, the CEO of the Belgian materials firm Umicore, and Lubna Olayan, the chair of the executive committee of Olayan Financing Company, a Saudi firm.
First:
Miedreich: We are a pretty old company. We are 200 years old. We were founded, actually, as a mining company to mine cobalt in the Congo for King Leopold of Belgium.
Agrawal: That's a fraught history, of course.
Miedreich: It's a broad history, and…
Agrawal: No, I said it's a fraught history.
Miedreich: And broad…
Agrawal: And fraught.
And then, minutes later:
Agrawal: Saudi Arabia gets criticized a lot, especially in the Western press—rightly so, I would argue…
Olayan: Why rightly so? But anyhow, you're the moderator…
Agrawal: Pick up a newspaper.

---
✈️ PLANE CRAZY

During the WEF meeting last May, the airports around Davos recorded 1,040 private flights—double the number of an average week. Private jets are the most polluting mode of transportation on the planet per passenger kilometer. It was as if the emissions of 350,000 cars had been let into the atmosphere in that period, according to a report by Greenpeace and CE Delft. Of those flights, over 50% traveled less than 750km, meaning they easily could have been substituted by a train ride. \"Davos has a perfectly adequate railway station, still these people can't even be bothered to take the train for a trip as short as 21 km," said Klara Maria Schenk, a Greenpeace transport campaigner. "Do we really believe that these are the people to solve the problems the world faces?"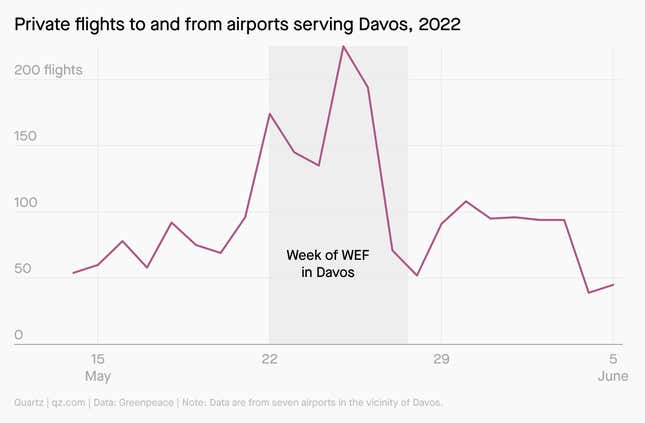 ---
🌍 NEWS FROM ELSEWHERE

The US imposed chip curbs on Macau. The Biden administration expanded controls as it seeks to prevent the export of technology from the region to other parts of China.
Microsoft is planning to cut thousands of jobs. The tech giant could lay off as much as 5% of its staff, amid a global economic downturn, Sky News reported.
China recorded its first drop in population since 1961. Adding to its economic concerns, the country also reported zero GDP growth in the fourth quarter of 2022.
Top military officers from the US and Ukraine met face-to-face. The first in-person meeting between the two generals comes as Russia's invasion nears the one-year mark.
Brexit has cost the UK 330,000 workers. A new report finds that sectors like retail and hospitality have been hit the hardest by the new immigration rules.
---
🤓 THANKS FOR READING QUARTZ!
Want more carefully curated news items like this in your inbox? Every weekday, the Quartz Daily Brief delivers the most important and interesting news from the global economy, straight to your email. Sign up here.
Our best wishes for a productive day. Today's Need to Know: Davos was brought to you by Samanth Subramanian, Amanda Shendruk, and Heather Landy.