Hi Quartz readers!
Welcome to the first edition of Need to Know: Tokyo Olympics. Though the Games have not yet begun, the news surrounding them is already well underway. If this was forwarded to you by a friend, sign up here. Let's jump the gun.
---
The stream team
When NBCUniversal announced it was launching a new streaming service, Peacock, last summer, the Tokyo Olympics were supposed to carry it to victory. As the Games' exclusive US broadcast rights holder, the company hoped to make Peacock indispensable to Olympics viewers and enter the increasingly crowded streaming race with a bang.
But then the pandemic happened, delaying both the Olympics and also Peacock's big moment. It still launched last July, but with little fanfare, and it's struggled to grow since. The service has 42 million users, but only a small fraction of them actually pay for it. The rest access Peacock through its free, ad-supported tier or via cable TV packages.
So with the Olympics finally going ahead, now is NBCUniversal's chance to show off what Peacock can do. Aware of viewer complaints around events not being broadcast live, NBCUniversal is making Peacock the only place where US viewers can watch gymnastics and track and field events in realtime. If you want to watch live coverage of the US men's basketball team, you'll have to sign up for Peacock's $5-per-month "Premium" tier.
It's a bold move to make the nascent Peacock such a central part of the Olympics experience. But that's what NBCUniversal has to do to compete against Netflix, Disney, and the WarnerMedia-Discovery conglomerate. If one of NBCUniversal's most lucrative properties can't raise Peacock's profile, then perhaps nothing can. —Adam Epstein
---
By the digits
10: Days until the opening ceremony in Tokyo
>3.5 million: Number of tickets bought by people in Japan prior to the announcement barring spectators at most events
>$1.2 billion: Value of the ads NBCUniversal has sold that will air during the Olympics
11: Moms on the US Olympic team
$10,000: Grant each of six mom-athletes will receive from The Power of She Fund: Child Care Grants, an initiative from US track and field star Allyson Felix in partnership with Athleta and the Women's Sports Foundation, to cover childcare costs at the Games
6: Screws in Swedish swimmer Sarah Sjöström's arm as a result of breaking a bone after slipping on ice during her Olympics training
90-87: The score of a recent Nigeria-US exhibition basketball game; it's the first time Team USA has lost to an African nation
---
What to watch for
Tokyo entered its fourth state of emergency on Monday, which means there will be no spectators at Olympic events in the city and surrounding areas. Over the weekend, Fukushima decided it won't allow fans at the events it's hosting either. Many locals still think the Games should be canceled.
A spectatorless Olympics will likely hurt TV ratings, as at-home viewers tend to get less excited about sporting events taking place at empty stadiums. The lack of crowds was also a factor in Australian tennis player Nick Kyrgios's decision to skip the Games, and Serbia's Novak Djokovic now says he's "50-50" on attending following his Wimbledon win on Sunday.
---
Quotable
"I am human." —US runner Sha'Carri Richardson, after receiving a one-month suspension from the sport for testing positive for marijuana. Previously considered a favorite to win gold in the 100-meter individual race, she is no longer going to the Games. 
---
A brief history of the Olympics in Japan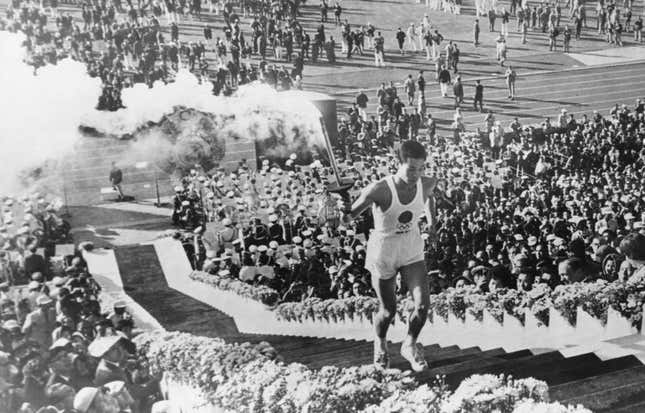 While Japan has been the host for four Olympics—the Summer Games in Tokyo in 1964 and 2020 and the Winter Games in Sapporo in 1972 and Nagano in 1998—the country was awarded five: The 1940 Olympics were scheduled for Tokyo, but cancelled because of World War II. Those Olympics, like Berlin's 1936 Games, were to be a celebration of Japan's imperial might. When it finally did host in 1964, Japan was a much-changed country. As a symbol of the nation's rebuilding, the Olympic flame was lit by Yoshinori Sakai, a sprinter born the day Hiroshima was destroyed by the atomic bomb.
---
Instant replay
🗳 Politics are coming for the "apolitical" Olympics
📺 The Olympics is now a TV-only event, and that's bad news for TV
⛵️ India's Tokyo Olympics sailing duo already have their eyes set on the 2024 Games
🎾 Serena Williams isn't explaining her decision to skip the Olympics
🥋 A Kenyan taekwondo athlete prepares for the Games
🎽 India drops a Chinese apparel giant as its Olympics sponsor after social media backlash
---
🎵 This email was produced while listening to John Williams's "Olympic Fanfare and Theme."
---
Our best wishes for an inspiring day. Get in touch with us at hi@qz.com and live your best Quartz life by downloading our iOS app and becoming a member. Today's email was brought to you by Adam Epstein, Oliver Staley, Susan Howson, and Liz Webber.