Hi Quartz readers!
There's a lot to catch up on from the weekend. Let's get right to it. 
---
Highlight reel
---
They are the world
When it first competed in the 2016 Olympics in Brazil, the refugee team was a feel-good story. Ten athletes made near-impossible journeys from their four native countries, first to find refuge in other nations, and then to the world's most prestigious sporting stage. Remember Yusra Mardini, the Syrian teenage swimmer who tread water for three hours to help keep afloat a malfunctioning boat on her journey to refuge in Greece? She was barely 18 in Rio, and is back to swim in Tokyo.
For the 2020 Games, the refugee team has grown in size and scope, with new disciplines and more dedicated training. It has 29 athletes who originate from 11 countries, and are hosted by 13 others. They belong to the world—hence, they are competing under the Olympic flag.
Their presence is a reminder that even as the world's attention is turned to other crises, 80 million people remain forcibly displaced. As their numbers go up, so does their relevance on the global stage.
More importantly, the existence of the team frames refugees not as a problem to erase, but as a reality to include. Refugee athletes deserve their place in the Olympics, as they do in society, just like people with regular passports. They are not coming for anyone's pity—they're coming for everyone's medals. —Annalisa Merelli
---
By the digits
76: Years between 2020 and the last postponed or canceled Olympics
68%: Proportion of Japanese citizens who don't believe the Games can be hosted safely and securely, per a July 19 poll
$20 billion: Estimated cost to Japan for hosting, nearly three times the $7.4 billion price tag Tokyo projected when it submitted its bid
1: Transgender athletes participating in this year's Games
109: Acres making up Tokyo's sealed off, waterfront Olympic Village
3: Olympics hosted in the Southern hemisphere during its 125-year lifespan
100: Members of the US Olympic team who are not vaccinated
40%: Discount readers of this email get on Quartz membership when they use code QUARTZGOLD
---
What to watch for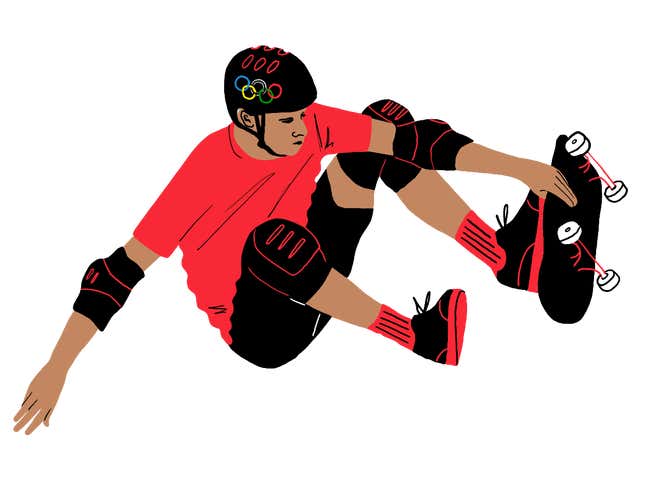 Skateboarding's star athletes will be among the youngest—and oldest—at the Tokyo Games. Japan's Kokona Hiraki is just 12, and Britain's national team includes 13-year-old Sky Brown. Meanwhile, Gen-Xer Rune Glifberg (aka The Danish Destroyer) will skate for the Netherlands at age 46.
This year will be the first time the sport's 50 million riders see their heroes compete for Olympic gold. But one record will remain unbroken: the youngest competitor ever at the Olympics. That title still belongs to Dimitrios Loundras, a Greek gymnast, who was only 10 years old when he competed at the first modern Games in Athens in 1896.
---
Quotable
"Throughout the struggles of my life, I think the only safe haven and mental calmness for me was sport." —Nigara Shaheen, a member of the Refugee Olympic Team, who competes in judo. She fled Afghanistan with her family when she was 6 months old.
---
How does the Olympics define "country"?
To send delegates to the Olympics, a country must have a National Olympic Committee (NOC) that is recognized by the International Olympics Committee (IOC). There are 206 NOCs—which is curious, given the UN only officially recognizes 193 countries. (Only 205 will compete in Tokyo; North Korea dropped out due to the pandemic.)
What are the 13 extra regions?
Four are geopolitically fraught areas that have NOCs, but are not UN members: 🇵🇸 Palestine, 🇭🇰 Hong Kong, 🇽🇰 Kosovo, and 🇹🇼 Taiwan.
Nine island regions sought recognition from the IOC prior to 1996, when the rules were changed to only include internationally recognized states. They are all territories of, or linked to, nations recognized by the UN, but still participate separately at the Olympics: 🇦🇸 American Samoa, 🇦🇼 Aruba, 🇧🇲 Bermuda, 🇰🇾 Cayman Islands, 🇨🇰 Cook Islands, 🇬🇺 Guam, 🇵🇷 Puerto Rico, 🇻🇬 British Virgin Islands, and 🇻🇮 US Virgin Islands.
---
Instant replay
🇮🇳 Will sending its largest-ever contingent change India's fortunes at the Olympics?
🥊 The Philippines's first female Olympic boxer makes her debut in Tokyo
👚 Let the fashion Olympics begin
✊ Politics are coming for the "apolitical" Olympics
---
🎵 This email was produced while listening to John Williams's "Olympic Fanfare and Theme" (to be honest, we'll have it on loop until the Games are over).
---
Our best wishes for an inspiring day. Get in touch with us at needtoknow@qz.com and live your best Quartz life by downloading our iOS app and becoming a member. Today's email was brought to you by Annalisa Merelli, Michael Coren, Heather Landy, Amanda Shendruk, Jordan Weinstock, and Liz Webber.