Hi Quartz readers!
As if this year's Games weren't complicated enough, a tropical storm is bearing down on Japan, scrambling the schedules for events like archery, rowing, and surfing (more on that below). But the show must go on… 
---
Highlight reel
---
Under the influencers
Until the 1990s, professional athletes were largely barred from the Olympics. Even after pros in sports like basketball and hockey swarmed the Games, most athletes were not household names prior to their Olympic debut. For fairweather fans, every four years brought a new women's gymnastics squad to cheer for: the Magnificent Seven, the Fierce Five, the Final Five. Track and field athletes, swimmers, and divers also got their share of the spotlight.
But this year, many fans will root not only by country affiliation but for their favorite influencers: American Paralympic track star Hunter Woodhall has 2.6 million TikTok followers. American beach volleyball player April Ross charges $150 on Cameo. British diver Tom Daley has documented his journey to Tokyo to his more than 900,000 YouTube subscribers.
One last vestige of amateur sports in the US was dismantled earlier this month when the National Collegiate Athletic Association (NCAA) changed its rules to allow college athletes to profit off their names, images, and likenesses (NIL). That means NCAA athletes in Tokyo can cash in on endorsement deals, monetize their social media accounts, or sell their own merch. And the International Olympic Committee recently changed an important NIL rule of its own, allowing athletes to endorse brands that aren't official Olympic sponsors during the Games.
While Olympic training is a lifelong pursuit, Olympic careers can be painfully short. Thanks to the rise of influencer culture, today's athletes can shoot for more than the podium. —Scott Nover
---
By the digits
16.7 million: US TV viewers of the Tokyo opening ceremony, a 33-year low
$3 billion: Sponsorship dollars committed by Japanese corporations to the Tokyo Games
$51 billion: Total operating cost of the 2014 Sochi Winter Olympics, the most expensive to date
160,000: Condoms Japan ordered for distribution in the Tokyo Olympic Village—but athletes have been told to wait to use them until they get home
$37,500: Amount the US Olympic & Paralympic Committee (USOPC) pays out to an athlete who wins a gold medal; silver medalists get $22,500 and bronze medalists get $15,000
$1.2 million: Earnings retroactively awarded to American Paralympians who medaled in the 2018 Games after USOPC voted to pay all Team USA athletes equally
---
What to watch for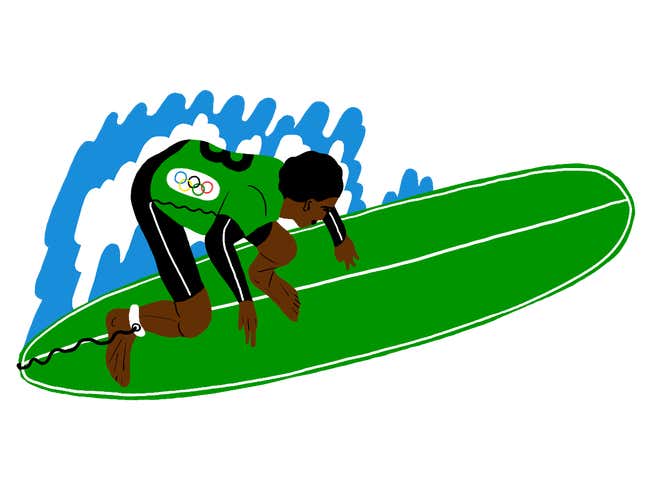 Medals for the first ever Olympic surfing competition will be awarded a day earlier than planned because of tropical storm Nepartak. The medals heat for both men and women was scheduled for Wednesday, but will now take place on Tuesday. The sport makes its debut in Tokyo more than a century after Duke Kahanamoku, Olympic swimmer and legendary surfer, suggested adding it. The US state of Hawaii, Brazil, Australia, and the mainland US dominate international surfing competitions, but at the Olympics Hawaiian surfers must compete for Team USA, which has narrowed the field of competitors, and brought Hawaiian cultural heritage into the spotlight.
For a deeper dive on surfing, check out this Olympics-themed edition of the Quartz Weekly Obsession. Want to keep riding the Obsession wave? Click the button below to get the next newsletter free in your inbox.
---
Quotable
"You don't see any Olympic rings in Tokyo. It's not like the city is celebrating the Olympics. I think that's the big difference." —Koen de Haan, a trainer for the Netherlands rowing team, on how athletes are experiencing the  2020 Games 
---
Place your bets
Just three months after the 2018 Winter Olympics in Pyeongchang, South Korea, the American sports landscape changed dramatically. The US Supreme Court struck down a 1992 federal law that effectively banned sports betting in most of the country. For the first time, Americans no longer have to travel to Las Vegas to bet on the Olympics—for many, they can place bets on their phones. Here's what's changed since the Court ruling:
22: States plus the District of Columbia that now allow sports betting
9: States that have legalized it but haven't started taking bets
$4.4 billion: Sports betting revenue since 2018
$615 million: Tax revenue from sports betting since 2018
---
Instant replay
🛹 The first Olympic gold medal in skateboarding went to a Nike athlete
​​🤔 The world has 193 countries, so why are there 205 teams in the Olympics?
👟 The origins of the Olympics' obscure track and field events
🚊 How a spectator-free Olympics upended Tokyo's big transit plans
---
🎵 This email was produced while listening to (you guessed it) John Williams's "Olympic Fanfare and Theme."
---
Our best wishes for an inspiring day. Get in touch with us at needtoknow@qz.com and live your best Quartz life by downloading our iOS app and becoming a member. Today's email was brought to you by Scott Nover, Annaliese Griffin, Jordan Weinstock, and Liz Webber.