Hi Quartz readers!
Just when you decided you'd had your fill of water-racing, land-racing picks up the pace. Read on for more swimming results, running facts, and a quote involving the word "biffing."
---
Highlight reel
---
Home run
What's it like for Olympians whose country of birth is different from their adopted countries of citizenship? For the seven Kenyan runners who are flying different flags in the Tokyo Olympics, it might be something like this:
Their eyes will meet at the starting line. Before their races, they will exchange hugs and others will hear hushed conversations in Kiswahili, Kalenjin, Maa, or Kikuyu. They will wish each other good luck, then will take their designated positions. Some of them will run for Kenya. The others, for Bahrain, Israel, Turkey, and the US.
There will be no awkwardness, for surely everyone wants the best for themselves and their families. The story of the migrant is that sometimes these desires cannot be fulfilled in one's own country. Whichever of them takes home the cup, there will be partying in Eldoret, Iten, and Nandi. Their families will invite neighbors for a night of mursik and dancing to celebrate the daughters and sons of the soil who have brought pride to their people.
Gold, silver, and bronze will go to Kenyans flying different flags, but the biggest celebrations will likely be in the place of their birth, not their adopted homes. I start to wonder, will they get to go back home for the celebrations or will they have to Zoom in and realize that though they left, they will always be considered family. —Ciku Kimeria
---
By the digits
1936: Year of the first torch relay
1.1 million: Likes Simone Biles's tweet has received at time of writing after bowing out of the team and individual competitions to protect her mental health
63,000: Population of Bermuda, the smallest country to win a gold medal in Tokyo
11,500: Population of Nauru, the smallest country to participate
$737,000: Cash reward Singapore gives to its gold medalists
356: Medals handed out so far
5 km (3.1 miles): How far apart water stations are in the Olympic marathon course
---
What to watch for
After sailing through his quarter-final match on Thursday, Serbian tennis player Novak Djokovic is still on track for the elusive Golden Slam: a win in all four major tournaments plus an Olympic gold medal in the same year. Only Germany's Steffi Graf has ever done it, in 1988. Even if Djokovic takes gold in Tokyo, he'll still need to persevere at the US Open later this summer, where he's likely to meet top contenders like Rafael Nadal and Roger Federer who skipped the Games.
On the women's side, the singles gold medal match on Saturday will be between Switzerland's Belinda Bencic and the Czech Republic's Marketa Vondrousova after medal favorites Naomi Osaka (Japan) and Ash Barty (Australia) were knocked out early.
---
Quotable
"We fully biffed into the Italians. They are pretty pissed off because maybe we cost them the silver and sorry to those guys. It's an outdoor sport and this stuff happens. It's just heartbreaking when it's you and not something on YouTube." —UK rower Matthew Rossiter after his team's near-crash in the men's coxless four rowing final cost Great Britain a medal and contributed to Italy's drop to third place 
---
Fun fact!
The distance from Marathon to Athens is 40 km, or close to 25 miles. So why is the modern marathon 26.2 miles? According to one story, at the 1908 Games in London, Britain's Queen Alexandra wanted the race to begin inside the Windsor Castle grounds where her children could watch and end in front of the royal box at the Olympic stadium—a distance of 26.2 miles. In 1921, that became the marathon's standard length.
The 1908 Olympic marathon was also notable because the first man across the finish line, Italy's Dorando Pietri, didn't actually win. After stumbling multiple times during his final steps, Pietri had to be assisted by officials, which led to his disqualification. The gold medal went to American Johnny Hayes.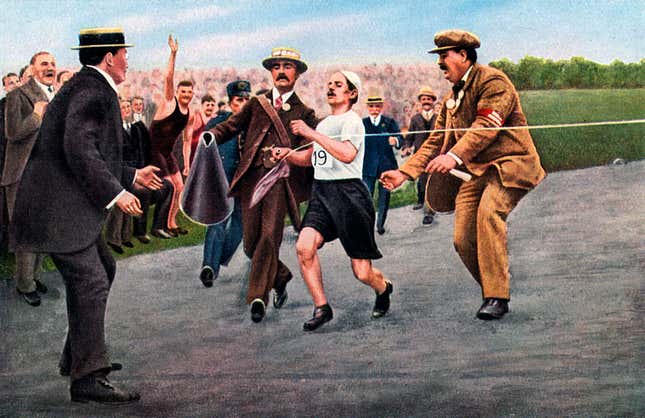 ---
Instant replay
🌏 How many countries compete in the Olympics?
🛏 Yes, cardboard beds can be sexy
🎮 Video game themes are the soundtrack to the Tokyo Olympics
---
🎵 This email was produced while listening to John Williams's "Olympic Fanfare and Theme." Do other songs even exist right now?
---
Our best wishes for an inspiring day. Get in touch with us at needtoknow@qz.com and live your best Quartz life by downloading our iOS app and becoming a member. Today's email was brought to you by Ciku Kimeria, Jordan Weinstock, Susan Howson, and Liz Webber.