To modern workers everywhere,
When Quartz launched a workplace edition in 2017, we put some of our top journalists from around the newsroom behind the effort. Only one had ever held the role of "management reporter." The rest were focused on subjects like relationships, psychology, inequality, and technology. Those lenses helped us understand the complex dynamics of the modern workplace in a new way. Now, The Memo from Quartz at Work will bring the best of our coverage right to your inbox.
What does it mean to be a modern worker? Before Covid-19, I thought the phrase connoted a certain frame of mind—the kind shared by people who have a deep relationship with their work; who derive some portion of their identity from it; who cringe at the yelling and intimidation that used to pass for managing; who want their teams equipped with tools to make them as creative and productive as possible, for love of the work or sense of purpose as much as for profit. Now it seems we are all modern workers, whether on laptops in living rooms, on the frontlines of healthcare, or on apps that allow us to patch together gig jobs or network for new opportunities, all the while trying to not only balance work and life but to do it simultaneously.
It's a rapidly changing world, and we'll be back in your inbox each week to help you navigate it, with digestible dispatches, actionable advice, and interesting ideas that are relevant at every level of the org chart. If you know someone who would appreciate this newsletter, send them to our signup page. And reach out to us at work@qz.com or on social media; we write a lot about feedback and appreciate getting it, too.—Heather Landy, Quartz executive editor and editor of Quartz at Work
---
Five things we learned this week:
---
30-second case study
The situation: After a pandemic-induced layoff from her content role at Student Beans, a kind of Groupon site for the university set, Brianna Davis was frightened, embarrassed, and feeling rather unimportant to have been let go so easily. But the recent college graduate bravely shared her plight on social media. Support, along with a few new industry connections, came rushing in from family, friends, and peers. "I kid you not," she told Quartz at Work's Lila MacLellan, "I was crying over my post on LinkedIn, based on all the kind words people were willing to share."
The takeaway: Knowingly or not, Davis had engaged in the only two tasks that really matter after a layoff, according to psychologist Robert Leahy: to look for a new job and to take care of yourself, which includes allowing others to help you. Leahy, author of the 2006 book The Worry Cure, spoke with Lila about this and a half-dozen other anxiety-mitigation tips for when you're laid off. It's the kind of advice that's worth reading about before you actually need it, but should you be among the millions who are suddenly out of a job, consider trying his recommendations to help make the fear more manageable.
---
It's a fact
More than 80% of newly remote US workers felt supported by their immediate supervisor as they made the transition to working from home, according to a Qualtrics survey conducted March 19-20. But only 65% said they felt clear about what was expected of them. Managers, your own task now is very apparent.
---
One chart, one poll
A stuck economy should mean a lighter meeting load. But many of us have found our calendars as filled up as ever. What's happening? Why, this: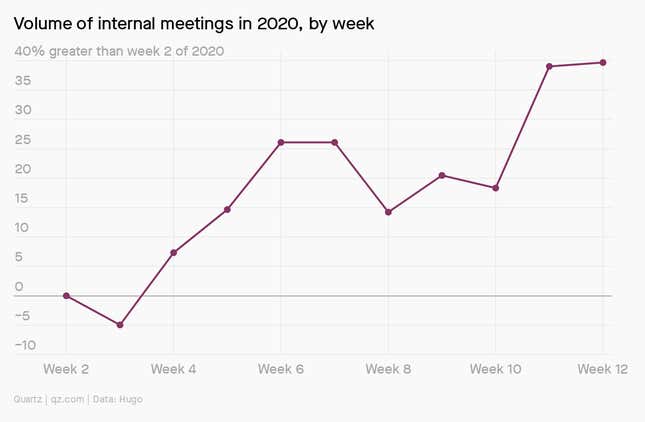 As Hugo co-founder Darren Chait explains in this piece for Quartz at Work, internal meetings have rushed in to offset the pandemic-induced slowdown in external meetings, which is why your weekly meeting load probably doesn't feel much lighter than it did before.
Are you spending more time in internal meetings than before the pandemic?
😬 Way more
🤫 Way less
We'll share the poll results in next week's newsletter.
---
A new workshop
How can you plan for the future when everything seems so uncertain? How do you still inspire and give clarity to your team? Mark W. Johnson, a co-founder with Clayton Christensen of the management consulting firm Innosight and author of the new book Lead from the Future, says the answer is "future-back thinking."
In a one-hour live Q&A on Thursday, April 16, at 11am US eastern time, Mark will explain how to set a new time horizon and vision for the future while also supporting others through our present reality. This session is part of our Quartz at Work (from home) remote workshop series. The live workshops are free to attend.
---
Words of wisdom
"As leaders, we have always had an obligation to demonstrate compassion and make time for our people when they need it. Now is the time to make good on it."—Michele Parmelee, chief people and purpose officer, Deloitte Global
+ Here's Michele's full piece on how leaders can show their concern for employees' mental health.
---
For Quartz members only
Work vs. coronavirus. Covid-19's impact on the workplace will stretch far beyond the confines of our new home offices. In this Quartz membership exclusive, Quartz at Work reporters Lila MacLellan and Michelle Cheng sort out what we'll gain (improved cultural norms, for starters), what we might lose (employee activism has an uphill battle now), and what's not yet clear (the effect all this has on productivity, for example). Sign up for membership here. Readers of The Memo are eligible for 40% off the first-year subscription rate of $99.
---
ICYMI
Your company's Slack is probably sexist. Whether you're a Slack newbie or a long-term user, you may have noticed (but just as easily may not have) that workplace messaging platforms can be filled with microaggressions. In this gem from our archive, we show how the different ways men and women communicate in person can quietly extend to the digital realm.
---
You got The Memo!
Our best wishes for a productive and creative day. Please send any workplace news, comments, sabbaticals, or clear expectations to work@qz.com. Get the most out of Quartz by downloading our app on iOS or Android and becoming a member. This week's edition of The Memo was brought to you by Heather Landy, Kira Bindrim, and Holly Ojalvo.