Hello, Quartz at Work readers!
Despite the best efforts of the return-to-office evangelists, the share of US workplaces sitting unused across the country has hit historic highs. According to the latest analysis from commercial real estate services company Cushman & Wakefield, a record 18.6% of office buildings across the country are vacant. By the end of the decade, the US could be sitting on 1.1 billion square feet of empty cubicles and corner offices.
Now some wonder if we could find a better use for these soaring corporate towers and sprawling office parks—by reimagining them as residences.
"In a nation contending with a shortage of affordable housing," writes Quartz's Gabriela Riccardi, "there's a certain appeal to taking darkened, out-of-commission offices and transforming them into usable living spaces." But the endeavor is expensive, and the planning can prove complicated. Converting an office floor into apartment units presents a series of spatial puzzles, from reconfiguring layouts to rerouting pipes and plumbing. Call it a renovation Rubik's cube.
Beyond their challenges, though, these projects have also gained new political backing—particularly in New York City, where the country's biggest office-to-apartment conversion is now preparing to break ground (or, more accurately, carpet).
👷‍♀️ So what does the project say about the campaign to convert empty office buildings into homes—and what other flips could follow it? Let's dig into the foundation to find out.
---
POP QUIZ: THE DEVELOPMENT DEBATE
While it's located in New York's financial district, this office conversion isn't just a former floor for stock trades or risk assessments. It's actually an erstwhile newsroom—last operating as a headquarters for The Daily News.
That's an outlier in office-to-residence projects in lower Manhattan, which are dominated by former financial institutions. So which of these Manhattan buildings is not currently being developed into apartments?
A. The previous headquarters of the New York Stock Exchange, where traders once paced the market floors
B. An old outpost of the American Bank Note Company, whose plants once printed dollar bills
C. A former home to financial and telecom services, with an exterior modeled after a computer punch card
D. The bygone HQ of Goldman Sachs, which the banking giant built for Wall Street dominance
🔎 Find the answer in the story.
---
AMBITION OVERLOAD
"Months before he retired as the most-decorated Olympian of all time, Michael Phelps described a peculiar feeling," writes Quartz contributor Simone Stolzoff.
"It's like we dreamed the biggest dream we could possibly dream and we got there," Phelps said. "What do we do now?"
We might wonder how a celebrated athlete at the peak of his profession could suffer from this extra-existential angst. But that feeling is fairly common among those of us with career ambition. And as the pandemic pushed us to rethink the role work plays in our lives, some of us are questioning the merits of ambition, too.
If you're wondering whether you want to be ambitious anymore, Stolzoff writes, you're not alone—but you're also asking yourself the wrong question. Try asking this one instead.
---
YOUR WEEKLY WORK HACK
Try one new word to build up a growth mindset. "When it comes to success, it's easy to think that people blessed with brains are inevitably going to leave the rest of us in the dust," author Travis Bradberry once wrote for Quartz. But psychology provides an alternate point of view: Your attitude is actually a better predictor of your success than your IQ.
That's the merit of the growth mindset, or the attitude that we can keep gaining, keep growing, and keep getting better with applied effort.
When we maintain a growth mindset—as opposed to its alternative, a fixed mindset—we tend to race towards challenges and rack up opportunities to learn something new. And according to David Rock, author of Your Brain at Work, we can start building a growth mindset with just a three-letter word: "yet."
Think you're not a tech-y person? No, you're not a tech-y person yet. That one word, Rock says, can transform your perspective from something static to one geared up for growth. Think of it, as Quartz's Anna Oakes writes, like an attitude booster shot.
To develop more of a growth mindset, Rock offers a three-step process—and "yet" is just the first. Find his other steps on Quartz.
---
TALKING 💰 TECH 💰 FUNDS 💰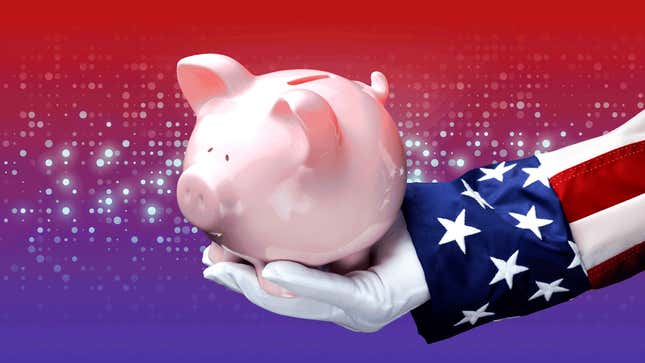 The US government's bailout of Silicon Valley Bank depositors—though not the bank itself—was an emergency move to save the economy from the ripple effects.
But what if the government got involved with tech banking a lot earlier? What if it created a public tech bank that would not only provide stability, but allow more long-term planning for tech projects that could improve the lives of generations to come?
In the latest episode of the Quartz Obsession podcast, economics reporter Nate DiCamillo explains to host Scott Nover why SVB's failure is the perfect moment to rethink how we finance innovation.
📖 If reading's more your thing, try the transcript.
---
QUARTZ AT WORK'S TOP STORIES
🚪 What happens when exceptional colleagues leave your team?
❌ Made a mistake at work? Try this 3-step process to address it
🏢 ExxonMobil is doing away with its "god pod"
🗣 It's not just conversation—Gen Z is missing some essential nonverbal skills, too
🪢 Want to deepen the connection employees have to your company's purpose? Here's how Deloitte does it
---
YOU GOT THE MEMO
Send questions, comments, and stories of losing your ambition to aoakes@qz.com. This edition of The Memo was produced by Gabriela Riccardi.