To modern workers everywhere,
For too long, business leaders have shied away from talking directly about discrimination and inequality—often because they fear screwing up or inviting blowback over their own practices. But in the wake of George Floyd's horrifying death in police custody, it's fast becoming impossible for US business leaders to ignore the ways that racism continues to inflict suffering upon black people. As Holocaust survivor Elie Wiesel once wrote, "We must always take sides. Neutrality helps the oppressor, never the victim."
And so many of America's corporate leaders, a group that is disproportionately white, are now issuing public statements about the problems of police brutality and prejudice. High-profile CEOs including Apple's Tim Cook, Facebook's Mark Zuckerberg, JPMorgan Chase's Jamie Dimon, and BlackRock's Larry Fink have all weighed in. Those who remain silent invite allegations of complicity.
But words are not enough. Some of the statements that have emerged so far illustrate a different kind of leadership pitfall when it comes to social justice—the problem of wokewashing, a modern-day marketing tactic in which corporations superficially align themselves with progressive causes, often while continuing to perpetuate inequality or unethical practices behind the scenes.
When Amazon posted a tweet calling for an end to the unjust treatment of black Americans, the American Civil Liberties Union was quick to ask: "Will you commit to stop selling face recognition surveillance technology that supercharges police abuse?" And Uber CEO Dara Khosrowshahi's message of solidarity was met with criticism over the company's treatment of its own drivers, many of whom are people of color.
It's entirely valid and necessary to criticize woke-washing companies that fall short of the ideals they express. But fear of coming under such criticism shouldn't prevent employers, or their leaders, from publicly committing to the fight against racism. Listening to people who tell you how you're messing up, and then acting upon that information, is an essential part of allyship.
Leaders who talk openly to their employees and communities about racism may well come under fire. They may hear about myriad ways in which they're contributing, directly or indirectly, to the problem. If they're serious about social justice, that's just the very beginning of the work they'll need to do.—Sarah Todd
---
Five things we learned this week
New research suggests we can "hear" hand gestures even when we can't see them.
Self-service buffets at Silicon Valley campuses aren't coming back.
TikTok's brand new CEO Kevin Mayer has already faced his first big test.
It's not just you—it's hard to read in times of distress.
The graduating class of 2008 has lots of lessons to offer the class of 2020.
30-second case study
On a recent Friday, Quartz at Work invited a handful of colleagues to a virtual escape room created by Puzzle Break, a Seattle company that has adapted its stock-in-trade for the age of quarantine. Our experiment in remote-team bonding was successful—we escaped, we had fun, and we saw interesting parallels between the way we work and the way we played. For instance, Lila MacLellan, a senior reporter here who organized the game for us, says there were moments when group brainstorms magically led to the right answers, and moments when she needed to mute everyone else to make headway, similar to turning off instant messaging to focus on deep work.
The takeaway: Puzzle Break founder Nate Martin says teams that succeed at escape-room exercises share a couple of common traits: They listen to each other, and they share information. Those factors, more than age, gender, or life experience, determine how well people work together and whether they win the game. Lila's full writeup of the experience (✦ Quartz membership exclusive) can be found here.
---
It's a fact
While the official US unemployment rate spiked from 3.5% in February to 14.7% in April, Germany's rose from 4.7% to just 5.5%. But hourly work data shows the German job market has had the steeper decline. What we're seeing, Quartz's John Detrixhe reports, is the result of two very different approaches to policy—although research from Goldman Sachs suggests the degree of government support for the labor market actually has been fairly similar in both countries.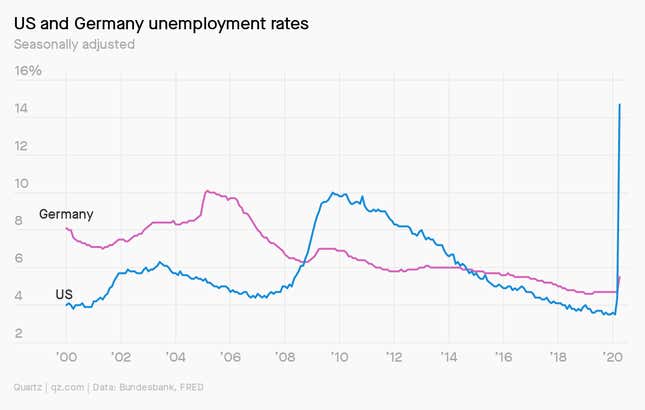 ---
A quick follow-up poll
In a rare instance of good news for the airline industry, last week we asked whether you miss business travel and 46% of you said you did, suggesting there's plenty of pent-up demand for getaways on the company dime. (Another 52% said you didn't miss it, and 2% indicated you were still traveling.)
Even if you weren't among those pining for more business trips, perhaps there is an aspect or two of work travel that you miss—besides filing all of those sweet, sweet expense reports, of course. So this week, we want to know:
What do you miss *most* about business travel?
✉️ What else do you miss about business travel? Email us and let us know!
---
Words of wisdom
"Over the last few months, Black people have not only watched their friends and family members die at higher rates from the coronavirus, they have also watched people who look like them be gunned down while going for a jog, be murdered in their homes, threatened while bird watching in Central Park, and mercilessly choked on camera. And every day, we have woken up and answered the emails and gotten on the Zoom calls. We've showed up with a smile, and put the pain and fear behind us. We've swallowed the rage while responding to our bosses, and offered the assistance and worked twice as hard for half as much—because that's all we know how to do."—Danielle Cadet, writing in Refinery29
---
✦ Special to Quartz members ✦
Africa needs innovation and digital transformation tech startups now more than ever. But the funding to get started, or keep running, will be tougher to find as the economic fallout from the coronavirus pandemic continues. Here's how Africa's promising startup landscape survives in a post-Covid-19 economy (✦).
---
A summer sale
Even if it's winter in the hemisphere where you're reading this, subscribers to The Memo can now get 50% off the first-year Quartz membership price of $99 by using the code SUMMERSALE. Sign up for membership here.
---
ICYMI
What's an easy way to create a sense of inclusion at work? Nearly 40% of American workers say they feel the greatest sense of belonging when colleagues simply check in with them and ask how they're doing, either personally or professionally. And that doesn't feel any less true now than when Quartz at Work wrote about it in 2018.
---
You got The Memo!
Our best wishes for a productive and creative day. Please send any workplace news, comments, German labor statistics, or simple inquiries about how we're doing to work@qz.com. Get the most out of Quartz by downloading our app and becoming a member. This week's edition of The Memo was produced by Heather Landy and Sarah Todd.