To modern workers everywhere,
Uber, Lyft, and other standard bearers of the app-based economy are pumping millions into their campaign for Proposition 22, a proposal on the California ballot this November that would allow gig companies to keep their drivers classified as independent contractors.
The main reason they want to do this is cost: It's generally a lot less expensive to pay independent contractors than to provide all the benefits and protections that come along with traditional employment. But it's gauche to campaign for the right to keep labor costs as low as possible. So instead the gig companies are pushing the narrative that drivers want flexible jobs where they can be their own boss.
There are at least two gaps in reasoning here that are worth pointing out. First, while gig work generally does allow drivers to set their own hours and earn money almost immediately, their reasons for choosing this line of work varies. Maybe they are looking for flexibility, or maybe it's something else, like a bridge to more stable work.
Second, flexibility is not mutually exclusive from more traditional employment situations—nor, the evidence suggests, is it always the happy arrangement it's cracked up to be.
According to a 2019 working paper by Princeton University researcher Alexandre Mas and Harvard University researcher Amanda Pallais, the majority of today's jobs, particularly for more educated workers, have some nontraditional component, such as keeping flexible hours. And though the freedom to set one's schedule or choose one's work location has long been touted as a means of achieving work-life balance, Mas and Pallais say they "do not find evidence that practices lead to reductions in job stress or family life interruptions. In fact, the opposite is generally true."
For those in traditional office jobs, the struggle with "flexibility" often comes down to the trickiness of balancing work with a personal life when there aren't neatly scheduled compartments for each. For on-demand workers like Uber drivers and Instacart delivery workers, the struggle typically is with having irregular schedules and no benefits—and the pandemic is testing patience with both of these job traits.
Do California's Uber drivers and DoorDash delivery workers want to be independent contractors? Maybe. Will they stay that way? That's up to the voters.—Michelle Cheng
---
Five things we learned this week:
Frank Lloyd Wright designed a distraction-free home office in Buffalo, New York. The serene space was designed to accommodate its owner's compulsive work habits.
Replacing a narcissistic boss is no guarantee that a corrupted culture will bounce back. A new study details the lasting damage to companies that narcissists leave in their wake.
Make sure your company isn't "fronting" Black employees. There's an easy way to distinguish it from actual inclusion.
The needs of monks and empire builders helped mold the modern-day office. Behold the influence of the monasteries of medieval Europe.
The secret to better Zoom calls is zooming out. Time to trade your closeup for a medium shot so others can see your hands.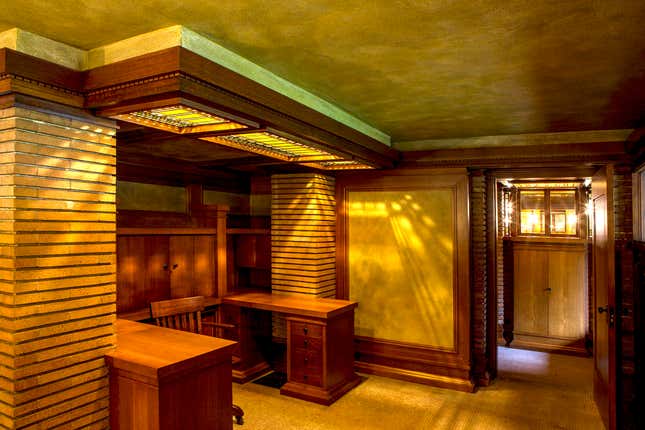 ---
It's a fact
Since the 1980s, almost all US employment losses in occupations vulnerable to automation occurred during recessions. What does that mean for jobs in 2020? Quartz visual journalist Amanda Shendruk mapped this year's employment changes, compared by automation risk, in an interactive graphic you can access here.
---
🗓️ This week's Quartz at Work (from home) workshop
Join us this Thursday, Oct. 29, from 11am-12pm US eastern time for a session on how to support mental health at every level of your organization. Whether you're an individual contributor, a middle manager, or a senior business leader, you'll find advice and practices from our expert panel to effectively support mental wellness at work.
---
30-second case study
Facebook's US employees are allowed to work from home until the middle of 2021, but halfway across the world, as Quartz India's Ananya Bhattacharya reports, thousands of the social-media platform's content moderators are trudging into their offices in the middle of the pandemic.
Genpact, a third-party contractor that deployed 1,600 Facebook moderators in Hyderabad as of last year, pressured employees to return to offices as early as July 2020, according to an Oct. 20 report in the nonprofit global tech publication Rest of World. In July, Covid-19 cases were still rising rapidly in Hyderabad, and the authorities were contemplating another lockdown.
Genpact told Bhattacharya that the employees going to offices were doing so voluntarily, that employees staying home would see "no impact whatsoever on benefits, pay, or status," and that the company is taking "extra steps" to ensure its employees understand this. But the company's credibility on this with employees may be thin—back in March, several Genpact employees told Quartz they were being forced to come to work and their bosses were mocking the companies that were encouraging remote work at the start of the global pandemic.
The takeaway: Voluntary or not, the trips to the office by Genpact employees highlight, once again, the stark disparities between big tech's employees and its contractors. In May, Facebook reportedly offered extra pay to moderators in the US who voluntarily agreed to return to work. The Genpact workers who spoke with Rest of World said that no such bonus was extended to them in India.
---
Words of wisdom
"It's extremely useful to get corporations on the record saying they're committing. If they don't carry through, they can be held accountable."—Tensie Whelan, director of the Center for Sustainable Business at New York University's Stern School of Business
+ Tensie spoke with Quartz at Work's Sarah Todd for an article on why people hate wokewashing—and why companies keep doing it anyway.
---
Power players
You probably already know how much your internet life is shaped by Facebook, Amazon, Google, and Apple. For our latest field guide, Welcome to the Splinternet, we compiled a list of the other powerful players whose opinions of what the internet should look like could determine what you see when you are browsing online in the near future. They include:
🇺🇸 Ajit Pai, chairman of the US Federal Communications Commission
🇪🇺 Margrethe Vestager, EU competition commissioner, head of the European Commission initiative to create "A Europe Fit for the Digital Age"
🇨🇳The Cyberspace Administration of China
🇮🇳 Mukesh Ambani, chairman of Reliance Industries
🌍Transsion Holdings. Africa's top phone maker
🤝 Global digital rights groups, from ICANN to Access Now
The world is entering a new, more intense era of fragmentation that is going to change the way the internet works. Read more in our guide to the splinternet.
Not yet a Quartz member? Get unlimited access to each of our weekly field guides, and all of Quartz's global journalism, with a Quartz membership. Use the code QZTWENTY to get 20% the first-year subscription price.
---
ICYMI
Mirta Galesic, a psychologist and professor at the Santa Fe Institute, says team structures can almost always be improved upon. In this gem from our archive, Quartz's Oliver Staley reports on her advice for tweaking the engineering of teams—from how big the team is to how frequently it shares information—to optimize them to produce better decisions.
---
You got The Memo!
Our best wishes for a productive and creative day. Please send any workplace news, comments, favorite hand gestures and Frank Lloyd Wright office plans to work@qz.com. Get the most out of Quartz by downloading our app and becoming a member. This week's edition of The Memo was produced by Heather Landy and Sarah Todd.