To modern workers everywhere,
Remember that friend who had moved on to high-waisted Mom jeans when you were still fine-tuning your skinny denim look? In the corporate world, Kickstarter just became that person.
Most forward-thinking companies are furiously planning their hybrid future​​, a major step for any organization that had a​ traditional ​office-based culture before the pandemic. But Kickstarter is leapfrogging the mainstream trend and going one step further: It announced it will ​test a four-day work week in 2022.​
Can your company do the same thing? Should it?
Truthfully, it's hard to see why not. Pilot studies ​at firms ​around the world ​have demonstrated that people work more efficiently​ when they have less time to hit the same goals. Not only that, but the compressed work week gives employees time to manage and enrich their lives, as they fill their time connecting with loved ones, exercising, ​learning a new language, gallery-hopping, whatever—while still​ protecting the hours they need to care for family or manage a household.
​The four-day work week ​doesn't have to be about literally toiling four days instead of five. That term is ​just ​great clickbait​​, says Andrew Barnes, the New Zealand entrepreneur who has made popularizing four-day weeks his mission in life after seeing how well it worked for his own trustee and estate management company​. "At its heart, what we're talking about is reducing the amount of time you spend working and having more time to do all those other things that are to make us human​." ​That means giving people the option to set up a schedule that's less taxing than five full days per week, no matter how individuals and teams parcel out their work hours. Over time, the payoff could improve a company's balance sheet, according to 4 Day Week, the advocacy group Barnes founded, and certainly shouldn't hurt it.
​Now that the pandemic has forced employers to recognize that people can work autonomously and that productivity doesn't have to be measured in facetime hours, says Barnes, more companies are mulling the shift. They're also aware of intense pressure to do more for their employees and the social good. The four-day week checks all of these boxes and could even be easier on the planet.
Kickstarter's ahead-of-the-curve move is connected to 4 Day Week: one of the crowdfunding company's executives was volunteering with the US advocacy group before he brought the idea to his employer. CEO Aziz Hasan was open to trying it out, calling the project a continuation of the company's "history of thoughtfully approaching the way we design our workplace."
Kickstarter's 90 employees will keep working remotely through 2021, but otherwise, the firm has "basically always been hybrid," according to a spokesperson. So, yes, this fashionable friend had a head start. —Lila MacLellan
---
Five things we learned this week
The future of office fashion is "business comfort." Dress shoes are making a comeback but it's probably not sustainable. 
Top party planners are ideal coaches for office managers now. They know how to set the stage for an inviting workplace reunion.
The perfect is the enemy of good corporate social responsibility. Ellevest CEO Sallie Krawcheck says companies should risk taking imperfect action over waiting for just-right solutions.
Woke CEOs nod off in a hurry when asked about human rights in China. The double-standard surfaced most recently during an interview about the Brooklyn Nets.
As vaccination rates rise in India, companies there are joining a global trend. They're planning new hybrid workspaces to attract and retain top talent.
---
30-second case study
Cameo considers itself the company that digitized celebrity autographs. Log on to the site and you can browse through the profiles of TV and movie personalities, band members, comedians, and an army of influencers from TikTok, Instagram, and YouTube. For a price, any one of these people will record a personalized video greeting, called a cameo, for your nephew's 16th birthday or friend's engagement party.
The price for each cameo is set by the celebrities individually, with guidance from the firm, according to the Chicago-based company. Typically, a cameo is about $50, but costs can range from a few dollars to $1,000 and more.
​Recently, Quartz noticed something curious about who was asking for top dollar: there seemed to be a self-imposed gender pay gap. To be sure, we ran the numbers on the actors, musicians, comedians, political commentators, and athletes charging more than $200 per cameo. Sure enough, among the top 20 highest-priced actors who had more than 10 reviews (proving that they are active on the site), we found that women were charging an average of $326, while men were asking for an average of $626 per cameo. The data told a similar story when we applied the same parameters to musicians.
Asking $1,500 per piece, Kevin O'Leary of Shark Tank fame wanted the most for his messages among all actors. Chaka Khan, who is admittedly better known as a musician, set the steepest price among women: a mere $650.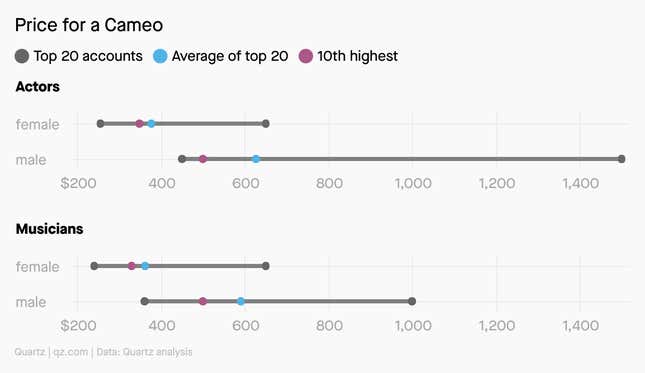 ​The takeaway: ​ Sadly, it appears that even celebrity women tend to undervalue their work.
Among mere mortals, some studies have shown that ​women ask for pay raises less often than men. However, a recent paper suggests men and women ask for increases at about the same rate, but women simply aren't granted them as often​ as their male counterparts​. Non-famous women have also been known to ask for less when negotiating their starting salaries, if they negotiate at all.
Such factors do not directly impact Cameo pricing, of course. (The company says that men and women are given the same price guidance.) However, it's not a stretch to assume that celebrity women are influenced by pay disparity in the wider world, including within entertainment and professional sports.
Cameo's discrepancies—see the $1,500 per piece charged by Kevin O'Leary of Shark Tank fame, versus the $650 charged by Chaka Khan—are another reminder that women need to examine their thought processes before discussing their pay with a manager or coming up with a quote for a client. It's worth asking, for example, whether a man would charge more and get it. Meanwhile, Cameo may want to reconsider its hands-off policy. If such inequities continue, the company might want to provide the women on its platform with a few cameo pep talks of their own.
---
Quartz field guide interlude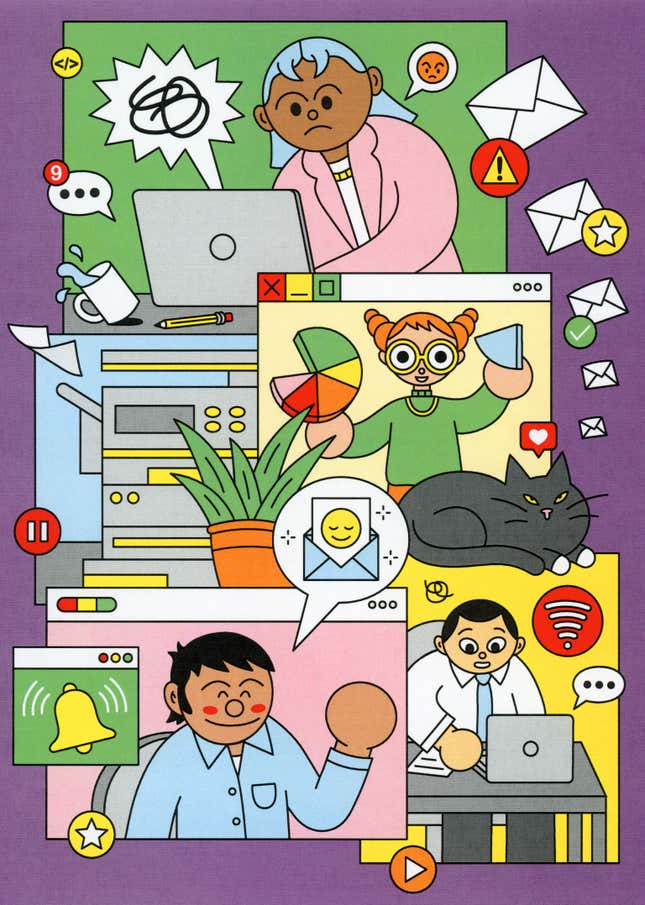 Can hybrid work really deliver the best of the office and remote work? It won't happen without a few thorny issues, so Quartz contacted leading academics and firms to collect research- and expert-backed advice. Here are a few top tips we learned.
✍️ Get used to writing things down
📝Ask employees what they want
🔭 Train managers to recognize proximity bias
🤔Experiment like you would with a new product
🤯 Embrace the complexity
Read more in our latest guide, "Welcome to the hybrid workplace."
---
It's a fact! 
The number of essential workers who made Covid-19-related complaints to the US Occupational Safety and Health Administration (OSHA) was 85% lower in May 2021 than in the same month a year earlier, writes Quartz's Michelle Cheng.
In 2020, people who worked in healthcare, retail, and restaurant jobs made the most complaints to the federal agency, citing issues with employers who were not enforcing social distancing guidelines, or drawing up Covid-19 response plans, and leaving workers exposed to the virus.
But while official complaints may be down as vaccinations rise, workers who are tired of putting their health in jeopardy for little pay or job satisfaction are quitting in droves.
---
Words of wisdom
"Hospitality can mean different things, but to me it's about setting the stage so people can learn about one another again. Without that, you just have a big, beautiful, soulless building."—Graceanne Jordan, head of in-house hospitality at Company, speaking to Quartz reporter Anne Quito. 
---
Playing games with my heart
If a fan cheers inside their heart, does an Olympic athlete hear it? We'll find out in a few weeks, when up to 10,000 mostly silent spectators descend on Tokyo. To gear up for Need to Know: Tokyo Olympics—your pop-up guide to the Games—the Need to Know team is pounding electrolytes and stretching our hammies. Sign up now for highlights, interesting histories, and surprising discoveries, directly in your inbox.
---
ICYMI
The four-day work week is touted as an effective way to help the workplace evolve away from its punishing, all-consuming pre-pandemic norms. What could go wrong for companies that make the leap? And what can a compressed work week make right about the world? Read this gem from our archive, a thoughtful deep dive by Cassie Werber, on how to have a productive four-day week.
---
You got The Memo!
Our best wishes for a shorter but more productive week. Please send any workplace news, party planning tips, and Chaka Khan classics to work@qz.com. Get the most out of Quartz by downloading our app and becoming a member. This week's edition of The Memo was produced by Lila MacLellan and Heather Landy.