To modern workers everywhere,
Most people don't have the money, cultural import, or even the desire to snag a ticket aboard a commercial space flight. But those following the launch of Blue Origin's first passenger space flight on Tuesday might have nonetheless found a story they can relate to: the career arc of 82-year-old Wally Funk.
Funk, invited by Jeff Bezos to join him as one of four passengers aboard his New Shepard rocket, had been trying to go to space since the 1960s, when she participated in the Women in Space program—a privately funded project that aimed to find out how women fared on the physical and psychological tests to which NASA's male astronauts had been subjected.
"They told me that I had done better and completed the work faster than any of the guys," Funk said in an Instagram video posted by Bezos on July 1. "So, I got a hold of NASA. Four times I said, 'I want to become an astronaut,' but nobody would take me."
NASA eventually began accepting women astronauts in the late 1970s, but Funk lacked the engineering degree the space agency required at the time. Because of her gender, she also hit a wall in her efforts to become a commercial airline pilot.
Funk had a remarkable career regardless, becoming the first woman to serve as a safety inspector in the Federal Aviation Administration and as an air safety investigator for the National Transportation Safety Board. She's taught more than 3,000 people how to fly. And as soon as commercial space travel became a possibility, she was right on top of it, reserving a $200,000 ticket aboard Virgin Galactic, Richard Branson's rival space tourism company, back in 2010. (Virgin Galactic ultimately made its debut journey this month without Funk aboard, but Funk's agent says she's still planning to go on that ride, too.)
That Funk finally made it to space more than 50 years after she started trying is a reminder that there's often a way to achieve our goals. It just might not unfold the way we planned. —Sarah Todd
---
Five things we learned this week
🏃‍♀️ Female athletes still face obstacles that men don't. Case in point: A British Paralympian was told that her sprinting shorts were "too short and inappropriate."
☕ New models could make coffee shops and restaurants even more work-friendly. Restaurants that don't open until dinner, for example, might be rented out as co-working spaces during the day.
🧽 Wokewashing can (inadvertently!) lead to real action. When companies publicly commit to values like racial equality—even if they're being hypocritical—it allows others to hold them accountable.
🇮🇳 India's unicorns are lacking in female board members. Public companies, meanwhile, are required to appoint at least one female director.
💼 More lawyers are opting to go freelance. That's good news for smaller law firms looking to provide a bigger range of services to clients.
---
30-second case study
Netflix has famously cultivated a culture of radical transparency, which instructs employees to "Only say about someone what you will say to their face." That issue came to a head when three senior film-marketing executives at Netflix got fired last week after company leaders got wind of their griping about colleagues on Slack.
Venting frustrations with, and about, colleagues is a common way to deal with stress, receive validation, and bond with others. But Netflix considers it a violation of company culture not to go directly to the people who are being complained about.
Netflix co-CEO Ted Sarandos took to LinkedIn to expand on the company's decision: "These were critical, personal comments made over several months about their peers (not their management as suggested by The Hollywood Reporter)—including during meetings when those peers were talking or presenting," he wrote. "This is entirely inconsistent with those values [of radical transparency], which is why their manager fired them."
The takeaway: Part of Netflix's reason for emphasizing radical transparency is to ensure that everyone at the company performs at the highest possible level. In co-founder Reed Hastings' corporate memoir No Rules Rules, his co-author Erin Meyer explains, "At Netflix, it is tantamount to being disloyal to the company if you fail to speak up when you disagree with a colleague or have feedback that could be helpful. After all, you could help the business—but you are choosing not to."
Still, it may be expecting too much from human beings to think that companies can force all beefs out into the open. Sure, venting has its downsides—it can even wind up making us feel worse. But it also can be a way for employees to process their emotions. They may express opinions about their colleagues that they don't necessarily even really believe, or discuss problems they've deemed too minor to be worth a face-to-face conversation, but which would only grow stronger if they kept them bottled up.
Read the expanded version of this story here.
---
It's here!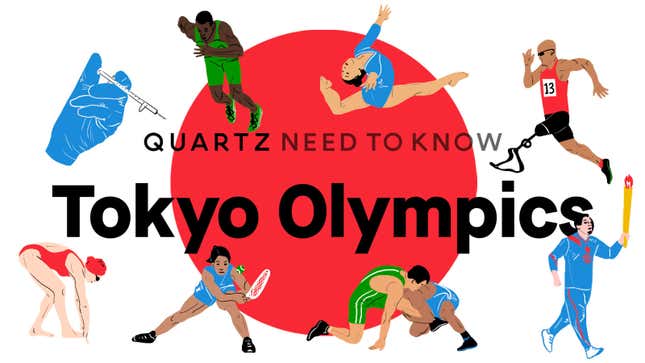 Sign up now for Need to Know: Tokyo Olympics—your guide to the Games. Our pop-up newsletter features highlights, interesting histories, and surprising discoveries about the competition that couldn't be stopped by Covid.
---
It's a fact
In a new survey of 1,200 US workers, conducted for TalentLMS and The Purple Campaign, 92% of women said that unwanted physical contact was a form of sexual harassment. Only 78% of men said the same.
---
It's a trend?
The New York Times reports that some entrepreneurs are replacing baby showers with "business showers": "The idea is that if building a business is just as comprehensive (and expensive!) as having a baby, why not build in the same kind of communal support?" Some proud new founders even create gift registries to help them absorb the cost of things like software, equipment, and conference fees.
---
Words of wisdom
"One thing I do every morning is watch comedy for about 15 minutes. It's a habit I picked up during my lawsuit. I'll watch a late-night monologue from the night before, or 20 minutes of something older. Seth Meyers and Amber Ruffin are my go-tos. I've found that starting off the day laughing makes a considerable difference in my mood." —Venture capitalist Lauren Bonner, who sued her former employer, hedge fund Point72 Asset Management, for gender discrimination in 2018
---
One member thing that made us 🐔
Has Wally Funk whet your appetite for reading about more remarkable over-80 women? In this gem from our archive, reporter Anne Quito interviews nonagenarian designer Gere Kavanaugh about her rubber chicken purse—a $25 accessory that never fails to break the ice at conferences and other networking events. "If I had a dollar for every time someone asks about it, I would be a very rich lady!" Kavanaugh says. "I don't have to 'work a room'—people naturally come to me." Not one to limit her options, the design legend has a rubber fish purse in rotation, too.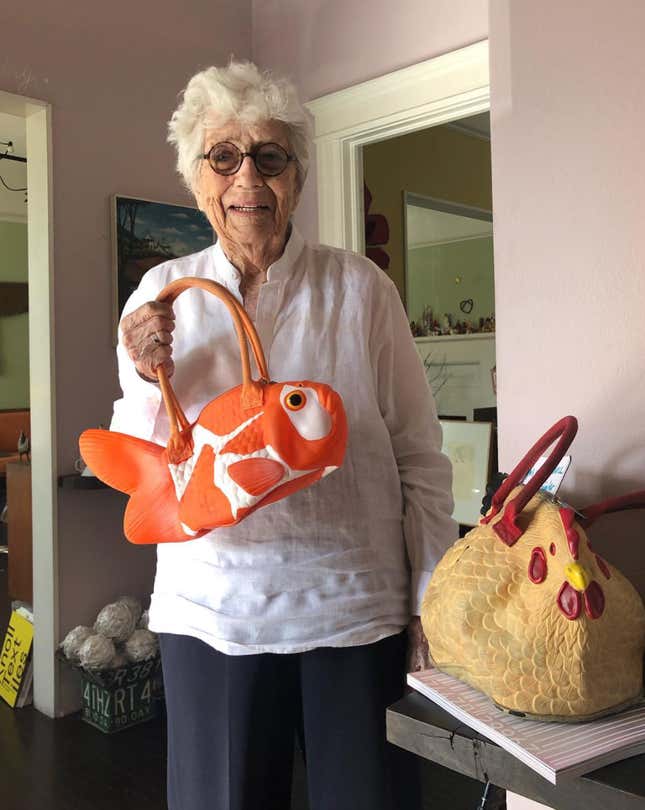 ✦ Want to learn how to make an entrance, even if the room is virtual? Become a Quartz Member for these and lots more useful tips.
---
Office tunes
This edition of The Memo was composed to The Books' pensive, perfectly patchwork 2011 album, The Lemon of Pink.
---
You got The Memo! Our best wishes for a breakthrough week. Please send any workplace news, comedic pick-me-ups, and signature accessories to work@qz.com. Get the most out of Quartz by downloading our app and becoming a member. This week's edition of The Memo was produced by Sarah Todd and Heather Landy.