To modern workers everywhere,
There are lots of people with the flexibility to stay home who are nonetheless willing to go back to the office, delta be damned. But the highly contagious Covid-19 variant is giving others pause.
Thankfully, those taking a more conservative stance—maybe because they have unvaccinated children at home, or maybe because the variant changed the risk calculations they were making just a few short weeks ago—are finding allies in the HR departments of at least a handful of big employers. Amazon, Google, Apple, American Express, Wells Fargo, US Bank, Dell Technologies, and Lyft all have postponed their plans to call workers back to the office.
For jobs that allow for it, the extension of remote-work arrangements is great news for employees and employers alike. After all, worrying about whether you're increasing the risk of exposure for an immunocompromised family member is unlikely to induce high performance.
That doesn't mean the office doors need to remain shut. With masks and other proven protocols, some employees will feel safe enough to come in. But "[i]t's a hard time to be rigid about demanding that people come back to the office," says Marianne Cooper, a sociologist at Stanford's VMWare Women's Leadership Innovation Lab.
The good news is that companies have already had a lot of practice over the past year in scrapping their plans and coming up with new ones.—Sarah Todd
For more on the psychological case for delaying office reopenings, click here.
---
Five things we learned this week
😷  Returning to the office is a minefield for the immunosuppressed. The delta variant only complicates the risks.
📱  The latest TikTok star to reach 100 million followers is not a musician, actor, or athlete. It's Khaby Lame, a 21-year-old former factory worker whose job was displaced in the pandemic.
🚌  Some US cities are experimenting with free public transit. Would a fare-less commute entice you to ride?
🌟  There is no such thing as a low-skilled worker. Time to update your vocabulary on that.
😟  Covid-19 is not yet endemic. But it's well on its way.
It's a fact
The number of working women in Afghanistan has risen more than 50% since 2011. The statistic is emblematic of just how much Afghan women had been able to accomplish in the past decade—and how much they risk losing now that the Taliban is back in power.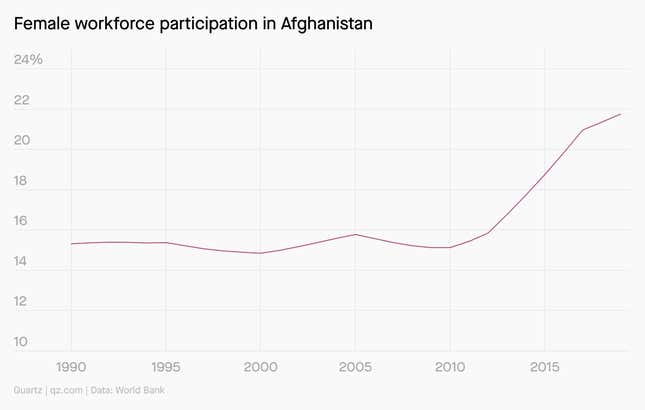 Read more in Annalisa Merelli's piece in Quartz on what's at stake for women in Afghanistan.
---
30-second case study
For a brief period in the 1980s, Reebok was the biggest sneaker brand in the US. Its eclipse of Nike came largely on the back of its Freestyle sneaker, released in 1982 as the first fitness shoe designed specifically for women. The Freestyle was adopted by exercise guru Jane Fonda; actress Cybill Shepherd wore a pair on the red carpet at the 1985 Emmy awards. By 2005, when Adidas bought Reebok, the brand was far from the force it used to be. A big push into basketball shoes and cushioned sneakers failed to connect with shoppers. But the $3.8 billion buyout allowed the German-based Adidas to roughly double its US sales.
Adidas did little from that point on to put Reebok back on top. It was slow to recognize the brand's own strength in the newly resuscitated fitness industry; as it tried to catch up in that business, it pulled back on other categories, like footwear for team sports. It made a splash with toning shoes, but sales crashed back to Earth after regulators said there was little evidence that the products worked. Financial irregularities at its unit in India led to the departures of two top executives there, and a licensing deal with the National Football League ended. The brand was losing money; investors were growing impatient.
In 2018, Reebok finally returned to profitability, and sales grew slightly at the end of 2019, including in North America, where the company has been working with musicians and fashion labels to appeal to young shoppers. But if there was any momentum building at Reebok, the pandemic interrupted it. In the nine months through Sept. 30, Reebok's sales plunged 22%.
Some 15 years and many false starts after acquiring Reebok, Adidas put the brand up for sale.
The takeaway: Plenty of mergers get off to rocky starts, but Reebok's sales were on a veritable rollercoaster ride for more than a decade. The brand had star power and a deep-pocketed parent, but it was lacking the one thing investors crave perhaps even more than growth: stability.
On Aug. 12, Adidas announced a new owner for Reebok: licensing giant Authentic Brands Group (ABG), which owns the intellectual property rights to brands and names including Marilyn Monroe and has recently buying up the brands of distressed retailers such as Eddie Bauer and Brooks Brothers. "Adidas has been an incredible steward of the Reebok brand," said ABG founder and CEO Jamie Salter, who took the business off the German company's hands for about $1.3 billion less than Adidas paid for it in 2005.
---
Words of wisdom
"I am uncomfortable with the only woman in the room delegated to note taking. I can take over that task."—An unnamed colleague* of Michelle Kuchera, an assistant professor of physics at Davidson College, who tweeted that her reaction to the note-taking offer was "happy tears."
*The colleague was later identified as physicist Steuard Jensen, who responded to Kuchera's viral tweet to say that his "feelings keep oscillating: gratified that taking the notes was so appreciated (I was the colleague), and frustrated—angry—that it's 2021 and such a tiny action is unique enough to get 45k likes."
---
Incoming
Quartz has a brand new lineup of member-exclusive weekly newsletters. If you're not yet a member, sign up today and get 50% off your first year. You'll get access to new emails including:
🔮  The Forecast: a short, sharp look forward at an emerging industry, technology, or trend
🏢  The Company: context on the companies changing (or about to change) the way other businesses work (companies like Coinbase, Discord, Krispy Kreme, and Shein)
💻  How To: specific things you can do to work more effectively and solve problems you care about (from spending too much time with your phone, to managing your team's return to the office, to shrinking your company's carbon footprint)
---
ICYMI
A rare event happened this month in Monterey, California. Some 425 people from 13 countries gathered in August for a four-day, in-person conference with no reports of anyone getting sick from Covid-19. The program—a TED conference aptly titled TED Monterey: The Case for Optimism—even included seemingly taboo pandemic activities like sitting in packed auditoriums, dining with strangers, and getting together for a night of dancing.
Quartz's Anne Quito spoke with TED executives Ladan Wise and Jay Herratti about what works when it comes to keeping events as safe as they are engaging. Their top tips:
Design the Covid-19 testing experience
Select the venue strategically
Diffuse the social awkwardness of wearing face masks
Use the emotional might of color
To see how TED officials put their own advice into practice at TED Monterey, click here.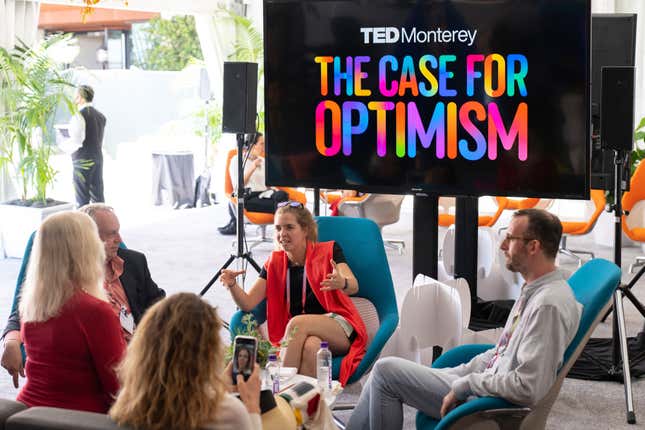 ---
You got The Memo!
Our best wishes for a winning week. Please send any workplace news, Reebok aerobics shoes, and TED 2022 tickets to work@qz.com. Get the most out of Quartz by downloading our app and becoming a member. This week's edition of The Memo was produced by Marc Bain, Heather Landy, and Sarah Todd.