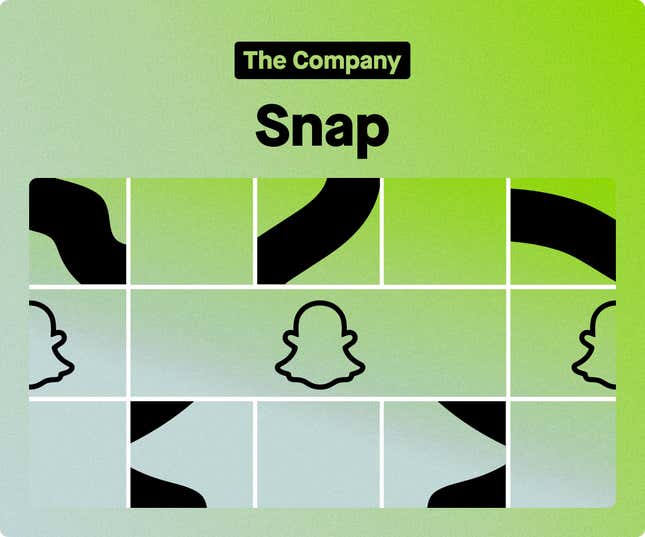 Hi Quartz members,
A virtual Vitamin Water-sponsored possum sits on your shoulder, as you prepare to attend a Heineken-sponsored pool party. Ads for clothing brands and streaming services nestle between celebrity gossip stories and influencers performing magic tricks. A shopping tab invites you to virtually try on outfits and accessories before buying them from an advertiser.
Welcome to Snapchat's "all of the above" revenue strategy—a smorgasbord of brand placement and e-commerce that so far seems to be working for the company behind the original disappearing-photo app.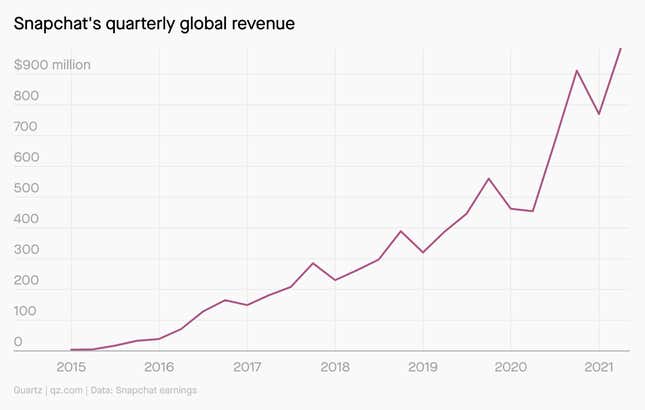 After launching in 2011, Snapchat snatched the "cool" mantle away from its dominant social media rival, Facebook, and rejected an acquisition offer from Zuckerberg in 2013. It then rode an early wave of growth to an ebullient 2017 stock listing, which valued Snapchat at $24 billion. But in 2018, Snapchat's growth suddenly stalled. A string of executives quit, the company's stock price fell from $17 a share to $5, and everyone from Fox News to Kylie Jenner declared the app dead.
Cut to 2019, and a miracle: Snapchat started growing again, thanks in large part to new users outside the US (more on that later). By the end of last year, the pandemic began to turbocharge Snapchat's growth, as legions of bored, locked-down people turned to social media to connect with loved ones they could no longer see in person.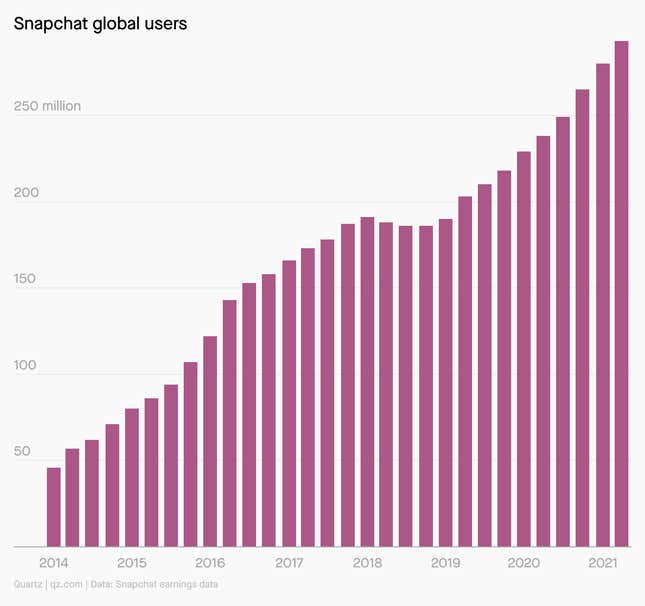 After an initial pullback, advertisers have also flooded back to the platform, attracted by its continued investments in e-commerce and its willingness to blend product placements into core features of the app. In the most recent quarter, Snapchat's user and revenue figures grew faster than they ever have in its four-year history as a publicly traded company.
---
Snapchat by the digits
293 million: Daily active Snapchat users in the most recent quarter
1.9 billion: Daily active Facebook users
69%: Share of US teens who report using Snapchat
4%: Share of US adults aged 56 and above who say they use Snapchat
$3 billion: Facebook's offer to acquire Snapchat in 2013
$24 billion: Snapchat's valuation on the day of its 2017 IPO
$1.3 billion: Snapchat stock value Kylie Jenner erased by tweeting that she no longer used the app in 2018
 4 billion: Average number of photos sent per day via Snapchat
---
Snapchat's stock is climbing
"It's pretty simple. Most investors know how to draw a line between two points, and most of them extrapolate the line into perpetuity." —Wedbush Securities analyst Michael Pachter, on the stock market's hot and cold relationship with Snapchat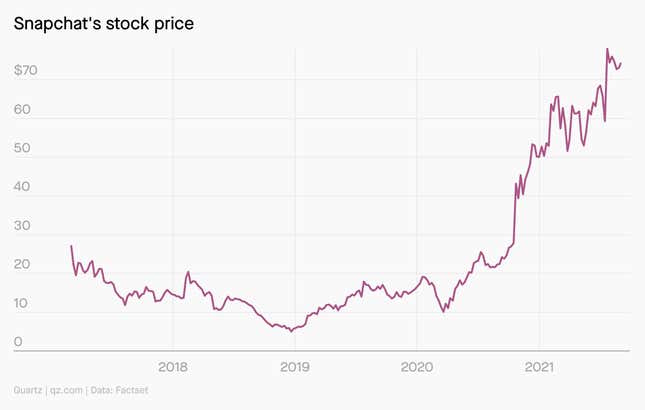 ---
Snapchat's growth in India
Snapchat can thank India for rescuing the app from stagnation in 2019. That year, Snap redeveloped its neglected and buggy Android app, making the platform more palatable in India and other countries where Android devices dominate. At the same time, it began investing in India-specific content and benefited from India's TikTok ban, which left internet users hungry for social media alternatives.
Since then, nearly all of the company's growth has come from the nebulously named "Rest of World" region, driven mainly by India, which supplanted the US as the biggest source of new Snapchat users.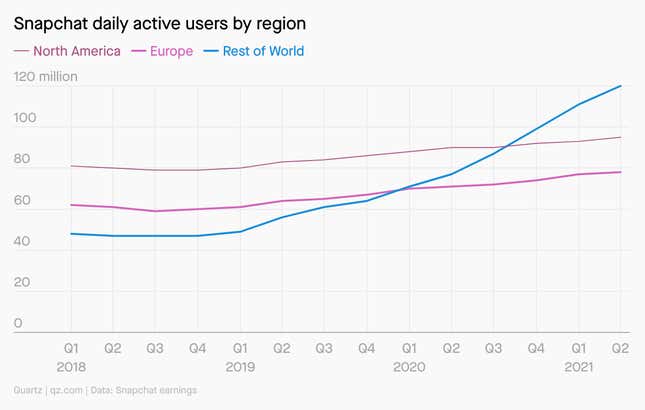 Trouble is, Snap has struggled to cash in on the growth outside North America. The company has aggressively expanded the amount of advertising real estate in its app in recent years, but advertisers crave deep-pocketed North American consumers. Snap is now wringing more than seven times as much advertising revenue out of its North American consumers as it is from users in the "Rest of World" category.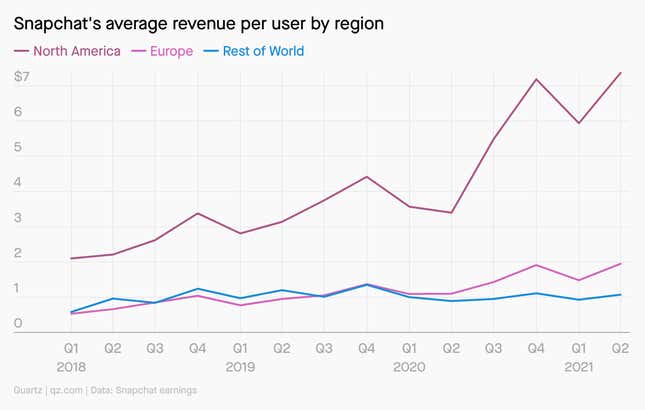 ---
Snapchat's e-commerce bet
The company is hoping it can squeeze even more revenue out of its users by expanding its e-commerce offerings. Snap has launched or made investments in several new features designed to prod users to buy from brands without leaving its app.
---
Person of interest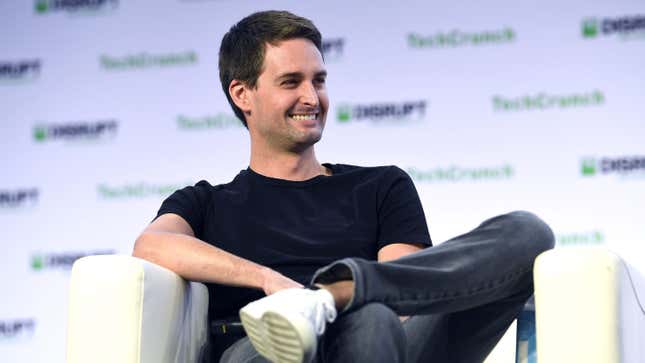 Snapchat CEO and co-founder Evan Spiegel is sometimes referred to in media reports as the company's "boy king." The Stanford dropout became the youngest billionaire in the world in 2015, and the youngest head of a publicly traded company in 2017. Spiegel is known for tightly centralizing power over Snapchat in his own hands, and his management style and personal life have sometimes raised eyebrows:
---
Pop quiz!
Snapchat filters (the company calls them "Lenses") regularly go viral, making them an important way for the app to attract and retain users. Which of these is not a real example of an outlandish Snap filter?
A playable game of Tetris where all the blocks are your face
A filter that turns your face into an anthropomorphic shaving razor
A filter that turns you into a cowboy riding a giant Jolly Rancher
A filter that lets you and friends stack your faces into different layers of an Arby's sandwich
---
Keep learning
---
Answer 🔑 : The Arby's Snapchat filter isn't real, but if they steal that idea we want royalties.
---
Thanks for reading! And don't hesitate to reach out with comments, questions, or companies you want to know more about.
Best wishes for a snappy end to your week,
Nicolás Rivero, tech reporter (and Snap enthusiast)