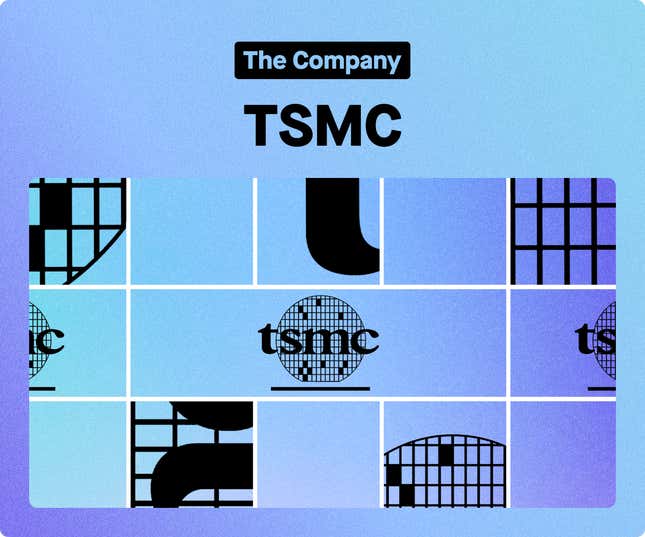 Hi Quartz members,
What company is larger than Visa and a linchpin for the modern tech industry? It's Taiwan Semiconductor Manufacturing Corp., the largest contract chipmaker in the world.
Behind that long name is one very important technology: chips, a.k.a. semiconductors, which are critical to anything with a built-in electronic component. Chips have been in short supply lately, which is why it's been difficult to buy gadgets, from PS5s to cars.
TSMC commands a $580 billion market cap as of Sept. 30—more than double its valuation last summer—making it Asia's second most valuable company and the tenth most valuable company globally.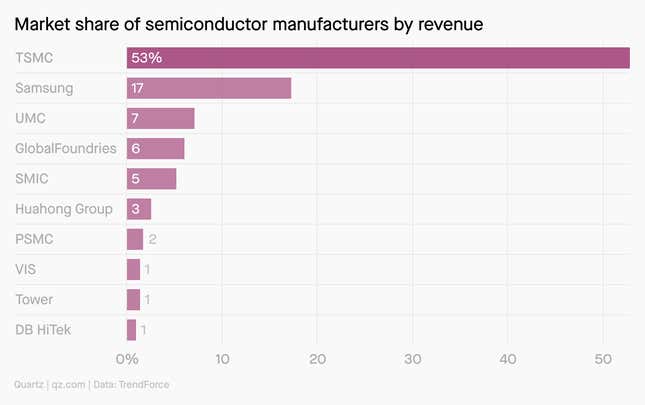 At the moment, few can topple TSMC from its top spot. There aren't many new competitors, because it takes billions of dollars to make the facilities that can make the complex, difficult-to-manufacture chips. And TSMC is only further shoring up its dominance: The pandemic-induced chip shortfall caused it to hike its prices up another 20%.
---
Brief history 
1987: TSMC is founded as a joint venture between the Taiwanese government and Dutch electronics maker Philips.
1994: The company debuts on the Taiwan Stock Exchange.
1997: TSMC becomes the first Taiwanese company to go public on the NYSE.
2010: TSMC becomes one of the top three global semiconductor companies by revenue.
2018: Founder Morris Chang, known as the "godfather" of computer chips, retires. His successors, C.C. Wei and Mark Liu, step up as chief executive and chairman respectively.
2020: TSMC announces its $12 billion semiconductor factory project in Arizona, which has become a semiconductor hub thanks to local tax breaks, available land, and land stability.
2021: TSMC announces its biggest price increase in a decade amid a global chip shortage.
---
They do it best
While tech companies like Apple, Nvidia, and Qualcomm design chips, TSMC makes them. And it's gotten really, really good at it—thanks to its leading edge processes, which also helps ensure that TSMC isn't competing against its designer clients.
Over the past three decades, TSMC pioneered processes for making the smallest transistors in the industry—which allow it to pack even more computing power onto chips—and will soon be pushing to go even smaller. Samsung is its only competitor in making the most advanced chips, to be used for computation-heavy use cases from machine vision to cloud computing.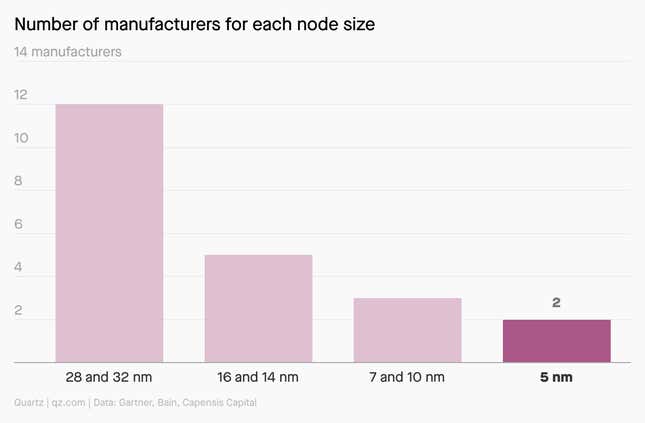 ---
By the digits
90%: TSMC's market share of the advanced semiconductor chips industry
10: Rank in the world's most valuable companies
$13 billion: TSMC's revenue in the second quarter of 2021, up 28% from the year prior
$100 billion: The company's intended spending over the next three years to expand its production capabilities
42%: TSMC's share of net revenue from smartphones, a 3% decline from the previous quarter
18: Number of TSMC factories in Taiwan
64%: TSMC customers from North America
56,000: TSMC global employees
---
Write my own checks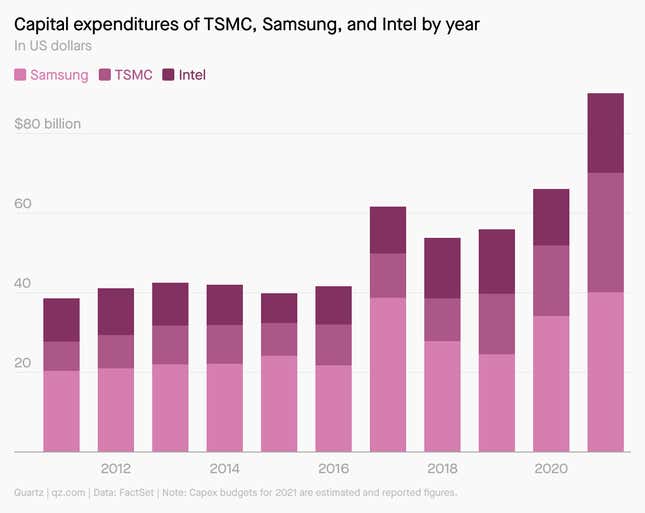 To make money off chips, you gotta spend it—a lot of it. TSMC and Samsung are cutting larger and larger checks to build increasingly sophisticated facilities, dissuading new competitors who can't fork over the increasingly large sums. As the world demands more sophisticated chips, this sort of prolific spending only entrenches their monopoly status.
In April, TSMC's chief executive, C.C. Wei, said the company would bump up its spending budget to $30 billion for 2021, part of a three-year plan to spend $100 billion to expand production capabilities. Despite running its factories at 100% capacity last year, TSMC wasn't able to meet demand. Last summer, it also broke ground for its $12 billion factory in Arizona.
---
Middle ground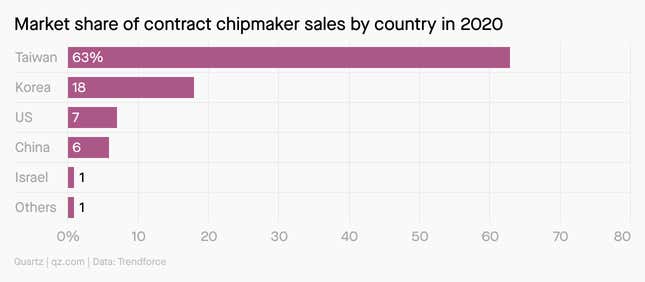 The chip shortage has underscored the world's dependence on one company. But its location in Taiwan complicates matters. China claims Taiwan as its own territory; its Anti-Secession Law states that "the state shall employ non-peaceful means and other necessary measures to protect China's sovereignty and territorial integrity." It has continued to flex its military prowess by sending jets and warships—which, ironically, may use TSMC chips—into Taiwanese airspace.
Amid rising tensions between the US and China, TSMC is stuck in the middle, since it sells to both countries. However, TSMC's influence in the global supply chain may provide some stability to Taiwan, since military conflict would likely worsen the chip shortfall.
"While TSMC's current situation is not ideal, being stuck in the middle of a tech war is perhaps the best, most stable situation available for now," wrote Foreign Policy Research Institute managing editor Thomas Shattuck in a 2021 research paper.
TSMC's head remains optimistic, however.
"Everybody wants to have a peaceful Taiwan Strait," said chief exec C.C. Wei in TSMC's July earnings call (pdf).
Meanwhile, governments are scrambling to reduce their reliance on TSMC:
The Biden administration has allocated $50 billion to develop the US semiconductor industry
China's Made In China 2025 initiative stipulates a goal to produce 70% of its chips domestically
The EU's $150 billion digital transformation budget includes a goal to make a fifth of the world's "next-generation chips" by 2030
Korea plans to plow an eye-popping $451 billion over the next 9 years to double down on domestic chipmakers
---
Keep learning
---
Thanks for reading! Don't hesitate to reach out with comments, questions, or companies you want to know more about.
Best wishes for a chipper end to your week,
Jasmine Teng, associate membership editor (struggling to fathom transistors 20 times smaller than a human hair)
---
One 😋 thing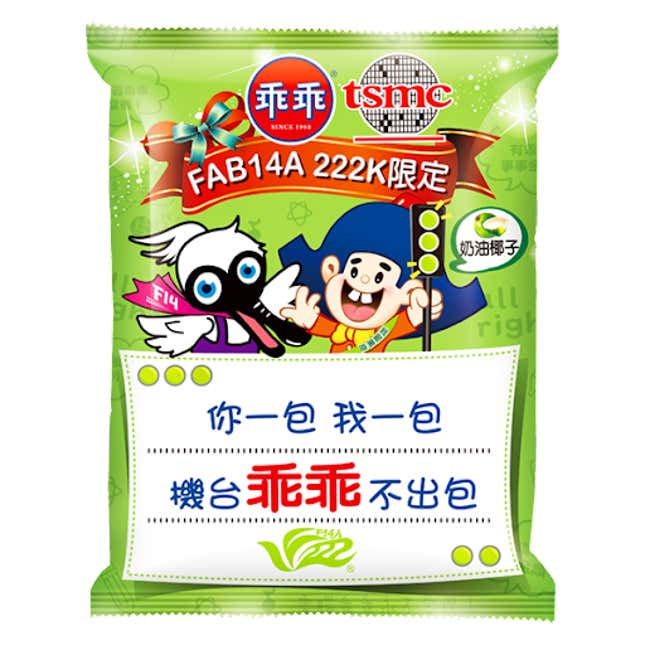 TSMC's engineers follow a fun Taiwanese superstition: placing unopened bags of a local corn puff snack, Kuai Kuai, on their machines to ensure smooth operations. After an earthquake damaged TSMC's southern Taiwan chip plant in 2016, the company even ordered 5,000 custom bags (in Chinese).