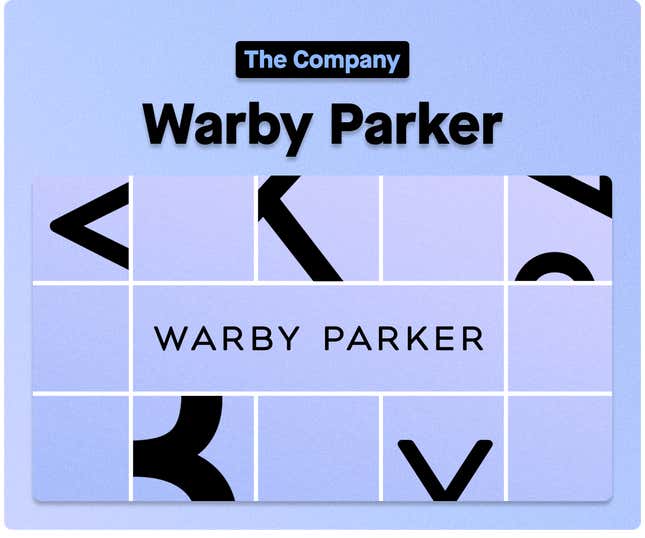 Hi Quartz members,
A unicorn that decides to go public is a daring animal indeed. When ultra-hot VC-backed companies open themselves up to market scrutiny, they risk being unmasked. Perhaps you're a mattress retailer masquerading as a tech company, or a profligate real estate company masquerading as a tech company. Perhaps you're a ride-hailing company that says it's a ride-hailing company, but you're losing an absolute ton of money.
Warby Parker is one of the latest entrants to the IPO club—it debuted on the New York Stock Exchange last week—and its reputation as a successful online eyewear company has so far held up under scrutiny. In the runup to Warby's public listing, some onlookers even seemed struck by its straightforwardness. "Unlike a lot of other recent IPO prospectuses, Warby Parker's wasn't larded up with all sorts of perks and outrageous compensation," wrote Bloomberg's Michelle Leder.
Warby Parker's stock has so far held steady, debuting at $54 a share on Sept. 29 and closing at $51 on Oct. 6, with a current market capitalization of $5.7 billion. In its first week as a public company, Warby Parker is a reminder that transparency can give unicorns the strength to stay aloft.
There are still challenges ahead. Warby Parker's costs have kept pace with its revenue, and the company still isn't turning a profit. It lost $55.9 million on $393.7 million in revenue last year, and broke even in 2019. Meanwhile, the company's vulnerabilities include everything from potential supply-chain snafus to a bet on brick-and-mortar stores as an engine for growth.
---
BY THE digits
>145: Warby Parker retail stores in the US and Canada
≈3,000: Warby Parker employees
$536 million: Total funding raised
95%: Net revenue from eyeglasses sales in 2020
2%: Net revenue from contact sales in 2020
65%: Portion of sales Warby Parker made in stores pre-pandemic
8%: E-commerce's share of eyewear sales in 2020
75%: US adults who use some kind of vision correction
2.5 years: How frequently the average person replaces their glasses
---
Warby Parker's growth vision
Founded in 2010 by four MBA students at Wharton School of Business, Warby Parker was an early pioneer of the direct-to-consumer (DTC) business model, aiming to best competitors with glasses that were both affordable (starting at $95 a pair) and convenient, thanks to online eye exams and sample frames you could try on at home. In the ensuing years, it built a substantial retail presence in North America.
Initially, Warby Parker's founders hoped that their glasses' affordable price point would inspire people to snap up multiple pairs as fashion accessories. But it turns out there's a limit to how many glasses the typical four-eyes is willing to buy: Just 33% of eyeglass-wearers in the US have more than one pair.
Still, the company has a lot of room to grow its pool of potential customers. Warby Parker estimates that it sold glasses and contacts to less than 2% of American adults who use corrective eyewear in 2020, and had a market share by net revenue of just 1%.
Ironically, one of the company's key plans for scaling up involves a "significant expansion" of its retail stores, including 30-35 new shops by the end of 2021. The stores, modeled after bookshops and libraries, double as street-level advertising. "It lowers their [customer] acquisition costs [and] it decreases logistics costs like shipping," consultant Web Smith told Fast Company. "Those seem to be the two biggest challenges for DTC brands right now."
Doubling down on storefronts is also risky amid a pandemic whose disruption of global supply chains could also pose a challenge for Warby Parker. As just one example, the company gets over half the cellulose acetate it uses in its frames from a single supplier—meaning that any future shortages (a not-uncommon occurrence these days) could be a big hassle.
---
The Warbys of the world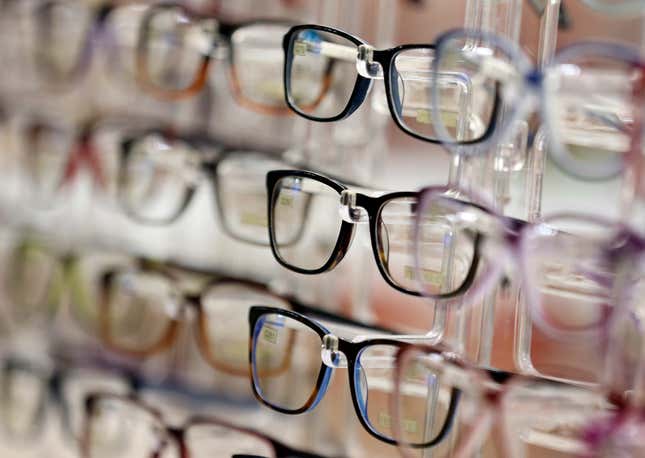 Part of the Warby Parker mythology is its David-and-Goliath origin story. The eyewear market is overwhelmingly dominated by the European multinational brand EssilorLuxottica, which owns or licenses brands including Ray-Ban, Oakley, Chanel, Coach, Michael Kors, and Prada, and boasts a retail network ranging from LensCrafters to Target Optical and Pearle Vision. By working directly with lens and frame suppliers, Warby Parker was able to skirt licensing fees from EssilorLuxottica's stable of brands and underprice them, a model that in turn opened the door for a range of other startups to try to take a bite out of the titan's market share.
Thus far, Warby Parker doesn't have stores outside the US and Canada. But there are now plenty of similar eyewear companies around the world. Among them:
---
Four lenses to look at Warby
Warby Parker's rise intersects with trends other than DTC. Here are just a few of the company's decisions that reflect the broader business landscape:
---
Have a great end to your week,
—Sarah Todd, senior reporter (owner of Warby Parker "Barnes" frame in tortoiseshell)
---
One 🙋 thing
Which of the following questions does Warby Parker famously ask prospective employees?
"How do supply chains work?"
"Would you go to Mars if you had the opportunity?"
"What was a recent costume you wore?"
"Look at this eye chart, and tell me what you see."
Correct answer: C. "We want people to take their work seriously but not themselves," Blumenthal explained to the New York Times in 2013.
PS—Readers of last week's email about Asia's second most valuable company asked: What's Asia's biggest? Good question—shortly before that email went out, China's Tencent eclipsed TSMC.