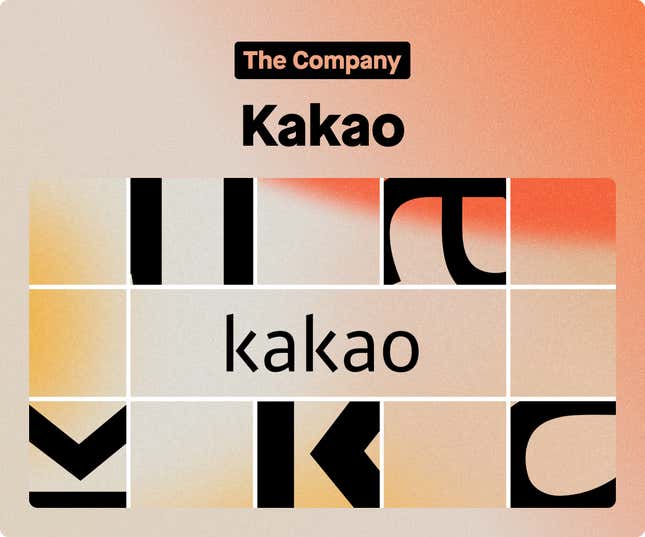 Hi Quartz members,
Go anywhere in Korea, or with a significant Korean population, and you're sure to hear the distinctive chirping of "katalk." That's the sound of a message arriving on Kakao—with more than 50 million monthly active users, it's by far the country's most popular messaging app.
Kim Beom-su, also known as Brian Kim, launched Kakao Talk in 2010, when 3G internet service was already widespread and soon after the iPhone had arrived there. But the first company he founded after leaving his job at electronics giant Samsung was a gaming platform, which he soon merged with a search engine founded by a fellow Samsung alum—Naver, then a budding tech giant. When Kim left to found Kakao, he didn't leave his gaming genes behind—he deployed a social gaming strategy that allowed users to play games via the app while also chatting with friends to rapidly boost its popularity. In 2014, a key merger with Korean internet portal Daum, via an equity swap, cemented its path to success, creating what some have dubbed Korea's "Google." (It's a nickname applied to rival Naver too.)
Over time, like China's super app WeChat, Kakao added more features, such as virtual gifting and shopping, as well as the ability to hail a cab, make payments, and book services like haircuts and manicures through related apps. All of this is overlaid with a giant dollop of cuteness in the form of thousands of playful stickers available for purchase.
As some of its dozens of units have listed, Kakao has rapidly ascended the ranks of South Korea's most valuable companies (it's still behind Naver, whose social media offerings include Line, a chat app that dominates in Japan). It's possible to imagine a not-too-distant future when one of these internet giants occupies the top spot now claimed by electronics giant Samsung, the foremost of the country's family-run manufacturing conglomerates known as chaebol. In a hint of that coming future, in July this year, Kim temporarily became the country's richest person, displacing Samsung's de facto heir Lee Jae-yong.
South Korean lawmakers are taking note of the country's changing economy. A parliamentary audit in October questioned Kakao and Naver over a number of issues, including worker treatment and competition for mom-and-pop businesses. A China-style tech crackdown may not be looming, but as their reach over South Korea's economy grows, Kakao and its ilk better start getting used to the kind of regulatory scrutiny that has long focused on its veteran chaebol.
---
By the digits
96%: Kakao Talk messaging app's market share in South Korea
$3.5 billion: Kakao Corp's revenue in 2020, driven by ad sales
$93 billion: The combined market cap of Kakao's listed companies in August, making it Korea's fifth most valuable company
$13.4 billion: Kim's net worth in July, when he became Korea's richest person
$16 billion: The value Kakao shed in the first 10 days of September after a lawmaker called it "a symbol of greed"
---
The Kakao empire
Since its founding, Kakao Corp has grown through new subsidiaries and acquisitions to rule beyond  messaging into the fields of entertainment, gaming and digital banking. It's now even building a golf course and plans to expand in e-commerce, so far ceded to other internet firms.
According to Korea's Fair Trade Commission, Kakao has about 118 subsidiaries and affiliates, nearly double the number four years ago. Here are some of those key parts:
Kakao Games: With investment from China's Tencent, the gaming unit had a successful IPO in 2020
Kakao Mobility: This is Kakao's ride-hailing app, which aims to go public next year
Kakao Bank: It went public in August, and by market cap, it's South Korea's most valuable financial services firm. It has 13 million monthly active users
Kakao Pay: Kakao's payments wallet is a joint venture with Alibaba affiliate Ant Group, and has a market cap of more than $20 billion
Kakao View: A news curation subscription service
Kakao Hairshop: A platform for booking beauty services
---
Key term
Chaebol
For years, the company most ubiquitous in people's lives in South Korea was Samsung. Founded in 1938 as a noodle and dried fish trader, Samsung became a symbol of South Korea's increasingly industrialized economy, producing textiles and food in the 1940s, then black-and-white TVs in the 1960s, adding ship building in the 1970s, and now is known for its smartphones and semiconductor chips. It also became the largest and best known of South Korea's chaebol—family-run manufacturing conglomerates that grew large with the help of state backing.
Some see the sprawling reach of Korea's top internet firms Kakao and Naver as an updated form of chaebol, though one key difference is that the founders of these firms are first-generation entrepreneurs. Yet they're also a reminder of Samsung's influence over the country—both Kakao's Kim and Naver co-founder Lee Hae-jin worked there before striking out on their own.
---
A "symbol of greed"
Seoul isn't Beijing when it comes to tech regulation, but authorities there—like regulators everywhere—have also moved to rein in big tech. In August, Korea's National Assembly passed a law allowing developers to bypass Google and Apple's hefty commissions on in-app transactions.
At home, lawmakers are looking at whether firms like Kakao are squeezing out small businesses such as flower shops, and hair and nail salons by offering online bookings services. In the face of criticism—a ruling party lawmaker recently called Kakao "a symbol of greed"—Kakao Corp set up a $250 million fund to help small business owners.
Still, the new regulatory scrutiny isn't quite the force in South Korea that it has been in China. Last year, China unleashed a regulatory storm on the internet economy that began with suspending the $35 billion dual IPO of fintech unicorn Ant Group. In South Korea, new consumer financial protection rules delayed the $1.3 billion IPO of Kakao Pay by only a few months—it debuted successfully this month. That must've been a relief not only for Kakao founder Kim but for Ant as well, given it holds a 45% stake in the Korean financial services company.
On Oct. 5, founder Kim apologized before a parliamentary committee for expanding too aggressively. But he also defended his company.
"I believe that there is both light and shadow in a platform business," Kim said. "We have allowed smaller businesses without capital or technology to compete."
---
Keep learning
---
Thanks for reading! And don't hesitate to reach out with comments, questions, or companies you want to know more about.
—Tripti Lahiri, Asia editor (confined to the not-so-cute universe of WhatsApp)
---
One 🔔 Thing
In 2012, after Barack Obama mentioned Kakao Talk in a speech, the app added the mention as an alert sound.