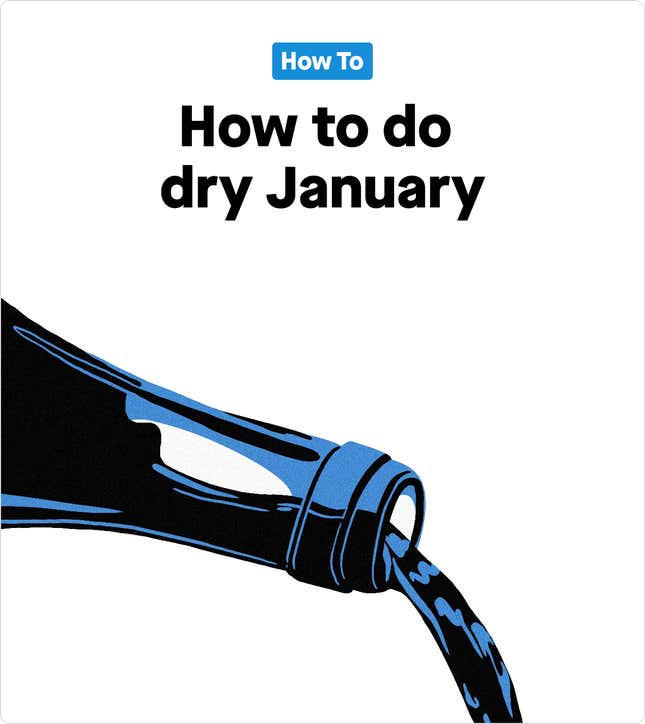 A few years ago, I decided to do Dry January for the first time. I had several good reasons. I'd been feeling depressed for the past couple of months, and suspected that alcohol was a contributing factor. After the nog-and-wine-fueled merriment of the holiday season, it seemed like a smart time to reset my relationship with booze.
There was an existential-crisis component to my interest in a month of sobriety, too. I knew I wanted to shake things up in my life, but in the absence of a clear course of action, I thought I could start small. If I took away alcohol—an often-overlooked, not-so-healthy part of my ordinary life—what choices and experiences, besides seltzer, might fill its place?
And so I joined the growing, global ranks of people who pledge to go alcohol-free in a traditionally cold and dreary time of the year. Much to my surprise, Dry January turned out to be kind of fun. That's because I finally understood something I hadn't comprehended before I tried it: Subtracting a food or habit from your life doesn't have to mean existing in a state of deprivation. Under the right circumstances, there is pleasure to be found in absence.
If you're thinking about taking a break from alcohol this month, here are a few tips to help see you through—perhaps without feeling like you're even making a sacrifice.
---
Tell a friend (or several)
If you're just doing Dry January for a little reset, telling friends and family that you're going alcohol-free for a month is a good way to avoid constant offers of wine and beer whenever you show up at someone's home. Finding an accountability partner (whether that's another friend who's doing the challenge, or on an online forum like Reddit's Get Motivated Buddies) can also help you stick to your goal.
And if you're motivated to do Dry January because you're worried that you've been drinking too much in general, then finding supportive friends is of the utmost importance.
"Questioning your relationship with alcohol can be challenging, but by voicing your goals and concerns with others, you invite them in to offer insight and encouragement," says Chris Marshall, founder of alcohol-free watering hole Sans Bar in Austin, Texas and a former addiction counselor. "A friend can be there for you if taking a break from alcohol becomes more challenging than you anticipated."
---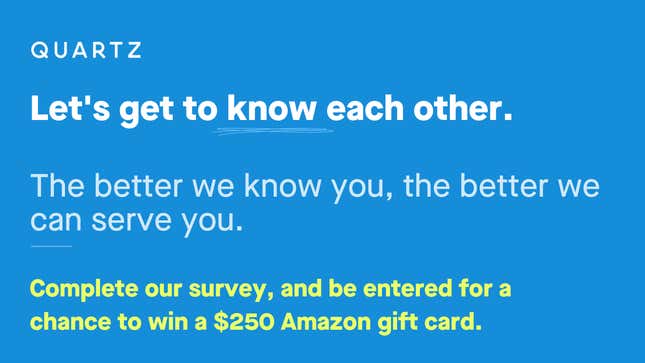 Your experience means everything. Tell us about yourself, why you read Quartz, and what you're obsessed with by taking our audience survey and enter a chance to win a $250 Amazon gift card. Our mission is to make business better. Now we're hoping you'll make us better. Let's start the survey!
---
Create some structure
As it's become more commonplace for people to try out sobriety even if they don't necessarily identify as having a problem with alcohol addiction, there are a lot of resources available for people who want a sense of community, or structure, in giving up booze.
One popular option is The Alcohol Experiment, an online regimen in which author and sobriety advocate Annie Grace guides users through a 30-day break from alcohol. More than 200,000 people have participated in the program, which is available in two options: A free program, which includes daily emails and videos, or a $47 version that includes live online coaching.
If an app is more your style, there's Try, the free Dry January app from charity Alcohol Change UK, which tallies up the money and calories saved by temporarily cutting out booze. Those who prefer their support in workbook form might try Ruby Warrington's The Sober Curious Reset, which offers 100 days of exercises that aim to help readers get to know themselves better and change their habits. (You can always stop after 30 days if you so desire.)
For those who are starting to question their relationships with alcohol, the twice-weekly sobriety and recovery newsletter The Small Bow also hosts support groups on Zoom several days a week. "If you don't feel comfortable calling yourself an 'alcoholic,' that's totally fine," the meeting invitation advises. "If you have issues with sex, food, drugs, codependency, love, loneliness, depression—whatever-whatever—come on in."
---
Explore the wide world of non-alcoholic beverages
If you think you might miss the ritual of pouring an after-work drink or the taste of beer with pizza, this is your chance to dip into the thriving world of non-alcoholic beverages. Nearly half (46%) of the US drinking age population has tried a non-alcoholic beer or cocktail, across all age groups, according to a 2019 Morning Consult poll. The Guardian reports that in the UK, sales of no- and low-alcohol drinks have doubled in the past four years.
Possible alternatives to check out include ready-to-drink items like the CBD-infused Recess, Athletic Brewing beers, and German producer Leitz's canned zero-alcohol wines. If you like a well-stocked bar cart, you might pick up bottles of beverages like Kin Euphorics' High Rhode aperitif; Lyre's Dark Cane Spirit and American Malt (meant to mimic rum and bourbon); and Seedlip, the nonalcoholic drink that helped kickstart the alcohol-free beverage trend and is served in more than 100 Michelin-starred restaurants.
Should you find yourself meeting a friend for drinks (covid permitting), take heart: A growing number of bars and restaurants serve mocktails that are just as delicious, and often a little bit cheaper, than their alcoholic counterparts. Even if mocktails aren't listed, most bartenders will be glad to mix you a virgin variation of what they've got on the menu.
---
Look inward
Dry January is an opportunity to reflect not just on our relationship with alcohol, but on the stressors in our lives that may drive us to drink more than we'd like. Sans Bar's Marshall, for example, bristles at Americans' "work hard, play hard" mentality, in which alcohol becomes a way to cope with the enormous pressure people feel to constantly perform. "How many people have we lost earlier in life due to stress and working 80-hour weeks, and then going home and tying one on to cope with this work-life imbalance?" he says.
Taking time away from alcohol may help you recognize other changes you want to make in your life so that you don't feel the impulse to drink quite as often. That might mean anything from joining a volunteer group to lessen feelings of loneliness to taking up yoga as a way to decompress after work.
---
Keep learning
---
Have a productive weekend,
—Sarah Todd, senior reporter (doing dry January for the fourth year in a row!)
Parts of this email were adapted from Sarah Todd's articles Giving up alcohol is a lot more fun than it used to be, What to do if you're worried about drinking too much alcohol, and The unexpected joy of giving up alcohol—or anything else.
---
One ✍️ thing
In need of some winter escapism? Let this mocktail recipe for a Watermelon Mint No'jito, courtesy of Sans Bars' Marshall, transport you to balmier weather.