Hi Quartz members!
Only a man with an ego the size of Elon Musk's announces "Master Plans" for his company, rather than a plain old strategy or even a corporate vision.

This past week, on Tesla's investor day, Musk laid out Master Plan 3: a four-hour presentation that seemed only tangentially about the company and more about Musk's idea for a "fully sustainable Earth." At one point, he said grandiosely, "I really wanted today to be not just about Tesla investors who own stock, but really anyone who is an investor in Earth." (In which case, one may ask: How about a board meeting to eject him as Earth's CEO?) Musk's blueprint was hardly radical: more EVs, a bigger electric grid, domestic heat pumps, hydrogen fuel, and green ships and planes. So far, so standard.
About Tesla itself, the Master Plan 3 presentation had precious little to say. There are two new vehicles in the wings, but their details are a mystery. The next-generation model will cost half as much to make as present-day Teslas, but nobody mentioned how that would impact the sticker price. The company will open its next Gigafactory in Mexico, but at an unspecified date. In every direction, the picture was fuzzy.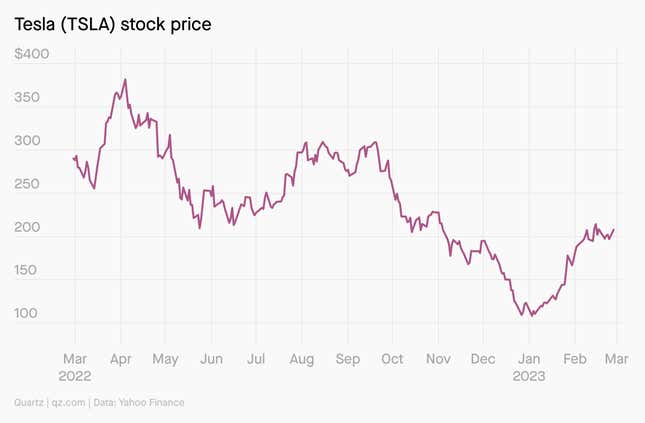 This year, Tesla's stock has been slowly regaining some of the vast value it lost in its horrific 2022. After Investor Day, though, the share price dropped again, by more than 5% after hours. Tesla's Master Plan 3 appeared to remind investors of some of the anxieties that drove last year's fall. Perhaps Musk is losing interest in the incremental progress that successful companies must make? Or perhaps he's too distracted by his public persona or by his stewardship of Twitter to cultivate ideas at Tesla?

Defenders of Musk might well point out that both his previous master plans also included sections that were similarly sweeping and light on detail. And that these periodic plans are never meant to reflect the nitty-gritty of Tesla's work. But the notable thing about Musk's presentation wasn't that he was vague—it was that he did not seem interested in talking about Tesla at all.

---
MASTER PLANS OF YORE

2006: Musk's first master plan described what Tesla was trying to achieve. The plan provided step-by-step instructions to build a luxury car and use the profits to build a more affordable electric vehicle, while building clean energy options on the side.

2016: The second master plan was an update on Tesla's production goals, specifically building electric vehicles for all major segments of the industry, including semi-trucks and pickups. It also outlined the company's mission to create an autonomous network of self-driving cars.
---
BY THE DIGITS

Throughout his presentation, Musk tossed off numbers and data for his projected energy transition, without offering a glimpse of where those figures came from. Among his estimates:

$10 trillion: The cost to move the planet entirely to clean energy. "It's not a big number relative to the global economy," Musk said.

0.2%: The proportion of the Earth's surface that will be occupied by the infrastructure for wind and solar
240: In terawatt-hours, the expanded energy storage capacity that the world needs for its transition
30%: The proportion of the Earth's nickel that needs to be mined to build out new energy infrastructure
1:1: The minimum ratio of humanoid robots to people in the coming economy
---
EARTH TO TESLA
At one point during Investor Day, a Tesla executive announced that the company's next generation of permanent magnet motors would no longer use rare earths. Shares of companies that mine rare earths—the 17 metals critical to high-tech applications—plunged immediately. But that was an overreaction; Tesla's decision to strip rare earths out of its EVs will barely dent the market.

For one, Tesla represents only a small sliver of overall global demand for permanent rare earth magnets. EV motors make up 12% of global rare earth permanent magnet consumption, and of that, Tesla was responsible for about 15% to 20%, according to the metals and minerals advisory firm Adamas Intelligence.
Assuming Tesla can commercialize and scale its new rare-earths-free motors soon, the global rare earths magnet market would "lose a mere 2% to 3% of demand in the near-term, and maximum 3% to 4% over the long-term assuming Tesla maintains its EV market leadership," Adamas Intelligence wrote in a note this week.
But also, no company has successfully developed and deployed an alternative that is competitive with neodymium-iron-boron (NdFeB) magnets, the dominant form of permanent rare earth magnets. For that reason, global demand for rare earth magnets is expected to triple by 2035, even as production of these magnets doubles, according to Adamas. As with much else, Tesla's announcement of a rare-earths-free EV is, right now, as airy as whipped cream.
---
ONE 🇲🇽 THING

Among Musk's sparse announcements about Tesla itself was a confirmation that the next Gigafactory will be built in Monterrey, Mexico, at a cost of $5 billion.

Car companies are flocking to Mexico. BMW announced a new investment of $866 million in EV and battery production in the state of San Luis Potosi. General Motors said it would invest more than $1 billion in Mexico to produce EVs. By setting up in Mexico, companies become eligible for the US's clean vehicle credit, the rules of which state that a vehicle must undergo final assembly in North America. But another part of the draw? Cheap labor. Manufacturing wages in China tripled over the last decade, and factory workers in Mexico currently earn a little over $2 an hour. Whatever Musk's plans are for a sustainable Earth, they probably don't yet include a happier workplace.

---
QUARTZ STORIES TO SPARK CONVERSATION
---
5 GREAT STORIES FROM ELSEWHERE
👟 990s. Launched in 1982, New Balance 990s have been roving the pavement for decades. But it wasn't until recently that the sneakers reached meteoric levels of fashion cool, becoming some of the most coveted kicks around the globe. GQ visits a New Balance factory and its headquarters in Boston, bringing the story of how the unassuming, gray sneakers went from dad to rad, and how the company plans to outpace the competition.
👂 Listen in. The eastern black rail, a sparrow-sized bird found along the American coastlines, is notoriously difficult to spot. That's why researchers use their ears instead, listening for their distinctive kickee-doo call. BioGraphic looks at how bioacoustics, the study of animal sounds, is a powerful tool in conservation efforts, and why the leveraging of artificial neural networks has proven to be a game changer in the field.
🕷️ The Ryodans. Russian parliament is concerned with a new development within its borders: a loose assemblage of anime-loving teens. Bellingcat takes a deep dive into the origins of Private Military Company (PMC) Ryodan, an online youth subculture that has begun stirring up trouble in Moscow shopping malls. Termed a "cult of violence" by one Russian media outlet, the Ryodans even have a set of sworn enemies, the anti-Ryodans.
​​🔎 Tuned out. Spotify, until recently, could generate a Hitler-themed playlist for users. It's far from the only platform hosting and profiting from so-called "hate music." A three-month investigation conducted by Rolling Stone finds that neo-Nazi music, including the increasingly popular genre "fashwave," is available on popular streaming platforms like Apple Music and Amazon Music, despite violating their terms of service.
✍️ The byline. Before modern copyright laws existed, authors needed to certify the originality of their works by other means. An essay from New Lines gives a historical overview of that long and storied struggle, encompassing Greek physician Galen, who wrote books to clarify which books he wrote, squabbles in ancient China over Daoists copying Buddhist texts, and the word-merchants of Abbasid-era Baghdad, who sold both books and new ideas.
---
Thanks for reading! And don't hesitate to reach out with comments, questions, or topics you want to know more about.
Have yourself an electric weekend,
— Samanth Subramanian, global news editor; Diego Lasarte, staff writer; Mary Hui, geopolitics, tech, and business reporter

Additional contributions by Julia Malleck