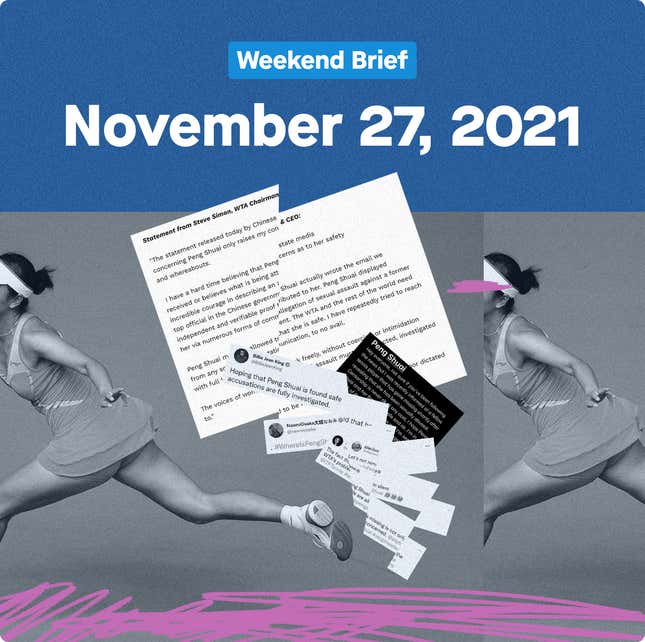 Hi Quartz members,
It's a well-known routine by now.
A company or athlete expresses a view on Taiwan, Xinjiang, Hong Kong, or another topic that doesn't toe China's line. An online backlash ensues, and apologies are issued for hurting the sentiments of the Chinese people. The latest example is Jamie Dimon, who expressed regret for a joke that JPMorgan would outlast the Communist Party. "Likely to anger China" is such a trope in China coverage, there's even a pop song about Beijing's fragile feelings.
But this month, the Women's Tennis Association beat Beijing to the punch.
The organizing body of women's tennis is threatening to withdraw from China if the government cannot satisfactorily answer what is now a global question: #WhereIsPengShuai? Peng, a two-time Grand Slam doubles champion, alleged on Nov. 2 that she was forced into a sexual relationship with Zhang Gaoli, a former top Communist Party official. Within 20 minutes, China's most high-profile #MeToo allegation was scrubbed from the internet, and Peng vanished from public view.
Then the tennis world started speaking out. The WTA, which has long-term deals to play several tournaments in China, asked the country to stop censoring Peng and to investigate her allegations. Naomi Osaka expressed "shock" over her disappearance, as did Serena Williams. A Chinese state media campaign circulated photos and videos aiming to confirm Peng's wellbeing; WTA CEO Steve Simon shot back that he wasn't convinced.
China's state-run papers make clear that they think the attention on Peng is part of a politically driven effort to ruin the upcoming Beijing Winter Olympics, and it's uncertain how much the WTA's stance will help Peng in reality. But the organization's combative approach to China could still be a tipping point for other organizations that have long taken a more apologetic stance.
It's also possible the WTA is being both idealistic and pragmatic. Francesca Chiu, a former Hong Kong-based civil society researcher, notes that because of China's covid-zero restrictions, at least 10 tournaments due to take place there this year were canceled, forcing the WTA to expand elsewhere and move its final to Mexico. As a result, the organization might have realized it doesn't need China as much as it thought.
That's a valuable lesson in a world where China's power is set to grow. Diversifying your business may not just be good business—it may be good for your conscience, too.
---
The backstory
Peng isn't the first person to be silenced. Other prominent Chinese citizens have vanished from the public eye, often for months, after falling afoul of the government. They include Alibaba founder Jack Ma and actress Fan Bingbing.
There are consequences to questioning Beijing. In 2019, a tweet from the general manager of the Houston Rockets voicing support for Hong Kong protestors unleashed a wave of fury in China, and led several of the National Basketball Association's partners in China to terminate their broadcast and sponsorship contracts. Companies like Nike and H&M have also faced backlash for challenging China on its human rights record.
China's #MeToo movement is still evolving. A landmark case was dismissed this year, yet allegations have brought down A-list stars like Kris Wu, and challenged the drinking culture at tech firms such as Alibaba. Peng's is the most significant accusation against a top political leader. Corruption investigations of Chinese officials have long suggested that political power is linked to seeking and obtaining sexual relations.
---
Don't stick to sports
"Athletes can play a profound role in helping turn the tide toward a more safe and free world. History has shown what is possible. Bill Russell stood up against racial injustice. Muhammad Ali protested the Vietnam War. Arthur Ashe spoke out against apartheid in South Africa. Western athletes can and should use our global platforms to lend a voice to those being silenced." —Enes Kanter, a center for the Boston Celtics, in a Nov. 20 op-ed for the Wall Street Journal
---
What to watch for next
More Peng "appearances." China's propaganda machine isn't known for its nuance; many have questioned Beijing's attempt to prove Peng's wellbeing with cryptic emails and stage-managed photos of the 35-year-old at home with stuffed animals. Tellingly, these ham-fisted assurances aren't appearing within China.
The next volley from professional sports. Refusing to hold any WTA tournaments in China could cost women's pro tennis hundreds of millions of dollars of prize money and investment from the country, which is home to about a quarter of the world's tennis players. But it could also inspire other leagues to increase their own pushback on Beijing. Star athletes, who sometimes have more wiggle room to take a confrontational stance, could also dial up the heat, which might in turn pressure sponsors.
Calls to boycott the Winter Olympics. Accused official Zhang played a key role in bringing the Games to Beijing, and the International Olympic Committee said this week that it believes Peng is "safe and well." But the controversy is reigniting conversations about boycotting the Beijing Olympics, which kick off in February. US president Joe Biden says the country is considering a "diplomatic boycott," which would allow athletes to attend the Olympics but not other officials. The counter-argument is that slighting Beijing on the Olympics could backfire on other fronts where China's cooperation is paramount.
---
One 🔎 thing
People in China are using cryptic language, such as the names of celebrities or historical figures that sound similar to Zhang and Peng, to discuss Peng Shuai's accusation while evading government censors. The names of both Zhang Guoli, a famous male TV star, and Zhu Geliang, a figure from the Classical Chinese epic Three Kingdoms, were at one point employed by Weibo users to refer to Zhang.
---
Quartz stories to spark conversation
📈  Options trading is poised to overtake the stock market
🎁​​  Shortages are driving up the price of holiday gifts
📜  One failed bid for the US Constitution, $1.5 million in crypto fees
🥵  The next two years will be tough on Jerome Powell
♻️  The world's biggest oil-producing countries are selling green bonds
🇰🇪​​  Kenya is denying the unvaccinated access to government services
🥕  How do you make the global food system sustainable? 
---
5 great stories from elsewhere
🖼️  The guy who bought the Beeple. Reuters looks at the track record of Vignesh Sundaresan, an Indian crypto investor whose $69 million purchase of "Everyday: The First 500 Days" made NFTs mainstream.
⛵  Charting a course for change. Cold Takes offers up five maritime analogies for how to improve the world—rowing, steering, anchoring, equity, and mutiny—and shares pros and cons for each.
🤔  An Enron reaccounting. Twenty years after Enron's collapse, Texas Monthly examines the company's diaspora of legitimate innovations, some of which still play a role in energy, tech, and finance.
🇨🇳  Don't call it a Cold War. American Affairs pushes back on framing US-China tensions through a Cold War lens, suggesting instead a comparison to US-British competition in the early 20th century.
💦  Knocking it out of the park. Grantland profiles Jeff Henry and George Millay, creators of the modern water park, whose increasingly wild ideas power "America's Potemkin beaches."
---
Thanks for reading! And don't hesitate to reach out with comments, questions, or topics you want to know more about.
Best wishes for a safe weekend,
—Tripti Lahiri, Asia editor
—Kira Bindrim, executive editor
With contributions from Jane Li and Mary Hui.