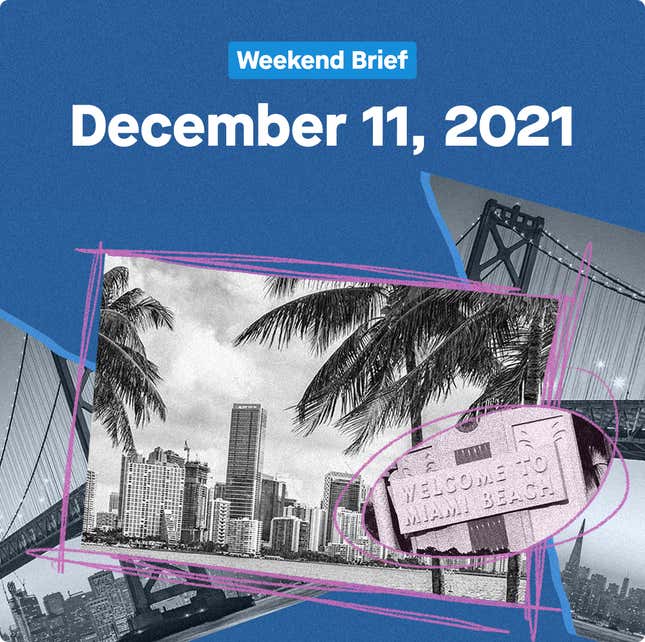 Hi Quartz members!
Delian Asparouhov, like many tech workers in San Francisco, was fed up with his city. Taxes were high. Rents were astronomical. Tensions between those who worked in tech and those who didn't had reached a boiling point.
The 28-year-old Founders Fund partner hit his limit on Dec. 4, 2020, when—amid a national surge in covid-19 hospitalizations and deaths—San Francisco said it would shut down outdoor dining at restaurants. Frustrated and angry, he fired off a tweet: "ok guys hear me out, what if we move silicon valley to miami."
Later that night, Miami mayor Francis Suarez was home, scrolling through Twitter, when he saw Asparouhov's tweet. Nurturing a local tech scene had long been one of Suarez's pet political issues, so that night, he saw a chance to post an on-brand response: "How can I help?"
That was a year ago. Since then, a wave of tech reporters and Silicon Valley transplants have descended on South Florida. Venture capital investment in Miami is trending up. Two local startups, fintech firm Pipe and senior care startup Papa, reached billion-dollar unicorn status. Financial titans from Blackstone to Citadel and venture capital firms from the Founders Fund to Palm Drive Capital announced plans to open offices in trendy Miami neighborhoods.
The conventional wisdom around Miami's tech scene is that it's the invention of a bunch of tech bro tourists who traipsed into the city during the pandemic to summon a startup hub out of thin air (and that it will likely fizzle out just as fast as it arrived).
But the truth is that Miami's tech scene is the culmination of years of work by local entrepreneurs, who have boosted the city's legitimacy as a startup hub in the eyes of outside investors. After Suarez's tweet lit up social media, Miami's startup founders pounced.
"We've been telling this story all along and saying, 'No, you should really take us seriously,'" said Maria Derchi, executive director of Refresh Miami, an organization dedicated to growing the city's startup scene. "I think what's shifted now with this new wave of folks is there's a lot more capital down here. They're helping remove that stigma that people who build here can't be taken seriously. And so this is opening up people's minds and giving them permission [to launch startups in South Florida]."
---
The backstory
Miami startups have struggled to find investors. The city doesn't have many homegrown venture capital firms, and, until recently, out-of-town investors were reluctant to fund a startup in South Florida. Investors often told Miami founders they needed to move to San Francisco to get funded.
A decade ago, Miami entrepreneurs started to organize. They formed professional groups, staged events, and slowly stitched together a local community dedicated to evangelizing Miami's startup scene. These are the people who rolled out the welcome mat when a wave of new arrivals from Silicon Valley showed up last year.
The pandemic reshaped investors' perceptions. Venture capitalists embraced remote work and realized they could cut deals over Zoom. Suddenly, a startup being based in a non-traditional tech hub didn't seem like such an obstacle anymore.
---
A wave of cash
Investment in Miami spiked at the end of 2020, and has remained high ever since. In the first three quarters of 2021, Miami startups raised $2.4 billion, tripling the $811 million they raised in the same period in 2020, according to CB Insights. But keep these numbers in perspective: Miami's tech scene is still just a fraction of the size of Silicon Valley, which raked in $35 billion in investment last year.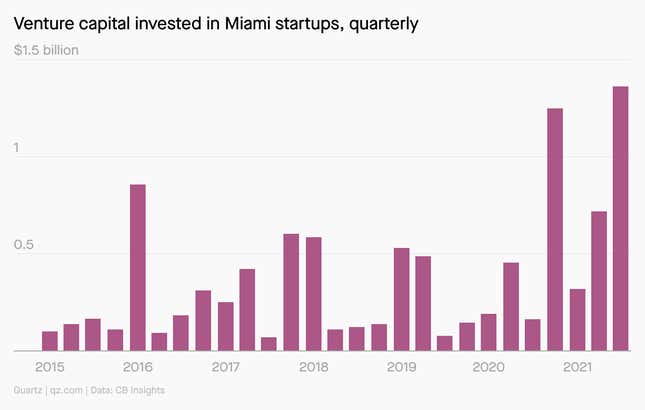 ---
What to watch for next
Miami's reputation. Ultimately, the success of the city's tech scene hinges on investors' perceptions; if investors continue to believe Miami is a legitimate startup hub, they'll be more willing to fund local startups.
Tech boom winners and losers. Entrepreneurs from underrepresented groups, especially women and Black founders, have a harder time accessing the capital that's flowing into Miami. For all its diversity, Miami still ranks among the most segregated and unequal cities in the US—and opportunities in the tech sector continue to be stratified along racial lines.
Will transplants stay or will they go? Many of the techies who moved to Miami signed short-term leases, and soon they'll have to decide whether or not to renew them. If the transplants leave, they could sap Miami tech's momentum.
Offshoots from Miami's unicorns. Self-sustaining startup hubs spawn a few tech giants, which recruit talented workers, who then leave the big tech companies to start their own scrappy startups nearby. Miami's newly minted unicorns will have to do the same for the local tech boom to last.
Climate change. The biggest asterisk on any prediction about Miami's future: None of it matters if the city can't adapt to rising seas and more frequent flooding. Climate resilience used to be Miami mayor Francis Suarez's signature issue—but now it appears to be competing with cryptocurrencies for his attention.
---
One 🥳 thing
"I think in one day I ran into a dozen people I knew. It had that South Park San Francisco feeling, like, 'Okay, there's something here and this is actually the real deal.'" —David Goldberg, an Alpaca Venture Capital partner who moved to Miami from New York in August 2020
Many of Miami's tech transplants planned their visits to the city around the same time, and they tended to hang out in many of the same places. (One local entrepreneur compared their sudden, coordinated arrival to a "tech bro flashmob.") As a result, visitors have experienced Miami as a place that is already full of familiar faces in tech. Transplants now compare their run-ins in Miami to the atmosphere of "serendipity" in San Francisco, where a billion-dollar startup might be launched after a chance encounter between software engineers at a coffee shop.
---
Quartz stories to spark conversation
​🛏️  "Lying flat" is officially one of China's top memes of 2021
🇪🇹   Ethiopia's innovators are seeking purpose amid war
🥽  Snap is already delivering on the future Meta is promising
🌎  These 200 companies have top-rated climate strategies
🚢  Signs of an improving supply chain are an illusion
🇨🇳  Beijing says China is a thriving democracy
😬  A total Amazon cloud outage would take the world offline
---
5 great stories from elsewhere
🧠  How TikTok reads your mind. The New York Times snagged an internal document that breaks down the four main goals of TikTok's "For You" algorithm.
🚕  Is ride-hailing sustainable? On Substack, MD&A interrogates the argument that Uber—"a software company stapled to a taxi service"—might never turn a profit.
🔒  Why it's so difficult to secure chips. Semiconductor Engineering explains how lax security afforded by hackers' longtime focus on software is catching up with the chip industry.
🐀  The internet's rat-poison problem. Audubon buys a few buckets of poison online to suss out how the Environmental Protection Agency is dealing with e-commerce.
🤫  A reformed liar's next act. Air Mail profiles a post-scandal Stephen Glass, who was fired by the New Republic in 1998 for fabricating characters, scenes, and entire articles.
---
Thanks for reading! And don't hesitate to reach out with comments, questions, or topics you want to know more about.
Best wishes for a hype weekend,
—Nicolás Rivero, tech reporter (born and raised in the County of Dade)
—Kira Bindrim, executive editor (ate fried alligator at a Miami bar)